Baby Equipment
now browsing by tag
Hannah's Diapers
As a new mother, the selection of diapers, formula milk and milk bottles can be bewildering. For a start, I went for brands which have been used and trusted by my relatives and friends. It has been 6 months now and the only brand which I didn't change (yet) is the formula milk (Hannah is still on Similac). For those who have been reading our blog you would know that I have switched from Avent to Bfree for the milk bottle.
Choosing a suitable diaper for your baby is a hit-or-miss thing. My hospital (Thomson Medical Centre) used Huggies for their newborn babies. It was okay except that it kept sliding down Hannah's waist (she kicked a lot even as a newborn) and looked a bit too small for her build. I tried some samples from Pampers but it cannot prevent leakage as the gathers at the legs were too loose for Hannah. Anyway, Pampers is the most expensive brand and I was most happy to avoid it. Then there was Mamy Poko. We were initially most satisfied with this Japanese diaper as it was a good fit and comfortable for our girl. However, I noticed that Hannah's clothing began to reek of urine and feel rather damp if the diaper was worn for a longer period of time.
So the search for the perfect diaper continues.
We received a lot of Drypers' samples somehow. It resembles Mamy Poko a lot but is inferior in terms of: 1) Material – quite coarse, 2) Sticky tape instead of velcro (can't stand the irritating noise when peeled).
I went back to Huggies again upon reading some positive feedback from other mothers on the Singapore Motherhood forum. I tried both Huggies Dry Comfort and Huggies Ultra. The former did a superb job at absorbing urine while keeping her skin dry and rash-free but I find it frustrating to put this diaper on Hannah as it does not open flat out. It is also bulkier and feels like a rock covering her bottoms. Huggies Ultra has the good points of Dry Comfort without its minuses. It's a pity that it has some quality control issues; a few diapers could not open properly as the glue stuck the sides and a few others have some hardened parts. Anyhoo, I've decided to call it quits with this brand as it has another shortcoming: its width is too narrow for Hannah's bottoms. If she moves a lot, half of her one buttock would be exposed. Duh, cannot cannot.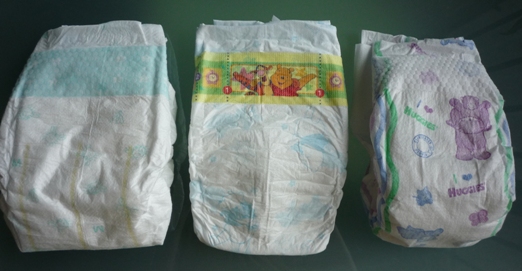 I tried Nepia in between Huggies and Mamy Poko – once again, based on recommendations from other Motherhood mothers. Initially, I wasn't impressed with this Japanese diaper as it looked a wee-bit thin and flimsy. After using it for a few days, I was really satisfied with this diaper. It has many desirable qualities I want in a diaper: no leakage, comfortable material, rash-free, little urine smell, can tahan large urine load, sufficient space for holding poo poo, good buttocks coverage, not too thick. Well, it also boasts of another feature which is really not essential: it has colour indicator strips to tell the extent of wetness in the diaper. You can order Nepia online. It is cheaper when you buy a carton of 4 packs there and along with it is free delivery. In addition, any unopened pack can be exchanged for a larger size if our baby has outgrown it. :)
Decals for Walls
Just 2 days before Hannah popped in June, I managed to get a set of decals to decorate her room. I got it from a shop at Parkway Parade Shopping Centre and its asking price was cheaper than other decals available online.
As a busy working and pregnant lady then, to decorate Hannah's room was an non-essential item on my checklist of 'Things to Do before Hannah's Arrival'. However, I really liked to have more than just a functional room for Hannah. Something pretty here and there. (That explains why I did the cross-stitch of Hannah's name too.) So as my expected due date drew closer, I tried to squeeze out time to do the non-essential stuff. I bought the decals during my lunch hour and boy, I felt so big and heavy as I hurried to accomplish my little task. Sometimes I felt like a penguin in the way I walked!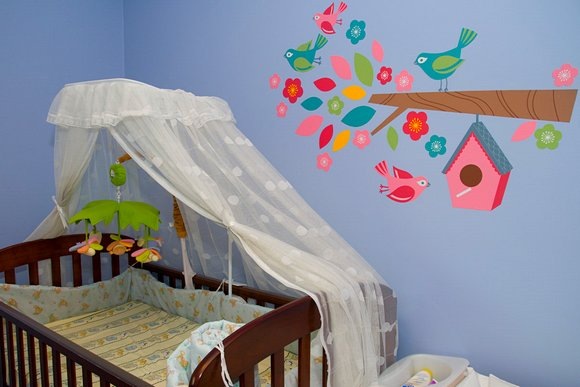 I had an enjoyable time deciding on positions of the birds, leaves and flowers on the wall. I look forward to the fun of re-decorating the room with Hannah one day. :D
Simple Joys
Hannah only really started to get attracted to mobiles from 1 month plus onwards. Now that she's more aware of the surroundings, she can really get excited over mobiles when the music is played and the items moved.
The one hanging in her cot is a bit faulty (can't rotate well) but with the fan blowing at the cot, it can still jiggle and spin a bit. :P The thing about this mobile is that the music only plays when spring is wound. So, rather troublesome to wind it over and over again. But Hannah is sometimes simply contented to watch it move without the music. It can keep her occupied for as long as 30 minutes. I'm amazed myself. Yeah :)
Baby Pram and Other Big Baby Items
I write this blog for the benefit of a visitor who asked a question about our pram. :)
I only realised that raising a child these days can be so costly when we looked into the various items required for Hannah's arrival. These were our major purchases: cot, playpen (this item turns out to be not that expensive), car-seat, pram and breast-pump (optional). There's one other item which is also on the expensive end but we got it as a gift. It is a latex mattress (cooling as Singapore's weather can be so hot!).
Initially, we visited shops such as Baby Hypermart and Baby Kingdom for these items as I read from various forums that they have better deals as compared to elsewhere. However, we found out that their prices were not exactly competitive. As it turned out, Kiddy Palace was selling similar items at similar pricing. Their service was good and delivery prompt. Moreover, they have this membership card thingy which gives you 10% discount on many of their items. And during certain months, members get 20% discount! Imagine how much you can save if you buy big-ticket items! Since it is close to home, it has been our one-stop shopping outlet for Hannah's needs. :)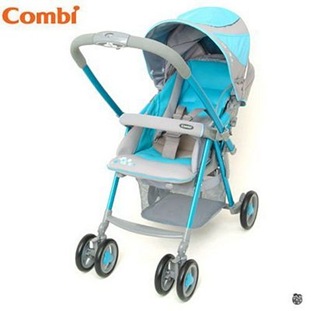 Our Combi Urban Walker has been satisfactory so far. It is user-friendly; easy to open and close, light-weight and has a spacious basket for holding a big bag with baby things. The reversible handle is also easy to flip. As for comfort, the cushion and safety straps are reasonably soft. (Note: Initially, I deemed it important to get a separate seat liner to prevent baby from soiling the actual pram cushion. But Hannah didn't soil on her pram at all – may be her diaper was very absorbent. Now I realise that letting Hannah sit on the original pram cushion is the best as its material is really cooling, easy to wash and dry. See my comment below.). Besides being a little costly (there are prams that cost 4-digits!), it is a good buy.
Hannah didn't really get to use the pram within the first month as she hardly needs to go out unless it was to go for her check-up with her pediatrician. I was also not very keen to bring her out to shopping malls due to the recent H1N1 situation. So far, she has only gone on a stroll around our condo pool area and the nearby park. Although the pram was easy to push around, it can get a bit awkward if you reverse the handle (so that the baby is facing you as you push it along) as only one pair of wheels can turn 360 degrees. The forward push (baby facing away from you) is fine though. There's another Combi model called Miracle Turn which allows for better mobility as all four wheels can turn 360 degrees. Of course, it will cost more.
There is another brand called Cappella which looks similar to Combi but when you feel the material, you know it is inferior. I think its cushion is less comfortable too (There's one model with a horizontal bar beneath its seat. How uncomfortable for the baby!). A couple using this brand told us not to buy it.
There are many parents using Maclaren too. The reviews were generally positive. As for other brands, I can't say much.
Come to think of it, these big ticket items are actually worthwhile purchases as they can last for a few years and even be used by the next child if they are still in good working condition. If you feed your baby with formula milk, gosh, it is going to be even more expensive leh. (Hannah can finish a $40 tin of Similac milk powder within 10 days. And the no. of days will only get lesser.) And if your baby 'prefers' expensive diapers hor, then greater monthly expenditure too.
Good thing that our government is giving out better baby bonus. But now I know it can run out quickly too looking at the stuff we spend on Hannah. Hee hee :) The moral of the story? Have more than one kid lah. Can recycle these items and get better baby bonus (3rd and 4th kid got $6k each wor). Aiyah, who am I kidding yeah? Now one kid already struggling here. Hee hee. :P
Baby rockers II
Here's a short video we took of Hannah on her Maclaren rocker. We'd just taken one with minutes earlier, but that didn't turn out too well – so here was attempt 2.:)
Baby rockers
Our cousin Ying Jia bought Hannah a Maclaren baby rocker (this one I think from the Maclaren web site), and Hannah loves it. It's pretty light weight yet sturdily constructed, and feels pretty comfortable with loads of cushioning and padding.
Here's a couple of photos on the Sunday afternoon at 4 pm after Hannah's afternoon feed.:)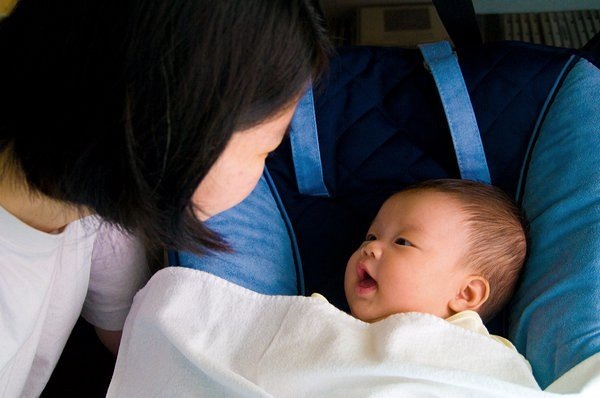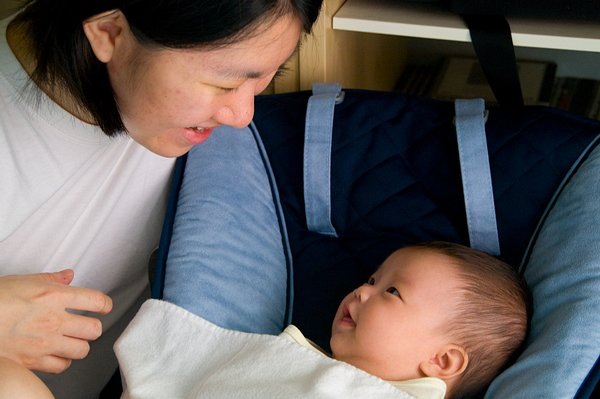 (Taken using the Sigma 18-250mm lens)
Baby on the Go
Mum's birthday is coming in a few days' time, and Jasmine was planning to celebrate the occasion at what's turning into a regular family venue: the Imperial Treasures restaurant. We'd been to the Great World City branch for family birthday dinners twice already, and after Jas's attempt to book a Thursday dinner event turned unsuccessful, we went to the Crowne Hotel branch beside Changi Airport's Terminal 3 on Sunday evening instead.
The drive to the hotel was a pleasant 20 minutes ride for Hannah, who seemed to take to her (very) expensive car seat well. Ling did a quick video of Hannah in the car seat – it was her first time in it.:)

—
The restaurant was located on the ground floor, and we arrived early. There weren't many diners throughout. Had opportunities to take some pictures before dinner started, so whipped out the D300 and took about two dozen pictures.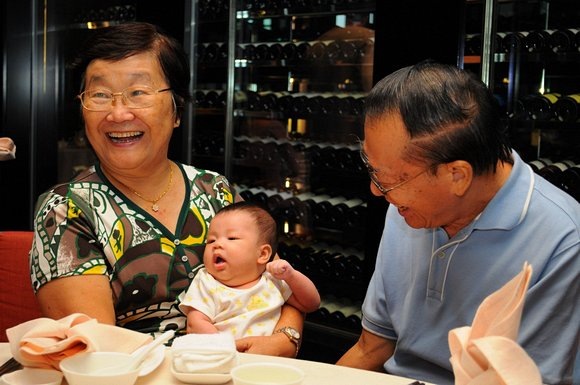 So, dinner was a nice pleasant event. Moreover, our table was situated beside a Wait table, so service was great with very quick refills of tea and drinks, often so speedily it was almost unnerving. The food was good, as always.:)
Hannah behaved for the first hour of dinner; though after which she started bawling quite a bit. Think she was hungry. We took turns carrying her so that we could both enjoy the dishes, and we both got drenched in Hannah's drool.:)
Month 1 Day 9 – Fun with Pacifiers
As promised, here's a short segment of video that Ling took of Hannah this morning. Don't watch if looking at babies sucking on pacifiers is… disturbing to you LOL.:)
Baby Pacifiers
Just before I took off for work this morning, Ling said at the door way that she's tried introducing Hannah to pacifiers. She seems to have taken to them quite well.
Ling related that yesterday in fact, the pacifier slipped out of her mouth, and Hannah reached for it with her hand and stuffed it back in! So cute.:)
That'd be the first time Hannah's actively using her hands and fingers, and Ling is going to try to get some video evidence of it.
Oh yeah – I've tried bottle-feeding Hannah too and started to learn about her feeding signs when she's had enough, wants more etc.:)
Baby storehouse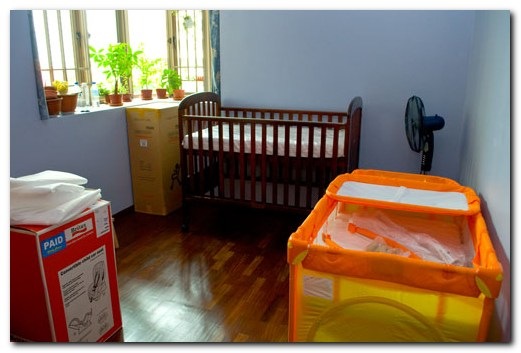 The guest room / kid's room / Matt's old room has become a little store house of late, what with the growing collection of equipment and materials we've been getting in preparation for our baby girl.
Several of the large items we ordered from Kiddy Palace the other day have arrived this afternoon: from left to right, the car seat, the baby pram, the cot, and the play pen. Mummy Ling wasn't at home, so a befuddled daddy had to listen to an old Uncle / delivery guy explain how to assemble, dismantle, adjust etc. the cot and the pen.
Help – should have had a video recorder to tape down the instructions LOL.