As a new mother, the selection of diapers, formula milk and milk bottles can be bewildering. For a start, I went for brands which have been used and trusted by my relatives and friends. It has been 6 months now and the only brand which I didn't change (yet) is the formula milk (Hannah is still on Similac). For those who have been reading our blog you would know that I have switched from Avent to Bfree for the milk bottle.
Choosing a suitable diaper for your baby is a hit-or-miss thing. My hospital (Thomson Medical Centre) used Huggies for their newborn babies. It was okay except that it kept sliding down Hannah's waist (she kicked a lot even as a newborn) and looked a bit too small for her build. I tried some samples from Pampers but it cannot prevent leakage as the gathers at the legs were too loose for Hannah. Anyway, Pampers is the most expensive brand and I was most happy to avoid it. Then there was Mamy Poko. We were initially most satisfied with this Japanese diaper as it was a good fit and comfortable for our girl. However, I noticed that Hannah's clothing began to reek of urine and feel rather damp if the diaper was worn for a longer period of time.
So the search for the perfect diaper continues.
We received a lot of Drypers' samples somehow. It resembles Mamy Poko a lot but is inferior in terms of: 1) Material – quite coarse, 2) Sticky tape instead of velcro (can't stand the irritating noise when peeled).
I went back to Huggies again upon reading some positive feedback from other mothers on the Singapore Motherhood forum. I tried both Huggies Dry Comfort and Huggies Ultra. The former did a superb job at absorbing urine while keeping her skin dry and rash-free but I find it frustrating to put this diaper on Hannah as it does not open flat out. It is also bulkier and feels like a rock covering her bottoms. Huggies Ultra has the good points of Dry Comfort without its minuses. It's a pity that it has some quality control issues; a few diapers could not open properly as the glue stuck the sides and a few others have some hardened parts. Anyhoo, I've decided to call it quits with this brand as it has another shortcoming: its width is too narrow for Hannah's bottoms. If she moves a lot, half of her one buttock would be exposed. Duh, cannot cannot.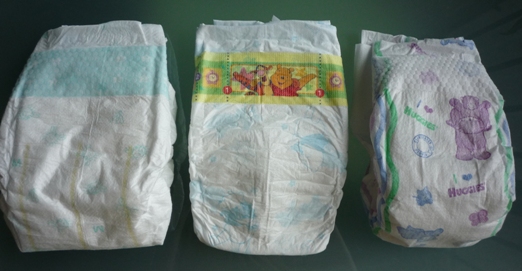 I tried Nepia in between Huggies and Mamy Poko – once again, based on recommendations from other Motherhood mothers. Initially, I wasn't impressed with this Japanese diaper as it looked a wee-bit thin and flimsy. After using it for a few days, I was really satisfied with this diaper. It has many desirable qualities I want in a diaper: no leakage, comfortable material, rash-free, little urine smell, can tahan large urine load, sufficient space for holding poo poo, good buttocks coverage, not too thick. Well, it also boasts of another feature which is really not essential: it has colour indicator strips to tell the extent of wetness in the diaper. You can order Nepia online. It is cheaper when you buy a carton of 4 packs there and along with it is free delivery. In addition, any unopened pack can be exchanged for a larger size if our baby has outgrown it. :)