Ayara
now browsing by tag
Here's a little nugget… :D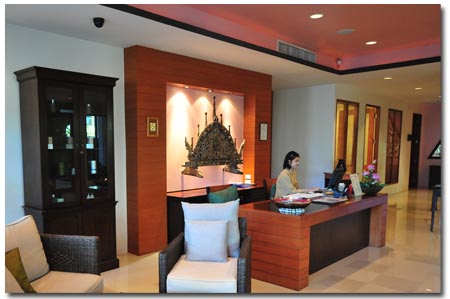 Guess what, Yang agreed to go for a head, shoulder & back massage with me on the Phuket trip!! Ha ha, didn't he and Matt say that massages and spa are just not their thing?
Well, our suite at Ayara Hilltops came with a complimentary massage for the couple and all I had to do was to book a time slot to enjoy the free service. It was Yang's first ever massage by a pleasant-looking female Thai masseur. Of course, I was there to keep an eye on him. *wink* With nice soothing music playing in the background, we laid face down (fully clothed) all the time for our massuers to do their kneading and pounding. I was constantly checking on Yang to make sure that he was still breathing and whether he could take the 'exertion' upon his body. And my darling was thinking to himself that he'd probably have to crawl out after the massage. Hee hee. No worries, he survived.
I'd endeavour to get him do some milk bath or facial in time to come. After all, don't wives need to pamper their husbands?
My man does make adjustment for me :p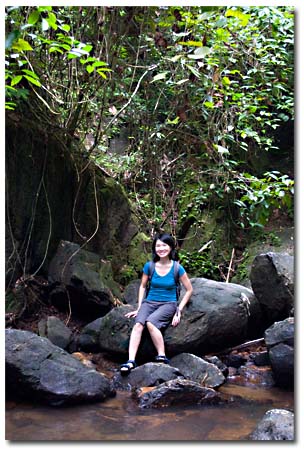 There are many horror stories told about how marriage is so very different from courtship. To many women, romance is one thing which often fades off when one enters into marriage. Money is another thing. For example, there are loans to service in a marriage and hence it is prudent to thrifty.
"Darling, can we go to Japan for the next vacation break?" I asked.
"Nope. That's a few thousand dollars, dear. Unless I strike lottery, we should clear the loans first." Yang replied.
"But we do have savings right?" I reasoned.
"We should also save for rainy days." Yang continued, unwavering and looking at me very seriously.
"Really cannot ah." Whining inside. "Poor me."
So, when he booked an expensive holiday package to Phuket for the two of us recently, I was really caught by surprise. "But darling, you said that we shouldn't spend in an extravagant manner. Why this change?" I asked. He replied saying that he did this to cheer me up since I was feeling burnt out and discouraged by work. That was so loving of him, wasn't it?
Our recent getaway at Phuket was really luxurious – my definition, of course. The hotel is the best I've stayed in so far – it is a seaview suite! It is also quiet and private – suits my personality well. It had been a good break of 4 days with darling to simply relax, try out some outdoor activities together and sample some great Thai food. I've gone to a nearby place (Krabi and Phi Phi island) before in Thailand but that trip didn't leave much of an impression. Perhaps, company matters. :)
Besides good company, I enjoyed the brief moment swimming in Andaman sea the most. I guess I have a great affinity to water. All kinds of water bodies have a certain attraction for me. Be it oceans, seas, lakes, rivers, waterfalls, streams and even mangrove swamps! Yeah, I enjoy taking baths too. Coming into contact with water is highly therapeutic for me.
Okies, have to pause here for now. I shall continue my sharing in the next blog :)
Venturing into the Andaman sea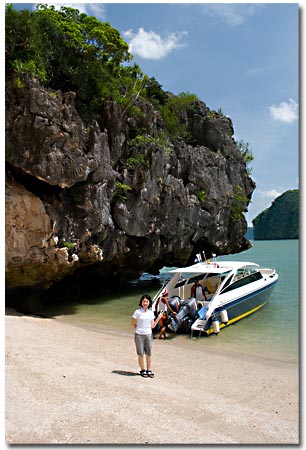 As beautiful as Ayara Hilltops was, we didn't spend the four days cooped up in our rooms. I'd handled the travel, flight and resort arrangements with Tradewinds, while Ling was going to plan the itinerary for our stay.
We'd already spent the last vacation stoning on Rawa beach (stunning as it also was), so I privately wasn't so keen this time to do the same. Fortunately, Ling had done her usual Google and Tripadvisor searches, and with the aid of Ayara Hilltops found two separate day trips for the second and third day of our stay.
The first of the two trips took spanned an afternoon, and involved several items: an Elephant trek through the forest, a visit to the Gibbon Rehabilitation Project (a small site dedicated to rehabilitate gibbons back to their natural habitat), Bang Pae waterfall, and a buffalo-cart ride.
The first trip was a mixed bag of sorts. Despite that the visit to the Project and waterfall was in the mid-afternoon, the thick canopy of trees in the rainforest where both places were sited in made the entire place shrouded in low light. The waterfall was really smack in the rainforest, and while there was a stone pathway, the area didn't look like it was terrifically tourist friendly, what with the absence of vantage viewpoints to see the waterfall clearly.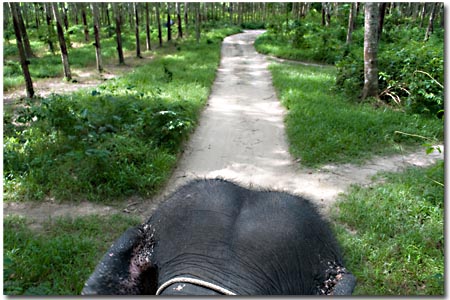 The elephant ride however was a different matter: it was in equal parts hilarious, scary, and fun. Hilarious because of how the elephant would disregard our guide's instructions, or stop every now and then for a snack of leaves from overhead trees. Check out the first-person whoops elephant cam point of view. Scary because the fellow had to steeply climb up (and down) at several parts of the trek. Nothing quite beats the feeling of gripping to your seat tightly fearing if the elephant is going to fall on his arse with you still sitting on his back!
The second trip was with the apparently number one-rated day Phuket day trip organizer on Tripadvisors, Simba Sea Trips. The company is family run and the trip hosted by its two owners, Geoff and Jenny Smith. Their site proudly states that they do not run "Cattle Market Tours". We traveled on a fast speedboat with just 12 guests onboard, made our way through the islands, limestone rocks, and fishing communities around the Andaman sea.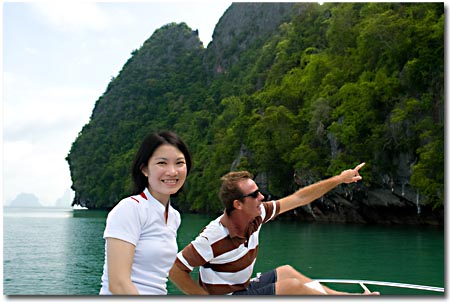 This day trip, for want of a better descriptor, was simply fantastic. Both hosts were knowledgable, very personable, and hospitable with an excess of specially prepared sandwiches, fruits, cakes, drinks, refreshment towels. Both clearly knew the areas very well, and whether by luck or through sheer skill in timing, several of the island and limestone rock spots we visited had no other visitors except for us.
E.g. the last photo below is a 160 degree panoramic shot of the island we stopped at (larger picture here), and it's incredible we were all alone there for the good part of a few hours before a substantially larger boat stopped by to offload several dozen other visitors to enjoy the beach too.
The day was perfect in other words, though towards the end Ling felt a little unwell, and we decided to find a hospital for her to do a check-up. Both Geoff and Jenny helped us make arrangements for our limousine driver to not only bring us to Phuket International Hospital, but also instruct the driver to wait there until Ling had seen the doctor. I think Ling will mention more of her hospital visit in her eventual post to come, but clearly the great hospitality we received is not limited merely to Thais.
In all, it was a great stay, and I imagine we'll be back again in Phuket to check out the other areas we skipped this time, for instance Phi Phi. Ling took about 55 minutes of video, and myself about 16 GB of photographs. Fortunately, I'd carted along my NEC notebook for the trip – which outside bringing along several memory cards would have made it hard to take that many pictures.:)

Ayara Hilltops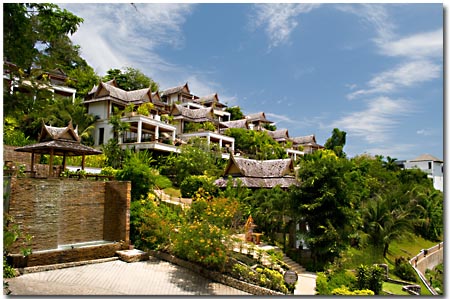 The both of us returned to Singapore pretty close to midnight on the 17th from Phuket, pretty exhausted and deadbeat, but strangely still exhilarated from the incredible 4 day stay at the Ayara Hilltops.
The boutique resort is located at a relatively secluded part of Phuket; specifically the western side of the island along Surin Beach. Heck, the place was so quiet that during our stay we didn't see any swimmers and just a small handful of beach goers and surfers on the last day, though I think the strong waves forbade any sort of actual swimming to begin with. Moreover, June is the low season for Phuket, so there weren't many tourists on the island altogether and even fewer in the resort. I'm guessing that the resort was perhaps less than a quarter full.
The resort itself is fairly new at just 4 years old. Apparently, it was built shortly before the tsunami hit in December 2004, though from what the front desk manager told us the resort was fortunately spared of devastation. I couldn't help but detect the tinge of sadness in her when she mentioned the tsunami. While no sign of the disaster remains on the island (aside from numerous signposts of tsuanmi evacuation routes), it was an incident that still strickens the locals there.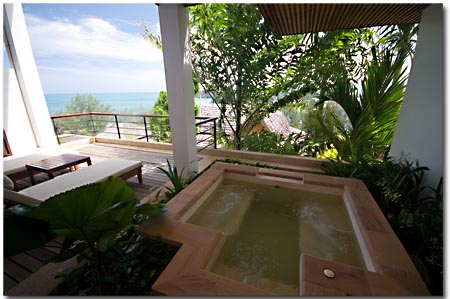 The suite we stayed in has quite a mouthful for a name; Jamboree Super Deluxe Sea View suite, and it had a balcony with a magnificent view of the Andaman sea and Surin beach, and the more popular Bang Tao beach some distance away. Better still, we had our own jacuzzi, which we soaked in a few times after spending the day out in the sun.
The resort itself is built on a steep hill with the concierge and dining areas at the hill base, and suites and rooms at the top. The journeys both ways are facilitated by a permanently on-call buggy service that ferries passengers up and down the hill. The walk down was really pleasant and made easy through landscaped and prettily manicured gardens and stoned pathways, so we usually did that instead of calling for the buggy.
We had our daily breakfasts at the terrace restaurant. The spread was a mix of international and Thai cuisine, including smoked salmon, various pastries and salads, juices, cereals, fruits and fare that's more common on main courses. Breakfasts were really quiet affairs since we typically woke up early each morning. But on one or two mornings (obviously) Singaporean families came in with their entire broods, and the place started sounding more like a foodcourt. Sort of spoilt the quiet romantic atmosphere, but typically by then we would already been done by then.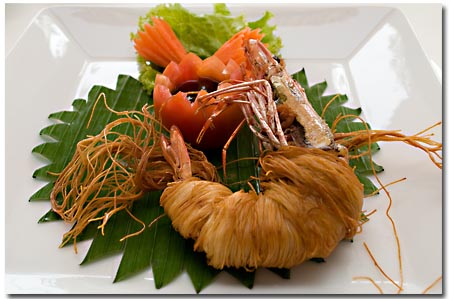 There was a really nice surprise for us too on the last day of our stay. The front desk called to inform that we had a complimentary dinner at the poolside restaurant. Till now we still can't figure out how come we got that, as that wasn't an item included in our Tradewinds package. We're guessing it's bonafide complimentary given the low season and exemplary of Thai hospitality, or it came with the suite we stayed in.
Either way, it was an exquisitely prepared meal where we had the whole restaurant to ourselves and were served by the floor captain. We were treated like royalty. Neither of us could finish dinner though; there was just too much food!
The last photo here in this entry is a panoramic shot of the poolside and terrace restaurants, taken at around 7 pm. The rest of the photos are at the usual photo page here.:)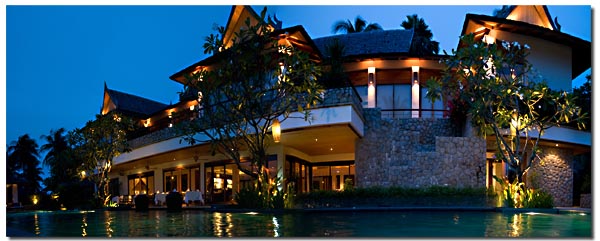 Floating in the sea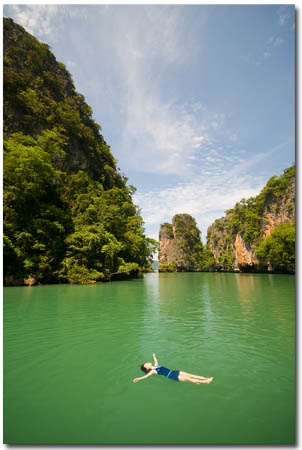 We're writing this still at the Ayara Hilltops at Phuket – Surin beach. Day 3 was spent quite out of the island where we were on a day long chartered boat trip around the islands in the Phang Nga bay.
This picture was taken at a stop over at a stunningly beautiful enclosure of limestone formations.
I would have loved to take a dip too, but someone had to remain on the boat to take this picture of Ling.:)
A few more photos are at our photo site right here, with the rest of the nearly 940 pictures taken so far to follow when we're back in Singapore proper.:)
WYSIWYG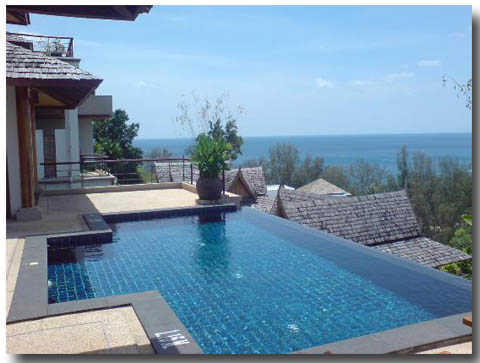 Ling needs a holiday. I mean, teaching in secondary school is absolutely no joke. After seeing how distressed she looks sometimes after school, I resolved to find us a nice vacation spot during the holidays. The March holiday period this year was bad as she was preparing for her choir's Italy trip (which didn't turn out so great). The next appropriate vacation period was in June, but even that was not free from complications as our free days were in sync for only about 4-5 days.
In any case, we did find a nice spot for a getaway, the not-too-often heard Ayara Hilltops resort in a fairly secluded part of Phuket. Did the booking and reservations etc., and we'll be there from 14-17th June this year. It's apparently a five-star boutique hotel. Here's a picture of the resort looks like taken by someone else at Tripadvisor.com. Will the resort look as nice as it does in the picture? Well, come June we'll find out.:)