Apple vs Windows
now browsing by tag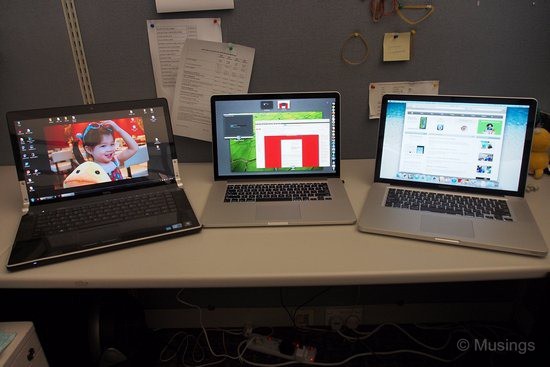 MacBook Pro Retina
The MacBook Pro Retina (rMBP) arrived on Tuesday afternoon, about 8 days after placing an order for it. The notebook configuration I chose wasn't the base configuration. Given that the new series of rMBPs can't be user-upgraded later after it leaves the assembly plant, I went with a 16 GB RAM upgrade, judging that storage is going to be less of an issue with portable harddrives as opposed to onboard system memory. The custom configuration must have factored in the slightly longer time it took for Apple to complete assembly, since some buyers have reported receiving their notebooks quicker than I did.
I've posted earlier before of Apple's streamlined and iconic packaging. The rMBP is no different, coming in the usual white box, black in-trays, the notebook, a small instructional booklet, power adapter and sockets.
After spending two days using the new notebook, my feelings are mixed, even though Apple fanboys still tout this as the best notebook yet. The plus points include:
Classy build. No loose parts, no awkward or sharp corners, no question about it. The MBPs' aluminum unibody chassis helps the notebook cool down when not in use.
Light and slim. After lugging around the 6.3 lbs of Dell every day to and from work, the 4.5 lbs weight of the rMBP makes this feather weight.
Super-high resolution Retina-class screen. It's a stunning screen alright. With less glare than the Dell XPS.
Very fast SSD storage. Several times faster than the entry-level SSDs I've got installed on my home PC and Dell XPS.
But then again:
Super-high resolution Retina-class screen. Outside the couple of browsers and OS 10.8, everything else looks terrible, including Windows and everything else running on it. It's tolerable once I bring the LCD resolution down to 1920×1200 pixels, but text in turn now looks rather blurry.
Less contrasting screen compared to the Dell. Sorry fanboys but the Dell XPS 16's RGBLED screen surpasses the rMBP's Retina screen. Hannah looked better on the Dell.
Windows 7 takes forever to load. The Dell XPS takes about 14 seconds to load up Windows, despite its slower SSD. The rMBP takes nearly a minute with Bootcamp despite its faster SSD. Bleh.
Keyboard is a little fiddly. It displays absolutely no flex (compared to the very slight flex I got on the Dell), but it simply felt better typing on the Dell with its better key travel than the rMBP. I'll probably get used to speed typing on the rMBP soon though.
Only two USB ports. Gaaah. But at least it's on opposite sides of the notebook now, compared to the old 13 inch MBP which placed the two ports side by side.
The last two evenings have been spent configuring the rMBP to work with three operating systems: WIndows 7, Mac OS 10.8, and a Linux build that I have been tinkering around. Once I'm fully satisfied that all my work related files and settings have been correctly replicated on rMBP, I'll be wiping my Dell XPS (*sniff*) and configuring it for Ling to use.
OK; the usual pictures!
Will I Believe…? Part 3
Well, I've already posted about niggling annoyances with my new MacBook. So, to balance things up a bit, here's part 3 of my series of posts on whether I'm falling in with the crowd of Apple Faithful – or not – and it at least includes a few things that I like about the MacBook.
Very nice body and build quality.
Design is a mixed bag. The single pane glass LCD is  both gorgeous and smart: it's hard for dust and little particles to sneak in between the bezel and screen, which was a persistent problem with a lot of the other notebooks I've owned.
I like the backlight keyboard too. A lot of times I've struggled to see what's on my notebook keyboard when the lights are dimmed. My Thinkpad use a soft light source mounted near the web cam, but the Apple MacBook's idea is even better.
However: the MacBook design also has numerous fails for me. The number of USB ports at just two is miserly. Even smaller netbooks have 3 USB ports these days. More seriously though… the two ports are placed too closely. A lot of devices I use have USB stubs that are wide, e.g. the Starhub Maxmobile dongle – which means that effectively, I can't use another USB device when I'm on Maxmobile unless I get a USB extender. !@#!@$%$#@$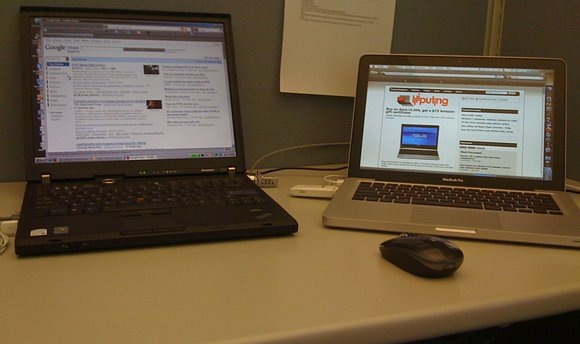 The combo audio/microphone jack is a bad idea. The auto-toggling works in OS X, but not in Windows. I'm guessing it's sloppy drivers on the part of Boot Camp, and I'm not the only person who had difficulty. Hunted around for a solution and found it though – fortunately.
The OS X's version of Live Messenger has no nag adverts. Nice! No need to use third party software to kill those adverts.
Very nice User Interface in and out. Even the normally drab and all workman like Firefox looks gorgeous in Snow Leopard.
Pretty good battery life. Not quite to the ungodly endurance of some of those Windows 7 / Intel CULV notebooks that are clocking in 9 hours, and a few even 10 hours. But the 6 hours normal use this MacBook offers isn't too bad. It's long enough for the Kyushu flight, and longer flights than that I don't typically stay awake throughout the flight anyway.
But at the end of it, I'm still not a MacBook convert: I'm still solidly a Windows geek. Apart from nifty UIs and that the Keynote software on iWorks churns out nicer presentations than PowerPoint, there's little else I've found that the MacBook can functionally do that I haven't been able to already do in Windows, and without all the annoyances.
Maybe more time with the new toy will change. Who knows LOL.
Will I Believe…? Part 2
Day 2 of using the MacBook. I spent all of last night installing my productivity software and also Vista Ultimate on a Boot Camp partition. And the little irritating nuances are already showing.
The first couple of applications I installed in OS X had no instructions of any kind – just a pop up window with two large icons and no advice what I should be doing. I spent a good 15 minutes trying to figure it out until I went online and found my solution.
I have to throw more money at Apple if I want to project my display onto an external device. Every Intel notebook I've owned had an inbuilt VGA output, and in more recent cases, HDMI ones even. Apple has their own proprietary standard – i.e. I have to fork out money for different mini-adapters just to do what I've always been able to do for free.
Playback of 1080p HD videos encoded in MPEG4-AVC/H.264 was horrible. Crazily sluggish with dropped frames and artifacts galore. It's apparently from some sort of compatibility issue between the VLC Media Player – which is one of the few players that can even play these files for the Mac OS X – and the operating system itself. And I'm not alone – plenty of complaints about it here. Ironically, I Boot Camp back to Vista and play the same HD video file using Windows Media Player with the K-Lite Codec Pack… and it does so flawlessly.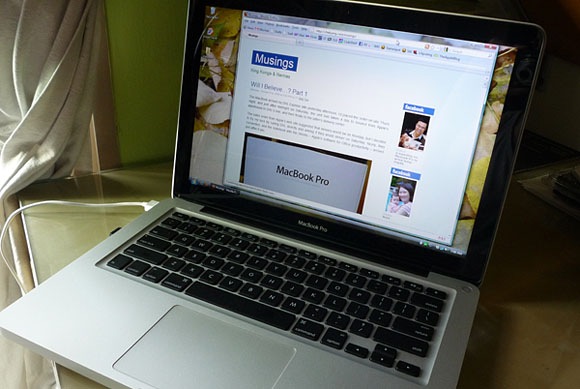 I miss the hard disk activity light found in every Wintel notebook I've owned. You can tell from a glance the activity level for a program. No such thing on the MacBook, and whether a program is just accessing main memory or driving the hard drive nuts I have no clue.
Couldn't believe I can't kill the irritating startup "KA DENG" sound without relying on third party software that I have to hunt for, unless I mute all sounds from the notebook altogether. Seems like showmanship on the part of Apple.
For a notebook that touts itself as dual OS bootable, I'd assume it'd be easy to toggle and restart between OS X and Vista. Hell no. Apple installs an icon in Vista for you to quick restart in Mac OS X, but they don't give you an icon for doing the reverse. Talk about sending not so subtle messages telling me how I should use my notebook.
One of Windows' best freebies is Windows Live Writer, a multi blogger platform that lets me compose WYSIWYG blog posts offline, then post them all up when I've got a connection. No such luck in Mac OS X – you have to fork out money, and they're inferior products even.
Thing is: the Apple Faithful would have you believe that the Mac OS X is a superior product to Windows in every possible way. Not so from my experience so far. At best from what I see, it's going to be great in certain aspects which matter to a lot of people, but unfortunately poorer in many aspects that matter to me.
Oh well. It's all part of the learning – so the next post I'll write about the positive stuff in the new experience.:)
Will I Believe…? Part 1
The MacBook arrived by DHL Express late yesterday afternoon. I'd placed the order on late Thurs night, and the unit had taken a day to bounce from Apple's warehouse to DHL's one, and then finally arriving at the latter's delivery center at a stroke past Friday midnight.
The sales order from Apple's web site suggested that delivery would be on Monday, but I decided to try my luck by calling DHL directly and seeing if they would deliver on Saturday. Nicely, they consented, and the notebook with the iWorks – Apple's software for Office productivity – arrived just after 6 pm.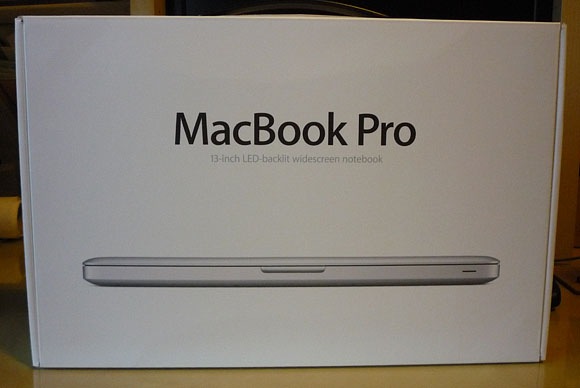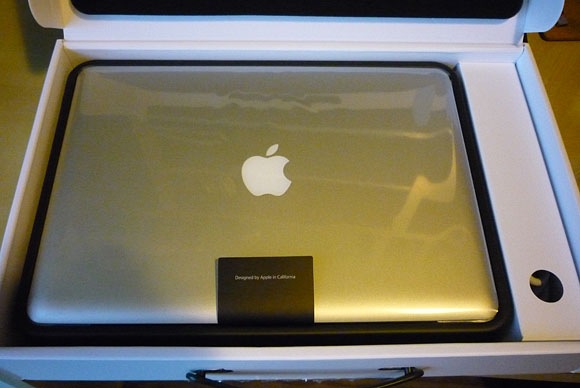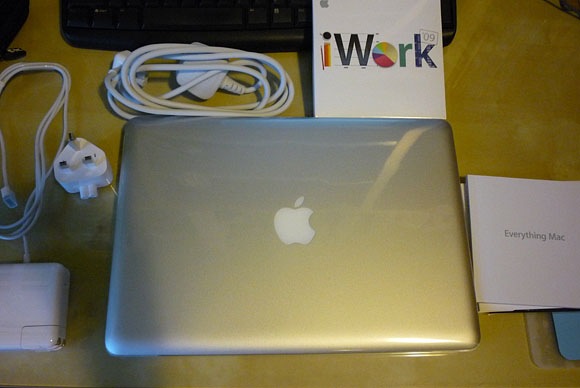 You have to give it to the Cupertino folks: their products exude style, right even in packaging. Packaging contents were pretty minimalist – quite unlikely unboxing a Wintel notebook where it's always crammed with CDs, manuals, flyers, promotional coupons, modem cables, demo ware etc.
More to come – soon.:)
"I was busy looking for a 'explode macbook' button."
Well, no one can now say – hopefully – that I didn't give MacBooks a chance. My NEC Versa E6310 has undergone abuse. It's switched on at least 10 hours a day, everyday at work for 2 years now, it goes with me whenever I do a public presentation or talk, and I use it as a scratch notebook i.e. I use the notebook to try out all kinds of demo ware that I wouldn't dare try on my home PC. The screen has now lost perhaps about a quarter of its brightness, and the track pad has a mind of its own i.e. it never does anything I want it to.
I was initially intending to get another Wintel notebook – one of those 11.6" LCD CULV netbooks in fact – soon to replace the aging Versa when a revelation struck me. Why was I coughing up more money to buy another Windows notebook, when I could use that money to buy something that could at least also provide me some learning value? I mean, for all purposes, my productivity level on a Windows machine is operating at peak relative to my ability to work the machine, and as useful as another Windows notebook would be, I wasn't going to learn anything new with it by way of working in new operating environments.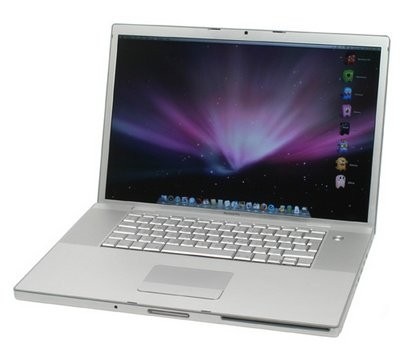 That's essentially the reason why I ordered a MacBook Pro late last night, and am expecting delivery of the unit later today or tomorrow. There're two 13" MacBooks that are priced quite affordably. One's simply called the MacBook, the other the MacBook Pro. The former is their cheapest Apple OS notebook now, and in terms of computing specification is equivalent to, and in one spot at least, better than its more expensive by $400 brethren. However, the MacBook has a cheaper body – which doesn't bother me – and a poorer screen – which I disliked after checking it out at Compass Point's Denki. The limited color gamut and lower contrast doesn't matter if you don't do photo-editing, but I do a lot of that. So, I went with the cheapest MacBook Pro model listed.
—
It's interesting now to see my friends, colleagues and students respond to my Facebook status update. I meant it when I reflected in February this year a sentiment that exists among many of us who're (supposedly?) experts in the use of technology – that many of us dislike Apple OSes as it forces a person to operate at a level of abstraction that, frankly, is both limiting and mildly condescending. For all the hardware weaknesses, vulnerabilities and general all-round ugliness of Windows up to Vista, there's a lot more potential by way of software range, hardware variety, and enterprise-level development tools that we use that's only available for Windows machines and not Apple OS ones, bootcamp or virtualization not withstanding.
And many of us have learned to work round the many Windows flaws. Viruses on Windows? I've rarely had anything more serious than a virus warning popping up on my Windows notebooks when I stick one of my student's thumb drives in, and that's because I know how to arm and properly defend my Windows environment. And it's far less of a hassle than the Apple faithful would insist – I actually like the sense of empowerment and ability to install, tweak, and customize all those tools. And between a sanitized environment with a limited outlay of toys versus a sandbox with some risk but I have access to a far greater array of toys that can provide better learning opportunities albeit amidst adversity, I'd always prefer the latter.
That's basically why I can empathize with some of my colleagues when they write a comment that's the title of this post. They don't like Macs. Me though, with this purchase of a MacBook – no one can say I didn't at least try. I'm pretty certain I'll like its colorful and unified interface a lot at least. As for productivity, I'm not so sure.
Either way, I can still always leave the MacBook at home to keep Ling occupied while I go back to my NEC Versa dinosaur – which while is rapidly losing its color and is getting crankier by the day from overuse, I still can get it to dance a trick and do what I ultimately need it to help me do – i.e. be more productive.)
Operating System Malfunctions
One thing about end user computing that's taken some getting used to has been the transition from text-based to graphical operating systems. For the first initial years up till Windows 98 at least, I found I could get system-centric tasks done far faster from a DOS prompt than using a GUI.
That's probably one reason why I never took to the Apple OS in the pre-Win95 days. Heck. The persons around me in the computer engineering faculty… few of them liked the OS even, the hysteric and rabid fandom that Steve Jobs commanded even back then not withstanding. For us, it was always about the platform that offered the most across a range of criteria beyond just aesthetics and 'ease-of-use': the criteria included availability of software, accessibility of support, and hardware available to extend the capabilities of the platform. And that stuff in the 90s about the Apple OS being a more stable platform – erm… right, because the Mac workstations in the labs crashed as often as the Windows ones when we subjected it to similar degrees of hardware and driver switcheroos.
This doesn't mean that Windows is a great operating system. The first release of Windows as a 'complete' OS – Win 95 – that didn't need DOS in the background wrestled with a ton of device driver issues and BSODs. The next 12 years saw incremental improvements in stability and usability, and with the impending Windows 7 later this year, the aesthetics and stability gap between competing OSes have finally narrowed to a negligible point.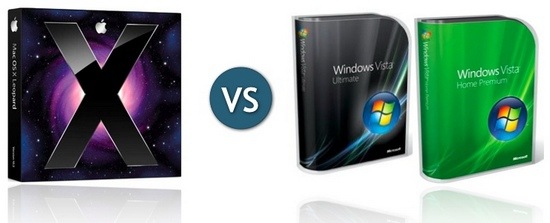 That said though, installing and refreshing a Windows operating system is still always a fun and occasionally exasperating challenge. I picked up a new Seagate 1.5 TB harddrive (alongside a few more sticks of RAM) at Sim Lim over the weekend to replace the most aging of my three hard drives. I had a copy of Windows Vista Ultimate, compliments of Microsoft, sitting on the shelf for some months now, so took the opportunity to try installing the 64 bit version of the OS as well.
Wow, and what an effort it took… if only because I completely overlooked one little thing. The damn thing just refused to boot up initially even though the memory diagnostics showed up no errors. Until I remembered to update the motherboard BIOS. Thereafter installation finally proceed speedily.
I'm tempted to pick up Windows 7 later this year; the beta version that I installed on the MSI Wind has worked amazingly well. Thing is though W7 doesn't really offer me any real advantages apart from speed and a really nifty UI.
But still… I'll see. Ling's using non-Aero version of Vista that came with the Acer PC I bought her 1.5 years ago, and she occasionally looks onto my PC with envy. I could always pass her Vista Home Premium later this year.:)
Picture from Mac vs Windows.
Apples, PCs, and a Girl in between
Truth to tell, one of the ongoing discussions that gives me the laughs is the Apples vs PCs'war'.:)
Now, that in itself has a bit of a history, and like a few of my other stories here, there was a girl in it! I was an active participant of the online forums in NTU 16 years ago, and in my final year, there was a bit of a online fight between a Mac-fan and myself.
Here's the thing; I'm neither a Mac or a Windows fan. My first computer in 1984 was an Apple, and I wrote my first game in BASIC 3 months later. For me, it's always about the most appropriate tool for the job. And appropriate for me isn't merely about functionality and looks, but encompasses a host of other factors including affordability, accessibility, support (especially), amount of published and user-generated literature in it, and quality of content.
In any case, there was this fellow who was in a different faculty heaping scorn on PC users. So I took up on him, and before long things got a little too hot. And only got worse when he got his girlfriend who was in the same faculty into the thread too. So there I was facing off this (very) rude fellow and his girlfriend in a Apple vs PC debate.
How did it end? Well, a certain Associate Professor who knew me in person—at that juncture in 1994 I was a semi-well-known debater—stepped in and broke up the fight, saying, as I recall it, it was regrettable that persons such as myself were arguing over something like this.
Now after things cooled off, one thing led to another, and the girl in this story and I became friends. No it didn't get anywhere—how was it to—and it was a pretty sad story on how it ended: my heart got broken, and I wrote my most cherished song in memory of our friendship. And here's the funniest part: whenever I see another Apples vs PC/Windows debate, this is the story I remember.:)
Anyway, just to make sure this entry's still somewhat On Topic, Microsoft is coming up with its own stylistically clever advertisments to fend off years of Apple bashing on Windows. It's cute, sort of.:)
httpv://www.youtube.com/watch?v=oshj4zEZlaU