Ans: You throw them back in jail.:)
For nearly a week now, Patches and Tinny had been dropping a few scales, and we couldn't figure out the reason why. Their eating patterns had not changed, water parameters and quality were still pretty solid, and the other critters in the large and comfortable tank were alright. Until we finally saw for ourselves – Stripes had been secretly pecking the two Lionheads. And he's supposed to be the less aggressive of the two Angels.
For some reason, Pig and Frilly are quick enough to swim away when Stripes comes near, but not Patches and Tinny. Short of sending the two Angels to permanent retirement i.e. down the toilet bowl in a fit of anger, the only real solution was to separate the species again. I'm out of spare tanks, so we had to move the inhabitants of tank 2 – Neonies and Leopards – to tank 1, and the Angels to tank 2. In relative comparison, one could say that tank 2 is like Hotel 81 and tank 1 is like Hotel Shangri-La.
So here's a picture of Nibbler and Stripes looking very dejected in their substantially smaller jail cell again: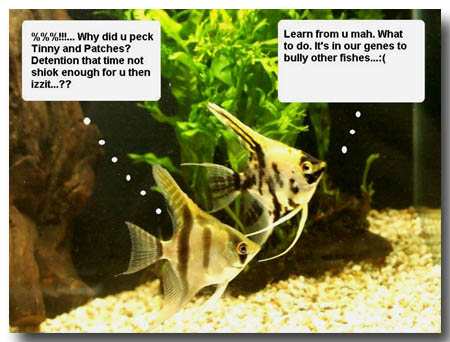 And a picture of the Topfin, Halffin, and Blackfin – three of the beneficiaries of Stripes' misbehaviour.:)