Nikon 50mm f1.8
now browsing by tag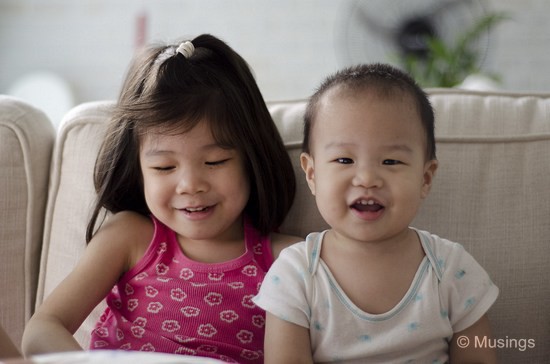 Revisiting the D7K
I've been using m4/3 cameras for more than 4 years now, and was running through my records the various camera bodies of this system I've picked up over the period.
March 2010 – Olympus E-PL1
April 2011 – Olympus E-PL2
May 2012 – Olympus E-M5
October 2013 – Olympus E-PL6
The E-M5 has been my workhorse camera for almost 2.5 years now and while it's starting to show its age through the usual nicks and bruises, still functions otherwise well. The E-M5 was joined by the E-PL6 a year ago, and both cameras have found permanent spots in my Messenger bag whenever we're out of the home.
I was curious though to see how pictures on a camera with an APS-C sensor fares against these m4/3s. Nikon has been pumping out new models of its full-frame cameras, but disappointingly, seems to have become uncertain on what to do with their APS-C DSLRs. The D7000 – which I bought in January 2012 – hasn't seen much use since I bought the E-M5. So, over the weekend, I dusted it off, brought out my two favorite primes for it – the 50mm and 35mm f1.8s – and took pictures at home of our kids.
The results were pretty mixed for sure. Running off my head:
I realized again how helpful the 5 axis built-in optical stabilization on the E-M5 is to picture taking. A small number of shots with the two Nikon primes – and these are both non-stabilized lenses – were out of focus to varying degrees because of camera shake.
The D7000's 'kaplak' mirror slap each time I released the shutter was very loud compared to the E-M5's very quiet shutter that I'd gotten so used to.
The D7000's back panel buttons and command dials feel a lot more premium than the squishy and small buttons off the E-M5.
I like the colors coming off the E-M5 than the Nikon D7000's – so much so that I found myself dialing up the image color saturation setting on the latter.
Bokeh off the two Nikon primes were marvelous, but the thinner depth of field caught me off guard. Made me realize again how forgiving are m4/3s when it comes to errors in focusing points.
The last observation was especially pertinent, since I sometimes wonder if I should give a (mirrorless?) full-frame system a go, and then become cognizant of that adage; that those systems can be extremely unforgiving, and your photographic techniques had better be pretty good already. There is a new but future camera purchase I'm thinking of though at year's end – will blog about it soon enough.:)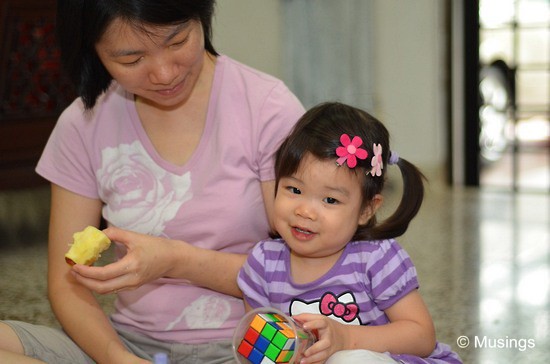 Hannah @ 50mm – Part 2
The 35mm f1.8D was taken out for a spin last weekend. This weekend, it was the 50mm f1.8D's turn. I shot a whole bunch of pictures of Hannah wide-open, and as before, at f1.8 pictures were a little soft. Sigh. When stopped down to f2.8, things improved quite a bit, though wide-open my 50mm just can't match the 35mm in center sharpness.
Our girl is just about 2 months away from turning three. We've just finally taught her to say out loud how old we each are at home; i.e. "Hannah is two and a half years old. Daddy is 40 years old. Mommy is 37 years old!" Just a month ago, she was saying "Mommy is 70 years old" – and Ling would turn white at it.=)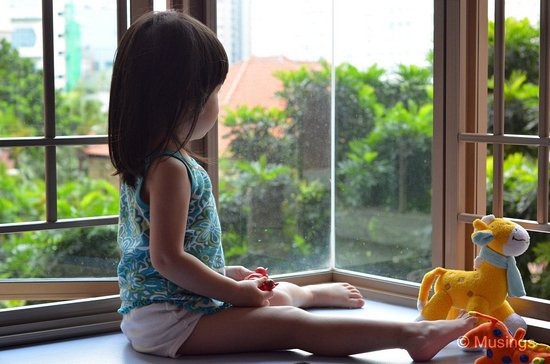 Bay Windows
The last of our weekend pictures taken of Hannah. This bunch was just after she woke up from her afternoon nap on Saturday afternoon. Our girl has taken to sitting on it and looking out to the swimming pool, trees, blue sky and what not.
The bay window in her room is more than a meter from the floor, so she has to be carried up to it, and watched too. She knows it's too dangerous for her to try climbing down on her own, but Ling was hovering right outside the camera frame in case Hannah had any funny ideas.=)
All taken using the 50mm. Lighting was a little tricky given the relatively brighter backdrop.=)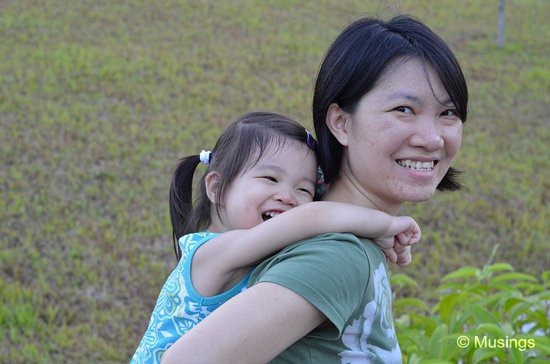 Punggol Waterway
The Punggol Waterway is a pretty easy spot to find for us, since we've driven past it before when on our way to Hannah's nursery school. The place was officially opened on 23 Oct last  year, and features a roughly 4 km walkway on both sides of the man-made waterway. We checked out the place after dinner and just now at about early evening, so the colors look just a mite washed-out.
The lenses that came for the trip was the new Sigma 70-200mm f2.8 (first four pictures in this post), and 50mm f1.8 (the last picture). I wasn't the only visitor totting around a DSLR for sure. Counted at least half a dozen other photographers carrying DSLRs equipped with something other than kit lenses.=)
Judging from the pictures taken by other visitors in better light, I imagine we'll come by here again soon in perhaps mid-morning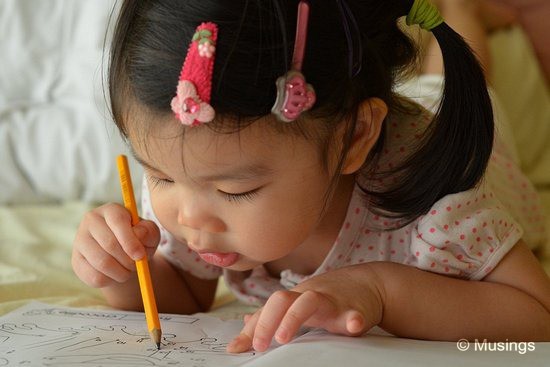 Hannah @ 50mm
OK; it's official. I have to squint real hard if I want to read the viewfinder's information display now. !@#!@#!
We're gonna be heading out later in the afternoon to check out the new Punggol waterfront area that our friends suggested during last night's bible study, with the 70-200mm is going out for another test-drive. In the mean time; now that I've corrected the 50mm f1.8 for front-focusing problems, here're pictures of Hannah from it.
Even after focusing correction using AF fine-tune, results off the 50mm were still mixed. All of these four pictures were taken at f3.2 to f4, and when blown up, it's still very slightly soft in the center when compared to the 35mm.
Mommy & Daughter
Last month I wrote an entry reporting that while Hannah's all me in mannerisms and general looks, her eyes take after Ling's. Well, here's proof – got Hannah to pose with Mommy, with Ling making her laugh.:)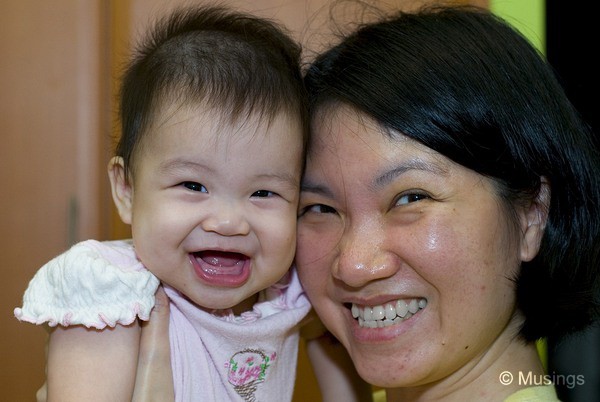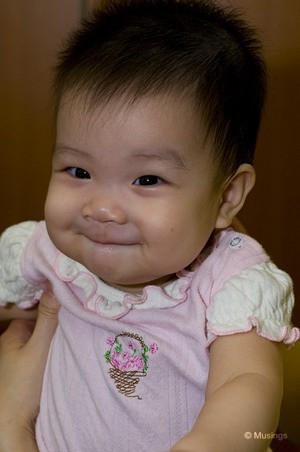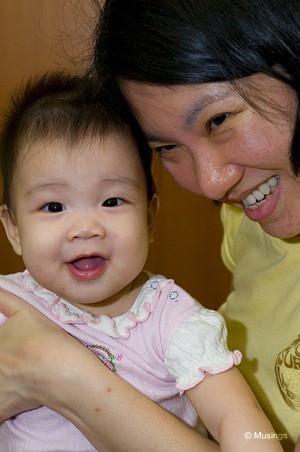 Looks like Hannah could eventually inherit Mommy's crow-eyes too!
Taken using the 50mm f1.8 again (but gonna switch back to my usual 24-60mm f2.8 after this) yesterday night after her 7:30 pm feed.:)
Baby Faces at 50mm – Part 3
If there's one thing I miss on portrait lenses, it's optical stabilization in low light situations typical of a restaurant. These were taken (badly) this morning during a brunch at Swensens @ Compass Point, and if you've been there for a meal, you'll know how dim lighting is there. I didn't want to drive the ISO beyond 800 (need… full… frame… DSLR!), and I didn't want to shoot with a wide-open aperture either. So at f2.2 – the most I was willing to risk, and ISO800 – and at 1/20s exposure times, half of the shots had visible shake, and that's not counting the fact that Hannah herself rarely remains still – now also got subject motion to contend with. It's only now when I realize how spoilt I've become by optical stabilization LOL.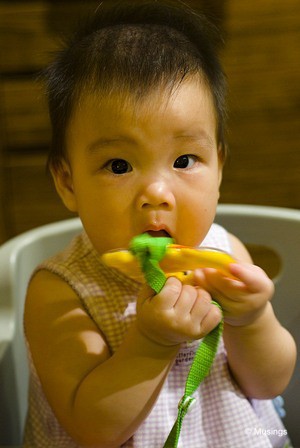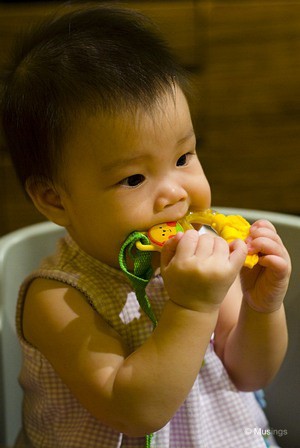 Hannah with her favorite past time when we're out of home – chewing on her toy.:) 
Baby Faces at 50mm – Part 2
These next were taken at the level four Kopitiam at Hougang Mall with warm lighting in the food court. Had to adjust tint levels and temperature, and even then the results still look a little off.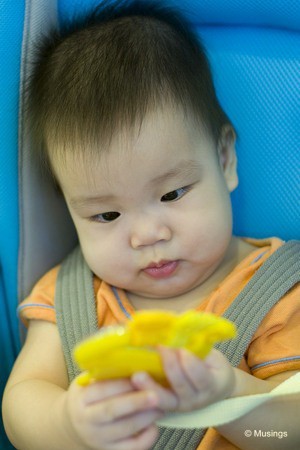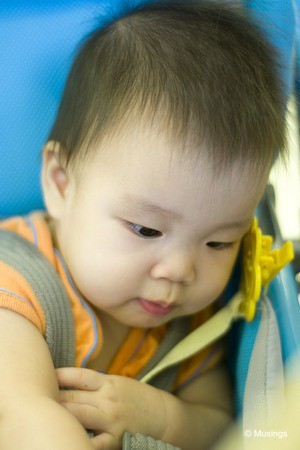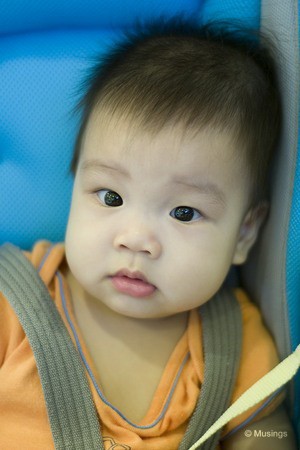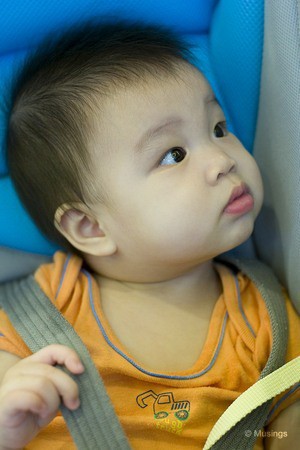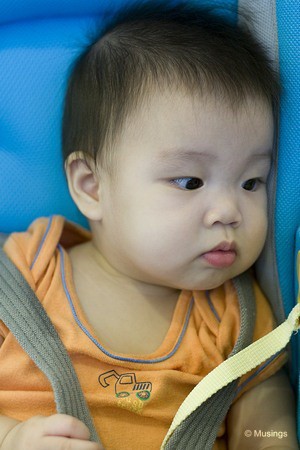 Baby Faces at 50mm – Part 1
My first Nikon lens from 1985 was a 50mm f1.8. As those of us who're amateurs in photography would know, this 50mm focal length lens is especially appropriate for portrait shots. While I did pick up my first zoom lens – a Nikkor 70-210mm a couple of years later out of my own pocket money – I spent more time with the 50mm taking portrait shots of my ACJC classmates than the zoom. Those pictures weren't all good of course (though a couple turned out very well, including one of this classmate I was interested in back then!), but there were a lot of valuable lessons that I learned from trying out, and also from a fellow ACJC enthusiast back then, who today has his own photography studio.
Fast forward to 25 years: I've bought a second-hand 50mm f1.8 AF from a colleague in July 2008 but funnily never really used it much with the D300. I like the Sigma 24-60mm f2.8 lens better, what with its small but tremendously useful zoom range, and that it's tact sharp after I had it calibrated at the Sigma Service Center. Either way, I took the 50mm out for a Sunday spin with Hannah as the test subject. And here's the outcome after about 90 frames later – split into two posts. This one below was taken at home in semi-low light.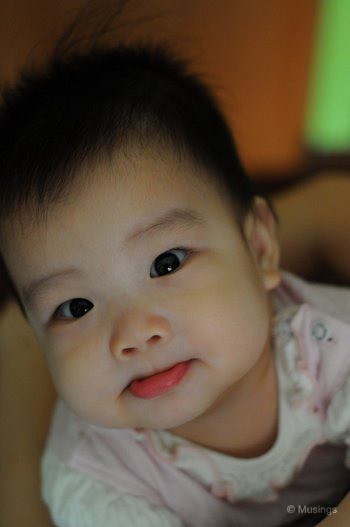 Yeah I'm all rusty, and I made a couple of noob errors. But the next couple taken at Hougang Mall turned out better.:)