Nikon 35mm f1.8
now browsing by tag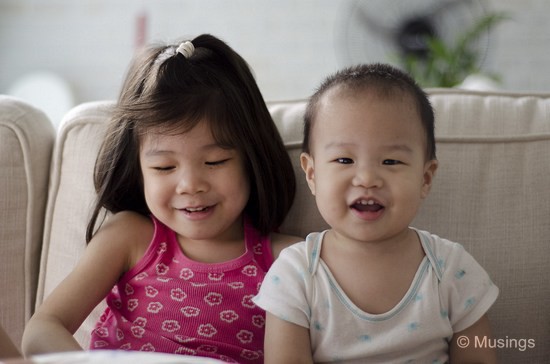 Revisiting the D7K
I've been using m4/3 cameras for more than 4 years now, and was running through my records the various camera bodies of this system I've picked up over the period.
March 2010 – Olympus E-PL1
April 2011 – Olympus E-PL2
May 2012 – Olympus E-M5
October 2013 – Olympus E-PL6
The E-M5 has been my workhorse camera for almost 2.5 years now and while it's starting to show its age through the usual nicks and bruises, still functions otherwise well. The E-M5 was joined by the E-PL6 a year ago, and both cameras have found permanent spots in my Messenger bag whenever we're out of the home.
I was curious though to see how pictures on a camera with an APS-C sensor fares against these m4/3s. Nikon has been pumping out new models of its full-frame cameras, but disappointingly, seems to have become uncertain on what to do with their APS-C DSLRs. The D7000 – which I bought in January 2012 – hasn't seen much use since I bought the E-M5. So, over the weekend, I dusted it off, brought out my two favorite primes for it – the 50mm and 35mm f1.8s – and took pictures at home of our kids.
The results were pretty mixed for sure. Running off my head:
I realized again how helpful the 5 axis built-in optical stabilization on the E-M5 is to picture taking. A small number of shots with the two Nikon primes – and these are both non-stabilized lenses – were out of focus to varying degrees because of camera shake.
The D7000's 'kaplak' mirror slap each time I released the shutter was very loud compared to the E-M5's very quiet shutter that I'd gotten so used to.
The D7000's back panel buttons and command dials feel a lot more premium than the squishy and small buttons off the E-M5.
I like the colors coming off the E-M5 than the Nikon D7000's – so much so that I found myself dialing up the image color saturation setting on the latter.
Bokeh off the two Nikon primes were marvelous, but the thinner depth of field caught me off guard. Made me realize again how forgiving are m4/3s when it comes to errors in focusing points.
The last observation was especially pertinent, since I sometimes wonder if I should give a (mirrorless?) full-frame system a go, and then become cognizant of that adage; that those systems can be extremely unforgiving, and your photographic techniques had better be pretty good already. There is a new but future camera purchase I'm thinking of though at year's end – will blog about it soon enough.:)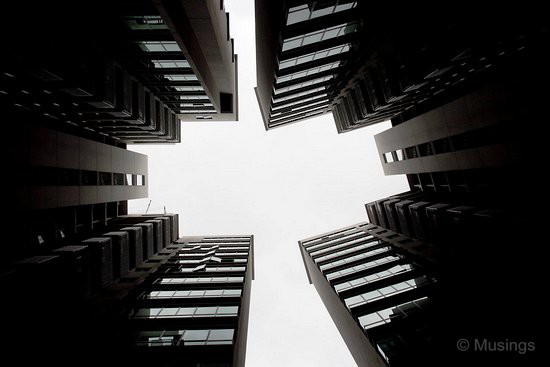 Work-in-Progress – Part 44 – Flora @ Tranquil World
We went by The Minton over the weekend for a meeting with a curtains/blinds maker we're interested in engaging. This particular contractor is based in Johore Bahru, but commutes to Singapore every day for work. He was a particularly jolly fellow and we like him, though at times he was chuckling at his own jokes! There's no lack of curtains/blinds makers in Singapore of course, but for those of us on a budget, the contractors who're located across the causeway are possibly a more affordable alternative. For our home, we're looking at day and night curtains for the living/dining room, blinds for the bedrooms/study, and frosted films for the master bathroom windows, and hopefully we'll receive a quotation from him soon enough as to how much it's gonna cost us for all these.
Rectification work has also started for the long list of defects we forwarded to the Developer too last midweek. A good number of chips and cracked lines along the wall edges at the front balcony and also bedrooms have been rectified, though others at the back balcony and kitchen have not been touched yet. Workers were also sanding down the parquet flooring on Saturday, and during a follow-up visit on Sunday afternoon, the same floor had just been varnished too. A couple of residents were reporting that the defect rectification team have (accidentally) caused a few more defects when they did their patch-up work – we're hoping that that doesn't happen too much for us. We wouldn't want a continual cycle of new defects caused by rectification teams!
More pictures of The Minton flora here.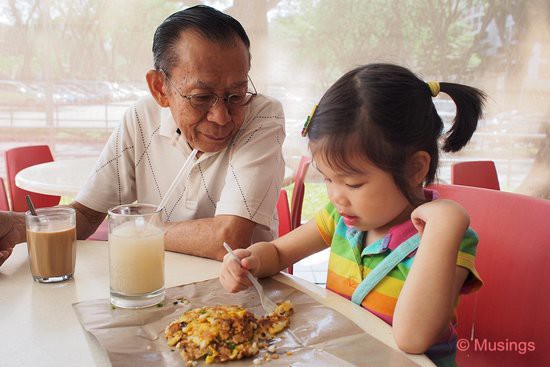 Kids @ 17mm, 25mm etc. – Part 9
Peter is just about three weeks away from four months old now, and Ling will be returning to work soon too in just over a week. We've made arrangements for Hannah's current nanny to take care of both children.
That's also meant some furniture rearrangements and adjustments too at home; Hannah has been sleeping in her cot in our room since Peter's birth in June. We'll now be passing her cot to Peter, moving Peter's current portable bed to the Nanny's, Hannah will be sleeping on a two-deck mattress, and both will be sleeping in the kids' room.
OK; it's actually not quite as confusing as it might sound in the paragraph above! While Peter sleeps soundly right now through the night, he's much less cooperative at day naps in-between feeds. In fact, he made such a din during both children's afternoon naptime today poor Hannah looked positively distressed. So, we moved Hannah back to nap on our bed – and she was knocked out cold in 5 minutes.
We've still yet to finalize their sleeping arrangements for our new home at the moment, but we're likely still gonna stick with the two of them in the same room once we move over next year – though we did have an interesting conversation with one of our IDs who reminded us (several times) during our renovation discussions that older children really do want their own rooms, especially when they are of opposing gender! Oh well – we'll see. We do want them to be close siblings, and hope that can be fostered by them learning to share spaces, and in tandem, also to treat the bedroom for resting only and not for anything else. More on that in our ongoing renovation posts of The Minton.
More weekend pictures again; the first two were handphone shots, so they don't look quite as pristine as the other two on the E-M5.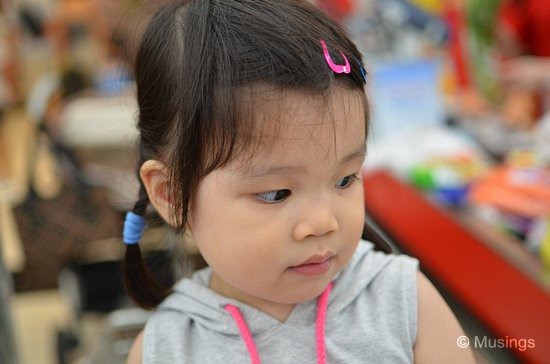 Hannah @ 20mm f1.7 – Part 4
It's semester break for the students at my institution, though not really so for faculty. Still, it does make available small periods in which I can clear the huge bunch of Annual Leave I've accumulated. It's harder to get Hannah to smile naturally for the camera these days. Not impossible – we just find ourselves having to work a lot harder than before! I suspect it's to do with the fact that she's wised up to my antics when she sees a camera pointing in her general direction. In fact, she understands this whole concept of picture-taking now, what with Ling lending her her Sony camera to try taking pictures of us.:)
The first group of pictures here below were taken across two weeks; last weekend and this couple of days.
These two below were with the D7000 + 35mm f1.8 while we were out at Serangoon Nex for weekend brunch @ Swensens. I've picked up a Bosstrap – similar to our Ang Mo bud's one – a couple of weeks ago and have it semi-permanently tethered to the D7000 now, though bringing a D7000 with a gunsling-styled strap out to a very public shopping center still makes me feel a tad conspicuous!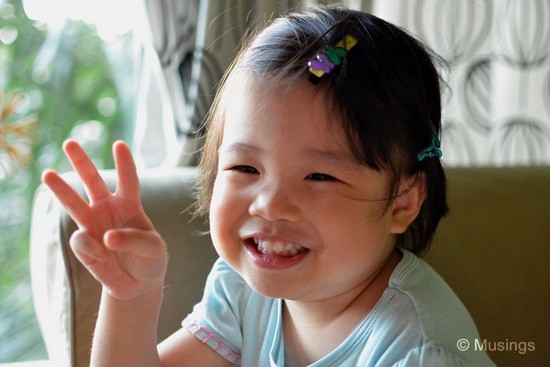 Weekends and 35mm – Part 4
I just realized that it's been a month since I posted up pictures of Hannah using the 35mm! She's just about a month away to three years old, and we've been teaching her to recognize the significance of her coming birthday too (see picture below!). She's also picked up the birthday cake she wants: it'll be my favorite too: the Green Tea Mocha cake from BreadTalk. Our angmo bud is definitely very familiar with that cake.=)
We've been getting her to count her twenty birthdates too. And it goes something like that: "Hannah is going to be three years old! After that, four years old! After that five years old! … etc… all the way to twenty."
The shops here have finally receive substantial stocks of the Olympus EM5. DPReview has given it a solid thumbs-up too. Must… resist… temptation!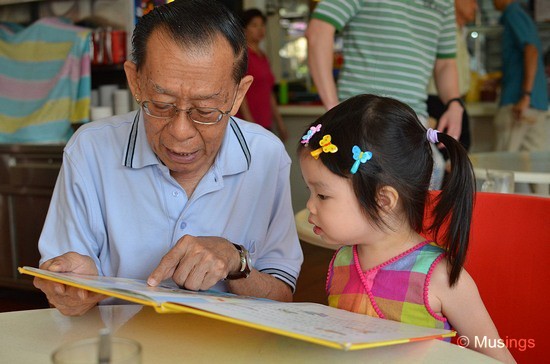 Weekends and 35mm – Part 3
I'm torn between the two f1.8 primes for the D7000 – the 35mm and 50mm! After the in-body micro AF adjustments, the 35mm is sharp now in the image center now, and the 50mm slightly less so. The 35mm seems to give better color reproduction than the 50mm, but on the other hand, the latter seems to focus just a very small bit faster. The bunch of pictures below were taken on the 35mm this time, and at our weekly Sunday brunch with parents.=)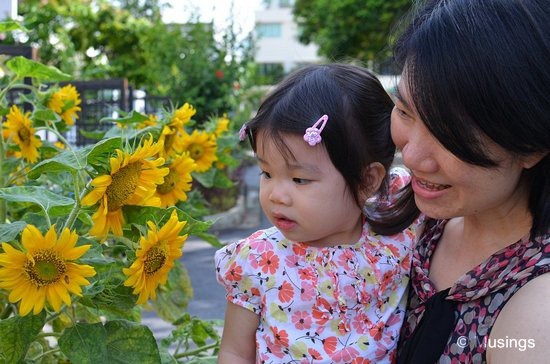 Weekends and 35mm – Part 2
The more pictures I take of Hannah, the more I'm convinced it's incredibly hard to take pictures of children! Specifically; they don't pose on demand, and they're constantly on the move. Out of say every one hundred pictures I take of Hannah, roughly about three quarters would be usable (as in in-focus + correctly exposed + acceptable composition with cropping), and of that number, perhaps just a quarter of them would be memorable.
The biggest challenge I face now is subject motion – Hannah will not remain still. So the only thing left for me to do is to ramp up the shuttle-release speed to 1/250s or faster when possible , and it's not always so unless there's reasonably good light. Shooting wide open at f1.8 isn't always viable either, with the shallow depth-of-field I have to deal with as I typically take pictures of Hannah up-close.
In any case; pictures taken today on Sunday, and just before we headed out for dad's birthday lunch at Wah Lok Cantonese Restaurant.=)
Moments Like These
Lucky moments like these where I can get a picture which captures our girl in a memorable moment.=)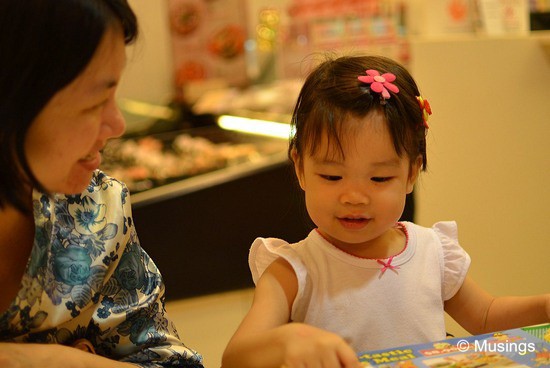 Feb 14
We were expecting the worst when heading out for a family dinner this evening after work. It's Valentine's Day, and every Singaporean couple and family are out for a celebration dinner. We raced off after work, drove like crazy to pick up Hannah, and got into Hougang Mall and the Ichiban Japanese restaurant five minutes before every restaurant in the mall saw long, snaking queues forming (yep; even for Subway and Pepper Lunch).
The D7000 and 35mm f1.8 went for the ride. Pictures of the two women in my life.=)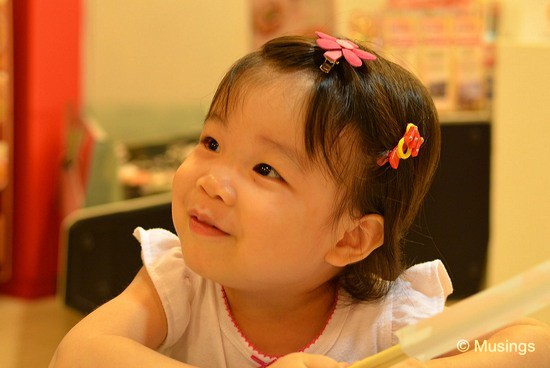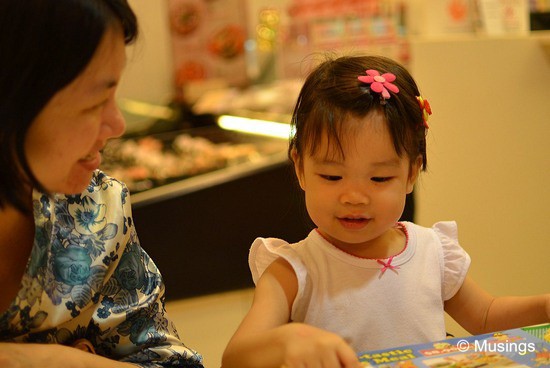 Both at ISO640; the first at f3.2, the second at f1.8. There's still some softness when I pixel peep, so I'm going to have to check my focusing charts again.
We were asking Hannah (just for fun, mind you, so don't read any more into it) if she would prefer a 弟弟 or a 妹妹. She thought for a minute, and said confidently "弟弟"!
For our ang mo bud in Missouri, 弟弟 means "younger brother", and "妹妹" means "younger sister". =)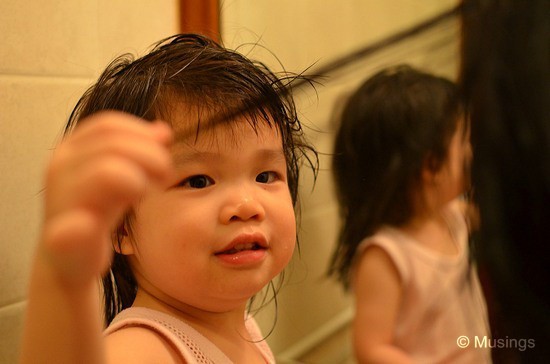 Evening Routines @ 35mm
One of the most useful though not widely used features of the more advanced Nikon DSLRs is the AF fine tuning feature. My old D300 had it, as does the D7000. Basically, not all lenses enjoy perfect focusing around the image center. Some lenses exhibit, with some makers' lenses seemingly more common than others, back or front focusing issues. At that juncture, you can either send the lens and body back to the service center for calibration, or see if the AF fine tuning feature in the camera body can help.
I printed out a focusing chart, DIYed a simple setup, and discovered that the 35mm had a very slight bias towards front focusing. Most of us would never notice any difference, but what the heck. I tinkered around with the fine tuning, and a few minutes later, enjoyed improved focusing results.=)
A couple of pictures of Hannah getting her teeth brushed just after her evening bath and milk. Ling is going to get her started on brushing teeth in the morning too, though that'll mean she has to wake up even earlier now (yeah… right! LOL).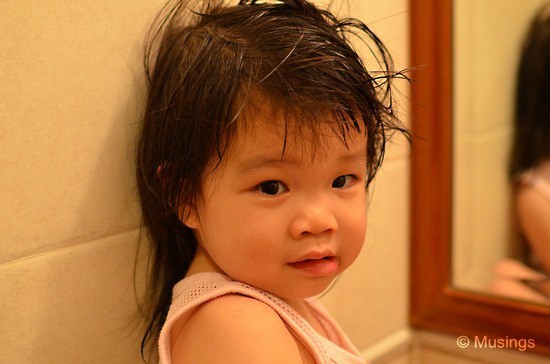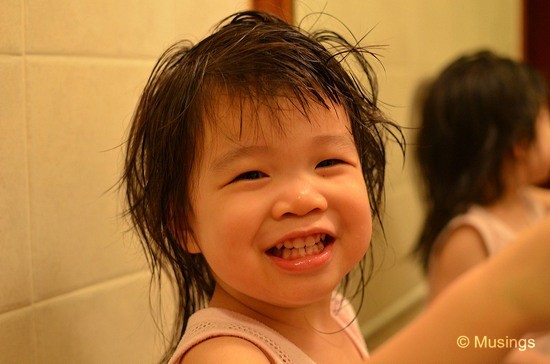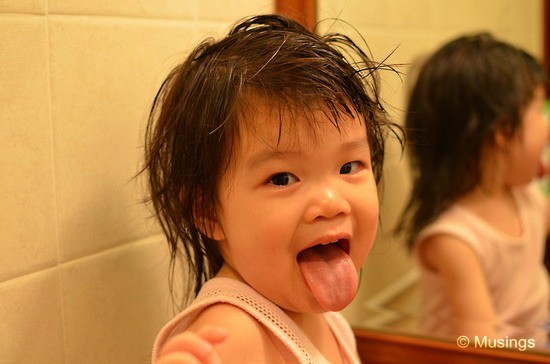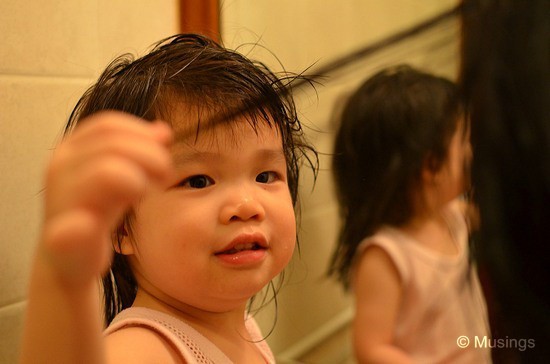 All taken at at f2.8 and 1/80s.=)