Nikon 18-55mm
now browsing by tag
The Next Generation
Overheard during our Day 2 Chinese New Year dinner at Lentor. Jonathan – one of my nephews – staggered into the house real tired as he had a long day. His cousin, Isaac, quips:
"Tired?"
"Yea…" Jonathan mutters
"I know what will wake you up… the iPad!"
The bunch of adults who were nearby overheard and couldn't resist a chuckle. Because shortly after dinner, the entire lot could be found in the living room doing this again:
That's all five of them grandchildren of the Foo clan. Even Hannah looks happily interested in what's going on on Danyel's iPad (he's on Plants vs Zombies actually).
It's certainly a sign of the times, and I guess we'll all be wrestling with the new generation of digital natives who will be far more comfortable with technology than we were at their age, and it'll come with all the accompanying challenges of responsible technology use.
Fortunately, while Hannah never fails to ask me in all innocent earnestness if her good behavior for the day has earned her 10 minutes of iPad time before bedtime, I'm still glad to report that she's not actually 'hooked' onto it at all. It's easy to tell; I just tell her I'll like to substitute her iPad time with some other play activity and she'll happily oblige.=)
Day 4: Kyoto – Kiyomizu Temple
The road up to Kiyomizu Temple is stone-paved and is, accordingly to our guide books, regarded as a preservation district. There are numerous pottery shops, many of them offering similar types of wares and across the price range with many coming as a set of two are going for between 1,000 to 1,800円. I was actually quite interested to pick up a set there and then, but Ling stopped me and said there are better bargains to be had elsewhere.
By the time we got to main lane – Kiyomizuzaka – that directly leads up temple, it was getting real crowded with both local visitors and also Chinese national tour groups all going up.
The picture below is the main highlight of the compound: the main hall's veranda, and admission into this part of the temple requires a small 300円 fee.
To be honest, I felt the temple rather underwhelming, and that it was so crowded didn't help things. Still, we both liked the journey to the temple itself, especially the walk through the rustic and peaceful Higashiyama area in the earlier morning before the tourist hordes descended on it.
By the time we'd returned to Higashoji Street, it was coming to noon. We decided to head back in the general direction of Mitsui Garden Hotel for a lunch at our favorite lunch place, Nishinotoin.
Day 1: From Singapore to Kansai to Chisun Hotel Kobe
The overnight flight from Singapore to Osaka was uneventful. As soon as we'd taken off – this was about 1:20 AM – the lights dimmed, which was about the cue for passengers to get some sleep before the service crew went about breakfast rounds starting from 5:00 AM. I managed to get some winks in, but Ling didn't on account that the seats on SQ were too uncomfortable for her.
The flight landed at 8:10 AM, and we caught a limousine bus from Kansai International Airport to Kobe (ticket price per adult was 1,900円). There were less than half a dozen passengers on the bus. Maybe it's a weekday thing, or just that Kobe isn't a usual tourist spot for people. The bus took us to Sannomiya Station, then a bit of walking involved to transfer from the rail to the subway station.
That's when the fun began; because while Ling had laid out our transportation routes, trying to understand how the ticketing terminals work was a totally different story! I didn't really want to step in yet but it was funny to watch her reaction as she try to decipher how station stops are represented on the ticketing terminal.
And something funnily happened; two aunties on the adjourning terminal saw that Ling was obviously having difficulty, so volunteered themselves to her aid like any gossiping pair of Hokkien aunties back at home would. They were joined soon enough by a third auntie and the group looked like a troupe of clucking mother hens as they were all trying to figure out how to work the terminal to get to Kosubu Kobe station (where our hotel was)!
Once the tickets were correctly purchased (120円 per person for a short two station trip), it was a simple matter of finding the right platform to get to. Ling liked the subways immediately, especially the soft velvety passenger seats, and added that these would never be used responsibly in Singapore.
And our hotel is situated right on top of Kosubu Kobe station! Check-in was at 1500 though, and no matter how hard we tried to put up a sad puppy look, the concierge was unmoved and would only let us check-in at 1400. That meant we had about 3 hours of exploring around on food to go.
More in the next post! :)
Hannah Points (Somewhere)
Pictures from the last weekend! We've been getting pretty good hit rates when asking Hannah to point to something. Here's proof; from top left and moving clockwise: pointing to her nose, her ear, herself (belly button rather LOL), and finally her mouth: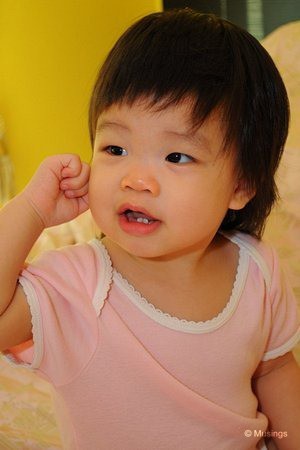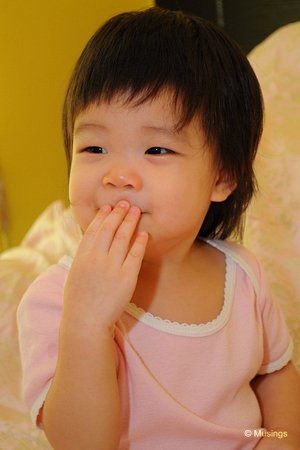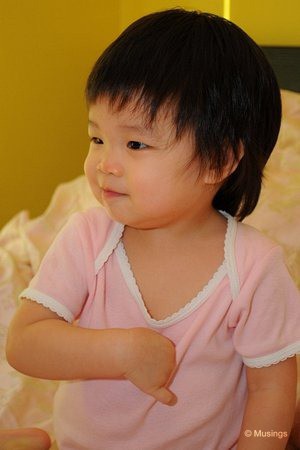 The last two pictures I thought are more possible representations on what she might look like when she's an adult.:)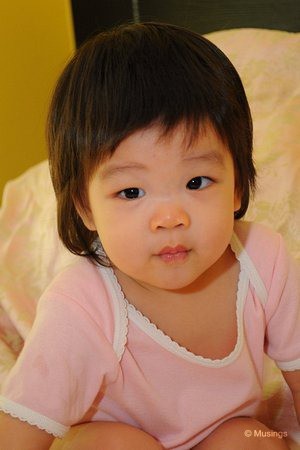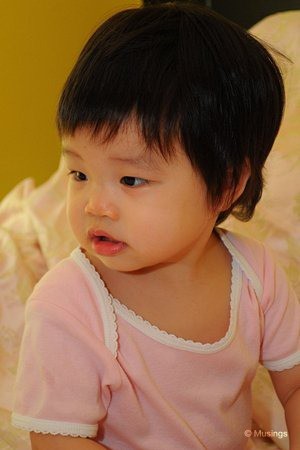 Hannah & Bubbles
Ling had a fun activity with Hannah during her evening bath times the other day. And she got me to capture these memories of a little girl's fascination with bubbles.:)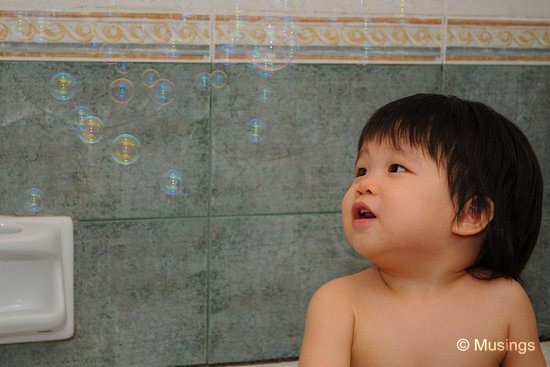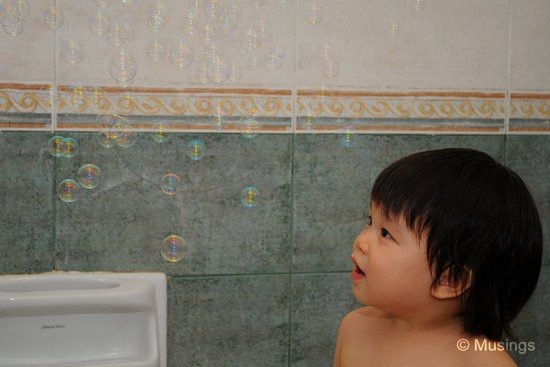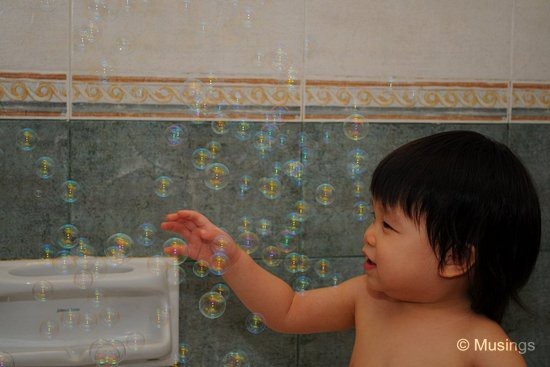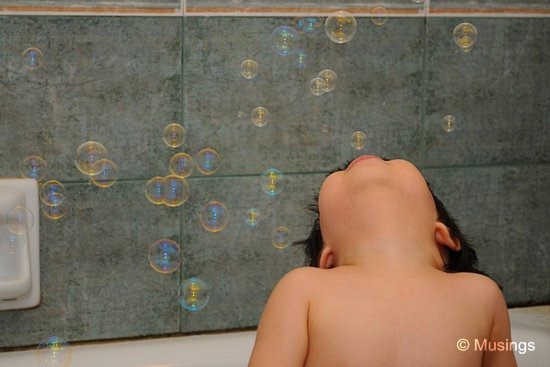 Cambridge and Abouts – Part 2
The posts on my MIT trip here are all tagged as 'Boston' – but that's really a bit of a misnomer. Because while all the attractive sites of visitation are indeed in Boston, I'm really living and working in the neighboring city, Cambridge.
According to the Wikitravel's article on Cambridge, this city has a thing about 'squares'. There's Potter Square (nearest to where I'm staying), Kendall Square (near where I work), Harvard Square (where Harvard is), and Central Square – which I haven't visited yet – among others.
Several of these key city areas are all linked via the 'T' subway. The subway transportation network linking Boston and the immediately-surrounding cities is pretty intuitive. The lines are all color-coded (e.g. 'Red' – which is the line I'm staying along, 'Green', 'Orange'). I certainly had an easier time figuring it out compared to the unnecessarily complex compass direction-based names used in Singapore's MRT. Occasionally, I still have problems remembering all the different lines: EAST-WEST, NORTH-EAST, NORTH-SOUTH and what nots.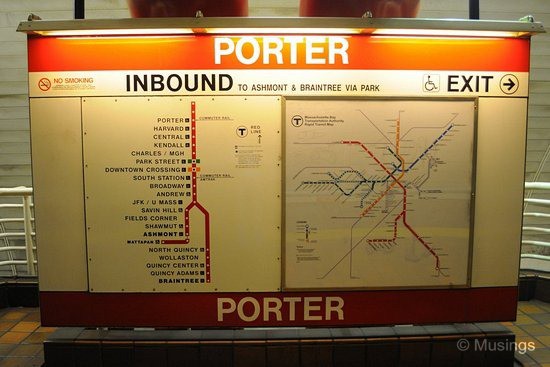 The train levels in each train stop vary greatly in depth. The Kendall/MIT one for instance – where I alight each day when heading to work – doesn't go very deep, but the one for home – Porter – runs at least two or three floors of depth. There's a very long escalator ride each time: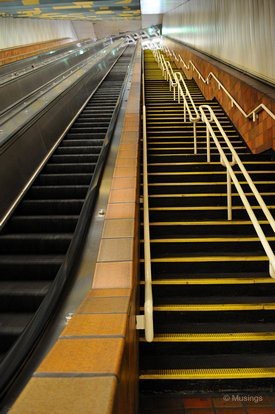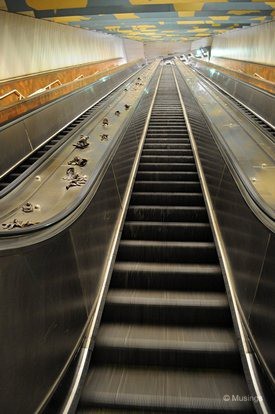 Not photoshopped, and the two pictures above don't even begin to hint how high the escalator goes. And it doesn't even go up to the ground level!
The train level platforms are all open: and imagine – back at home there's talk about whether these levels need barriers to stop people from jumping onto the tracks in suicide attempts.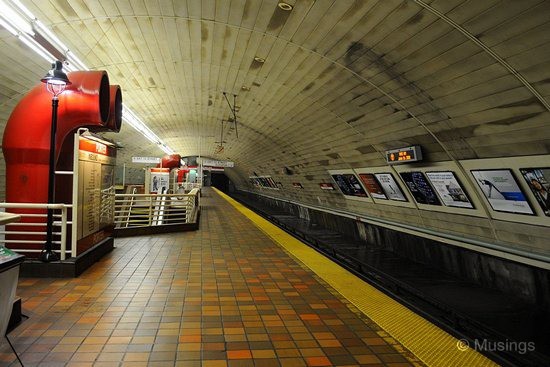 Incoming trains are routinely announced by the station's broadcast system, and awaiting passengers will feel an oncoming strong gush of air too indicating an impending train arrival. Sort of like a huge air-conditioning unit supplemented by ten 18-inch fans all switching on at the same time and blowing into your face.:)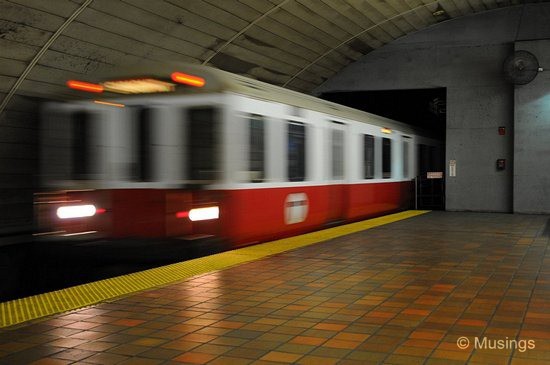 The trains themselves aren't terrifically wide though. In fact, they seem slightly narrower than Singapore's, and certainly much more so compared to those wide carriages I rode on everyday in Kumamoto City last December.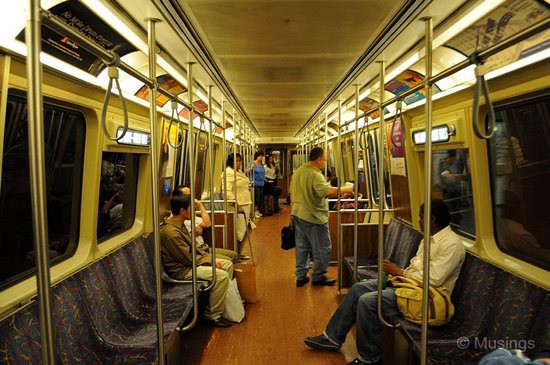 The trains tend to be quite pack during the usual peak hours, an indication of how much Bostonians rely on the public transportation network considering how expensive is parking and difficult driving is in the city.
One funny sight though which I first remarked when during the San Francisco trip last March was that the iPhone is really ubiquitous. In a row of six passengers, I'll see five of them (at least) all using their iPhones for music playback or just fiddling with them in general. On occasion I'll see the odd Blackberry and the candy-bar styled mobile – but those are more the exception than rule. Just for fun, I'll bring out my Android Galaxy S and playing around with it just so to show the other passengers who bother to look that there's really a world outside the iPhone. Frankly, owning an iPhone no longer makes you distinct. It makes you part of a compliant lemming crowd in my opinion.
In any case: now that I've covered the transportation and residential part, I'm gonna do a next post on the Streets of Cambridge. When I have enough pictures anyway. Before that though, I still have posts to do after visits to the Museum of Science, the (VERY!) lovely Butterfly Garden in that Museum, the Museum of Fine Arts (lots of Monet and Renoir), the Boston Public Library, and the Skywalk Observatory:)
Harvard Museum of Natural History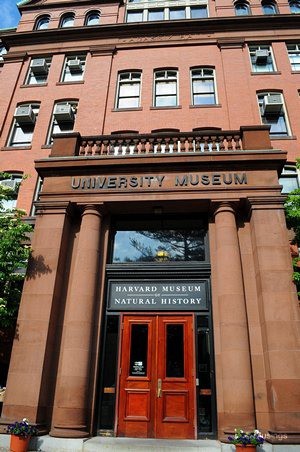 One of the five sites included in the CityPass ticket I picked up on Sunday was for admission to the Harvard Museum of Natural History. The museum was started in 1998 – relatively new – and is located near the Memorial Hall.
Work ended slightly earlier on Monday afternoon, so I raced to the museum trying to get there before its closing time at 5 PM. Got a little lost with the side roads and that the Eyewitness Travel Guide map was somewhat abstracted and missing a bit of detail, and I ended up backtracking a good bit. Also got sidetracked by the Memorial Hall with a glorious setting sun (see the earlier post).
By the time I got to and found the museum, it was just about 35 minutes from closing time.
The museum admission ticket included visitations to the Peabody Museum of Archaeology and Ethnology and it was physically connected to the Natural History museum building itself. It was a bit of a rush though, so I didn't get round to exploring the other two museums. Loss opportunity there.:(
So, fastest museum tour and exploration ever for me: starting with the Glass Flowers exhibit. Each were so realistically and intricately created I couldn't believe they were made of glass.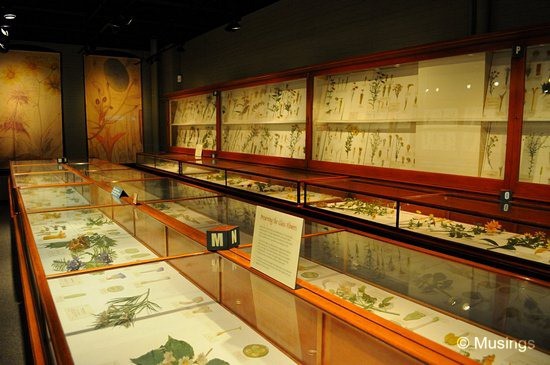 The African Animals exhibit, with dozens of life-sized animals from the Savannahs.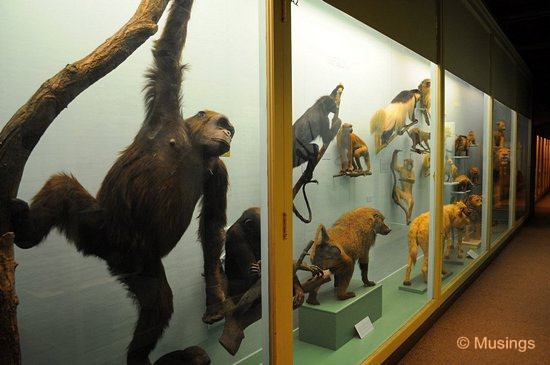 The Holartic animals exhibit, which houses animals from the Northern Hemisphere of the United States: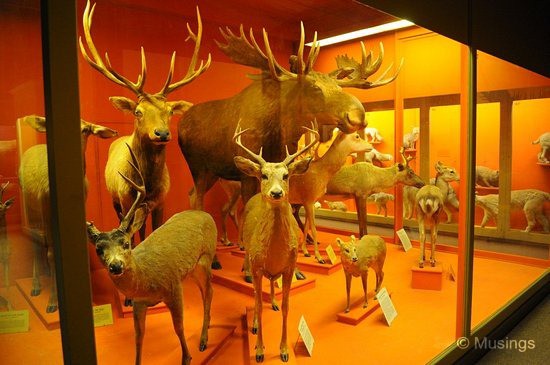 The centerpiece of the museum: the Hall of Mammals. Several large whale skeletons are suspended from the ceiling: too large for pictures, but it's in the video.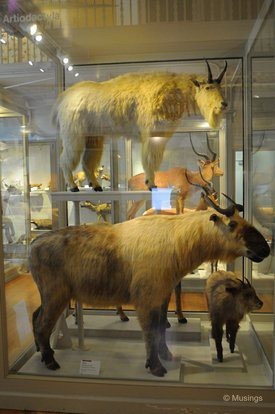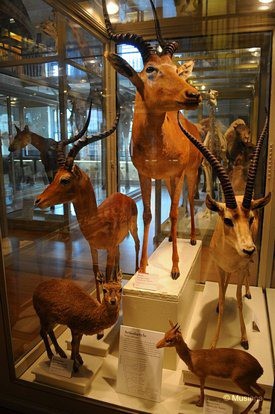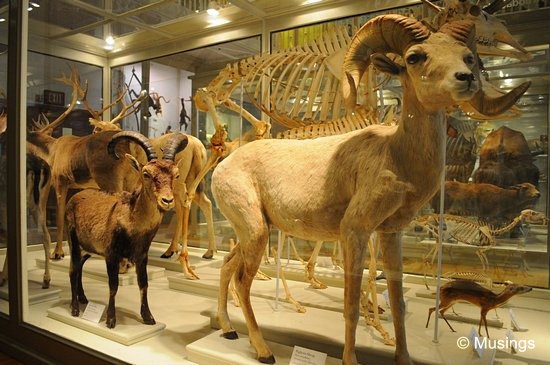 The Fossil Mammals exhibit, with several hoofed animals showcased: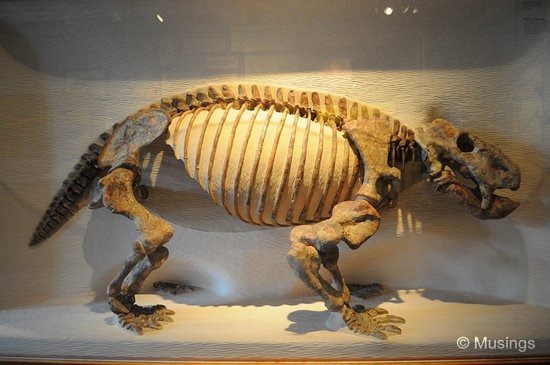 Vertebrate paleontology and dinosaurs exhibit below: someone was working on one of the items: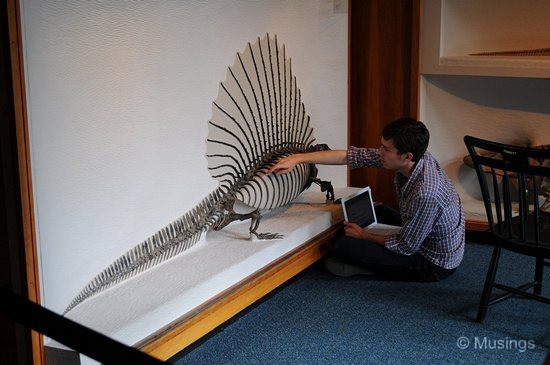 OK that's a wrap for the Museum. Plenty more pictures in the Flickr album for those of us so inclined.:)
Harvard Yard: Memorial Hall
It's hard to miss the Harvard Memorial Hall. The first time you see it, you'll feel very small compared to this absolutely gargantuan building in the High Victorian Gothic Style: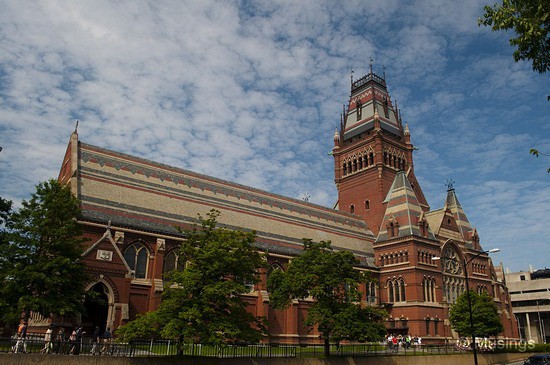 I went by the Memorial Hall twice actually: once in the very late afternoon on my way to the Harvard Museum of Natural History (was rushing to get there before its closing time), and again on an early weekday morning before continuing to work. It's easy to tell which pictures belong to which day's shoot: just look at the color tones.:)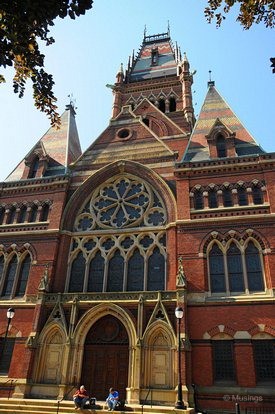 The Memorial Hall was built to honor the memories of the Harvard graduates who were killed in the American Civil War. The cornerstone was laid in 1870, and the tower completed in 1877. The two pictures actually show the two opposing sides of the church: the left picture should be the back entrance (I think), and the right picture with two persons having breakfast the main entrance.
These two pictures below are of the back entrance. I did a six frame vertical panoramic shot that turned out quite well.:)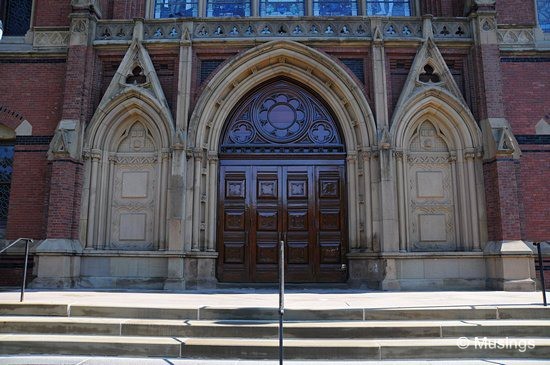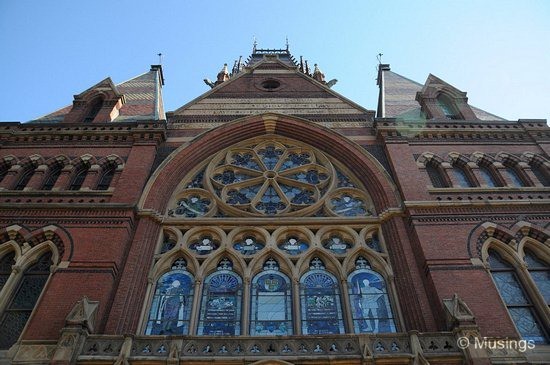 A walkway that leads to the Annenberg Hall, with entrances into it on the left. The Hall wasn't opened though, and was even marked as private space with no photography allowed.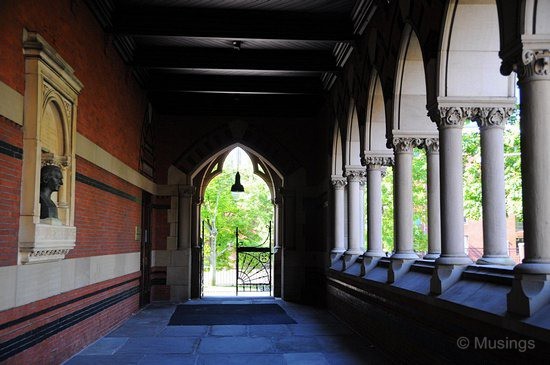 Another view of the front facade.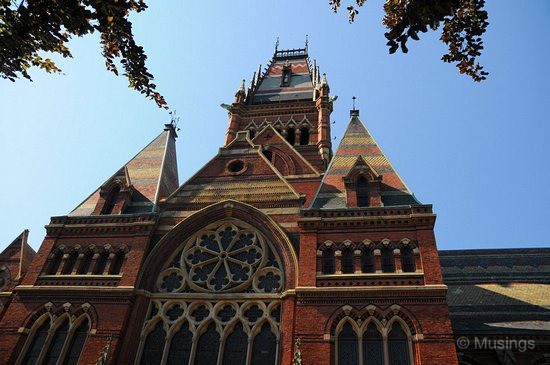 I'm really interested in taking a look inside the Memorial Hall itself, especially the massive Annenberg Hall inside. Unfortunately, the Hall isn't available for public building – sigh. Still, a short video segment from the outside.:)
Bunker Hill Monument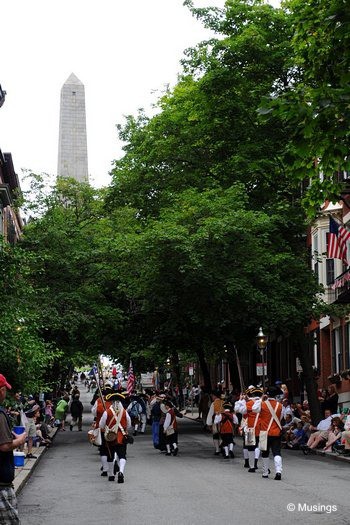 The Battle of Bunker Hill was fought in 1775 between the British Army and militia from Connecticut, Massachusetts, New Hampshire, and Rhode Island. The British Army with superior forces tried two times to run over Bunker Hill which had the militia entrenched but were repulsed both times.
They finally succeeded on the third attempt, but it was a pyrrhic victory for them: they suffered greater losses, including a large number of officers. It's no wonder that the parade commemorates the occasion, because the colonial forces, relatively inexperienced as they were, were able to match up to superior regular army forces in that battle.
The parade proceeded up a gentle slope to the Bunker Hill Monument, and there I was running after them and stopping every so often to turn around to snap more pictures!
The contingents didn't stop just at the Monument though: they went a round or two (I think- it was hard to tell). One of the video files below where the contingent stopped to fire a volley was taken at the base footsteps leading up to the Monument.  I was better prepared this time too and remembered to stopper my ears before they went temporarily deaf again from the sounds of gunfire.:)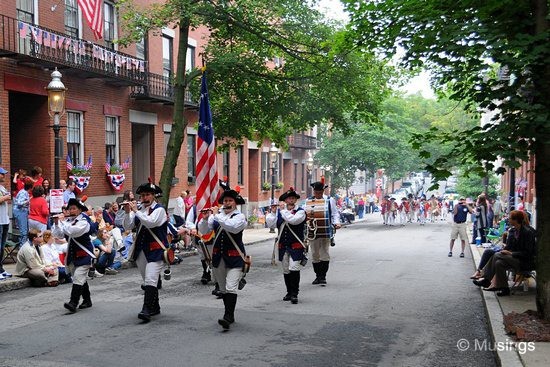 And that's the Monument itself – built in 1825.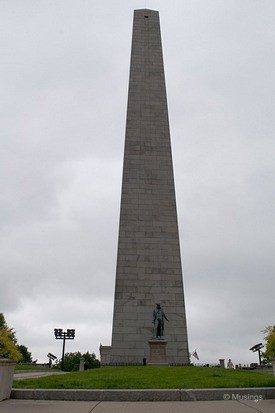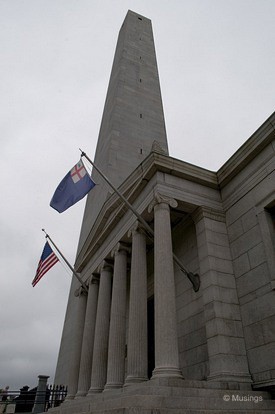 Two statues: in front of the monument stood Colonel William Prescott who commanded the American Colonial forces at the Battle; and inside the museum, a statue of (I think) revolutionary leader Dr. Joseph Warren who perished in the battle.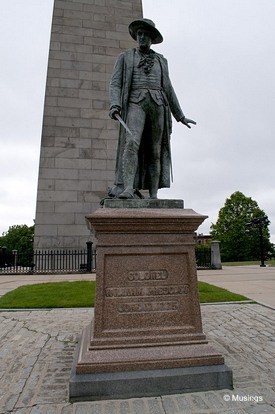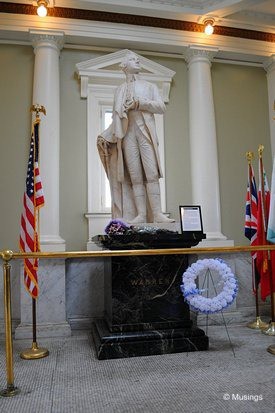 Videos next. The first video is longer, but there's a segment about mid-length where the contingent fires a volley right next to me, and I nearly dropped the camera with ears ringing:
The same guys fired off another volley at the base of the stairs leading up to the monument. This time round, I was prepared for the din:
And lastly, a short video of the monument and overlooking the parade route:
And that's a wrap for last Sunday's activities! I'm gonna take a break again from posts on my trip. The next series of posts in the queue is on Harvard Yard and the museums there. In the mean time, Ling has another cute video of Hannah at play in the queue, so that's gonna come first, and next.:)
Bunker Hill Parade
I was a little upset at the weather on Saturday afternoon to have stopped me from completing The Freedom Trail. On the next day – Sunday – after visiting Trinity Church and I felt my feet could still handle an hour or two more of walking, I headed to Bunker Hill ostensibly to complete the Trail. And as it turned out – surprisingly – that I had to complete the last segment of the Trail on a different day was the best thing to have happened in this trip so far.
As luck would have it: that very Sunday afternoon was when the community was having their Bunker Hill Day Parade commemorating June 14th, and 235th Anniversary of the Revolutionary War Battle!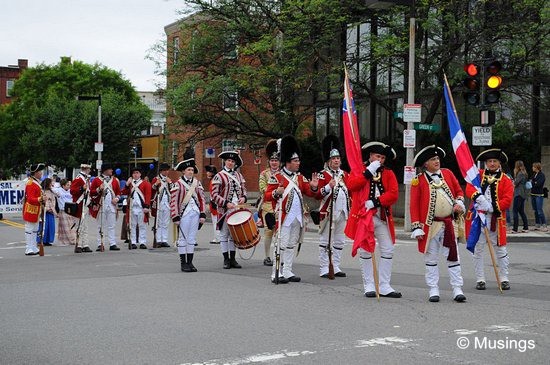 The parade saw 1,500 participants and didn't just comprise reenacting contingents from that period: there were also representation from the last World War, with veterans parading with them too: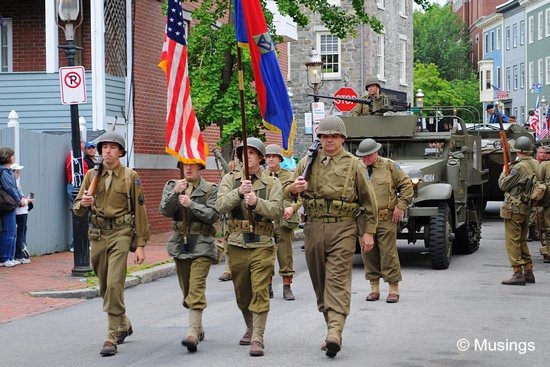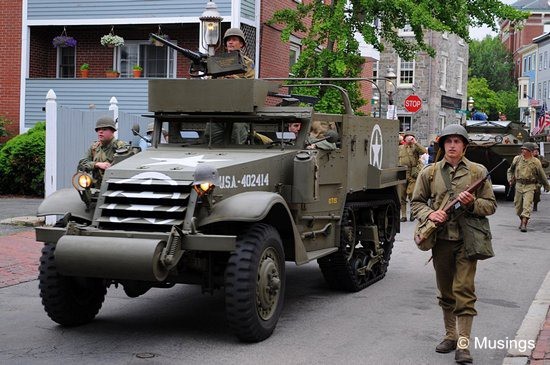 And every now and then, one of the period contingents would stop, and fire off a volley with their rifles, complete with instructions commanded to them by their leading reenacting officer – much to the delight of onlookers. Like this bunch below: which fired off a volley right in front of me and sent my ears ringing for several minutes.:)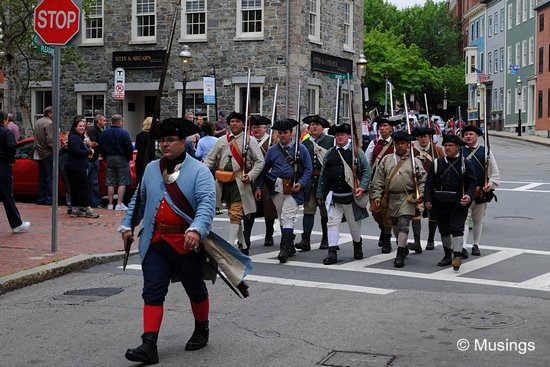 And just about to fire:
I didn't get a picture of the rifles firing off at that exact moment, but got it on video. See the next post.:)
I ran with the parade, and must have taken several hundred pictures – totally exhausting the D300 battery. It might had been a funny sight for the locals too: it was a largely local town affair with very few tourists in sight – and there was this obviously Asian guy with a DSLR in one hand and a HD Videocam in the other, running with the parade like an event photographer.:)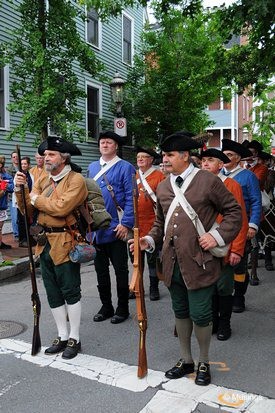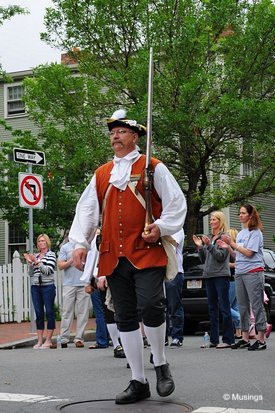 It was a terrifically colorful and warm affair. Many of the townsfolk knew the parade participants, so there was plenty of waving, cheering on their friends.
The contingents occasionally stopped to give some separation space from one to the next. Several looked at me curiously: I'm assuming they don't get to see many Asian tourists wielding large DLSRs and backpacks running after them and shooting them on drive mode.:)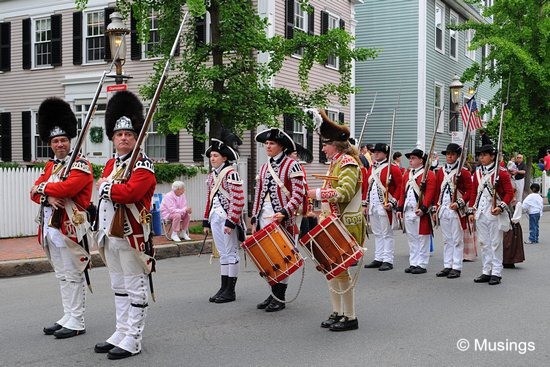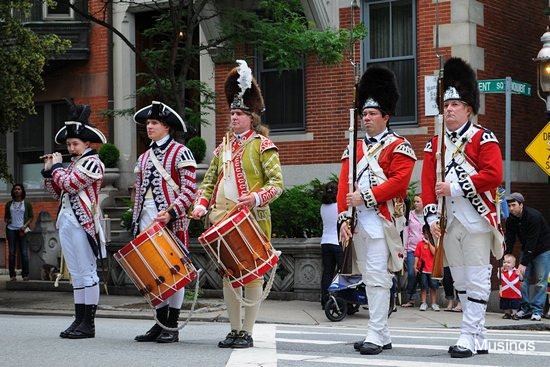 And what parade would be complete without belly-dancing girls..?! :)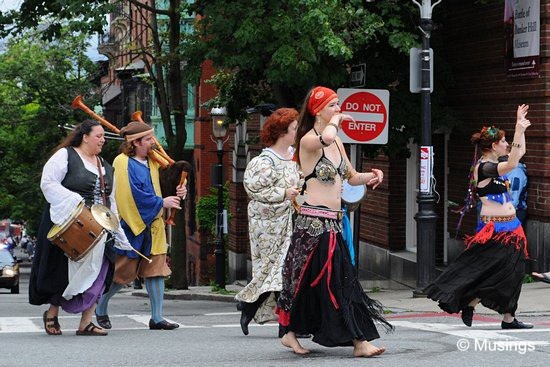 The county sheriffs following the parade and ensuring traffic security: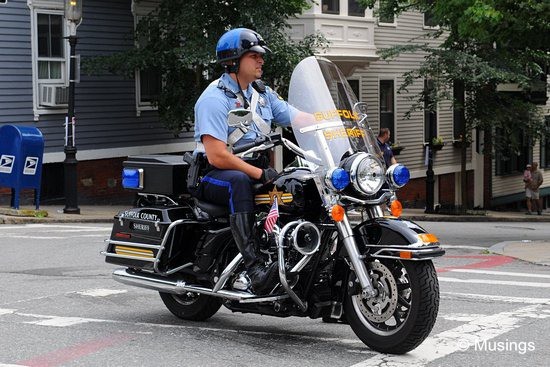 Vote for Tim Flaherty.:)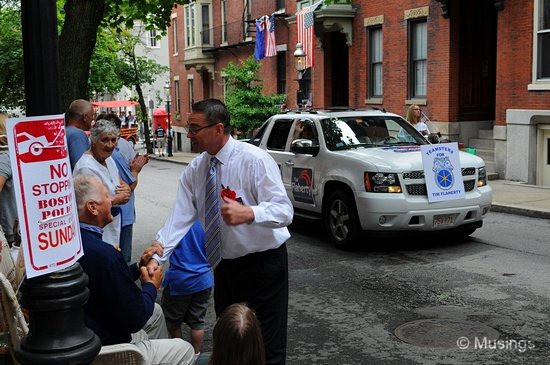 The parade was going up towards the Bunker Hill Monument. More on it plus videos in the next post.:)