Ling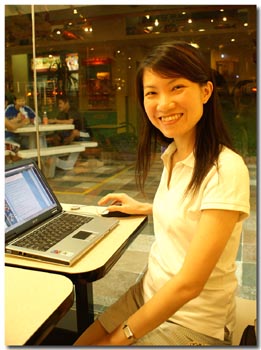 Hello there! :) Here's a little peek into me.
I am a nature lover and plants particularly fascinate me, with Flame of the Forest being my favourite tree. I see the wisdom of God through nature, and it never fails to amaze me. My love for nature and the outdoor has taken me to snorkelling at nearby waters such as those of Rawa island and Krabi, trekking in tropical rainforests, and climbing mountains such as Mt. Kinabalu and Mt. Everest.
My favourite author is C.S. Lewis as I could relate to some of his struggles and am drawn to his ability to see things at a deeper level. I love reading but my rate of reading is nothing compared to Yang's; he can devour a 600 page Harry Potter book within 2 days.
I don't watch a lot of movies until Yang came into my life. Since then, I must have seen truckloads of them. I have a few faves: Red October, Gladiator, The Italian Job, Brave Heart, Kingdom of Heaven, Ratatouille, Finding Nemo, Monsters Inc and Iron Man. For TV series, I enjoyed West Wing, Everybody Loves Raymond, Steinfeld, Star Trek, Firefly, NCIS, Battlestar Galactica and Pride & Prejudice (1995 production starring Jennifer Ehle & Colin Firth). I also love nature documentaries such as those narrated by David Attenborough.
I have been teaching for 17 years in government schools and my expertise lies mainly in biology. I try to inject humour in my lessons but my students tell me that my jokes are 'lame'. For example, "What does a mushroom say when he enters a garden?" Answer: "I am a fun guy (fungi)!" *hubby fainting*
Yang sometimes bully me and has no regard for my poor nerves.:( For example, he will scold me for running through a red light – *sob*. But he can be sweet to me as well: e.g. making coffee for me to bring to school every morning. :P
God has blessed us with one lively, adorable daughter and one sweet, energetic son. It's amazing how one's life perspective can change when there are children in the family. Despite getting busier and feeling stressed out sometimes, children make our lives more meaningful and worthwhile.
Updated Jan 2015.