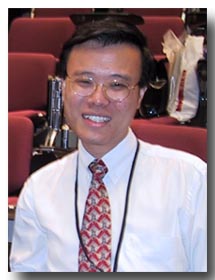 I was born in Singapore in 1971, and am a 2nd generation Singaporean. My generation's pretty small by Singapore's extended family standards- I've got nine uncles and aunts (only) right now, and ten cousins (only). I'm also ethnic Chinese, and also a Hainanese- the ethnic dialect group famous only for Hainanese Chicken Rice, and for being a generally pleasant people.
Funnily, though I'm the bloke in the family who actually got round to following this "Great Tradition of Teaching" in the family- there was at one point in time nine language teachers amongst the entire generation of aunts and uncles- I'll probably also be the one who's gonna make less money than either of my two brothers. And to top it off, I'm married to a teacher!
I lectured at a private education provider for just over 7 years, eventually attaining the position of Principal Lecturer, and was in academic management. In Feb 2003, I headed to Perth to pursue my Ph.D at Curtin University. I completed the program in 2006, and since October have been working at a tertiary institution in Singapore.
I've also been around the net for quite a long while now. I first started with Email in 1992, moved on to local news conference and the newsgroups in 1993, and have been on the World Wide Web since 1994. The web, as we know it, has come a long way since the days of text-based Lynx browsers. This personal web site went online on the 11th January 1996, and has gone through five major revisions since then.
I listen to music from a pretty varied range, though the traditional classics (i.e. Mozart, Tchaikovsky etc.) make up something like 90% of my 1,600+ CD/abum collection. Outside these folks, David Lanz, David Foster, John Williams and James Horner would top my list of musicians I listen to the most often. Check out my Music page for some stuff on my own compositions. I'm also an avid photographer, especially in portrait photography.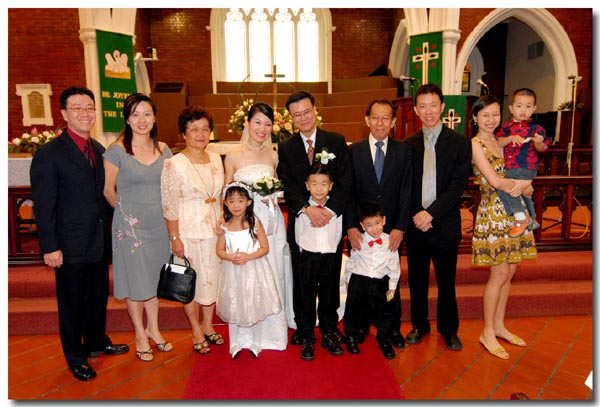 Here's one family picture, taken in November 2006 at our wedding. Both of my parents are retired Mandarin language teachers. From the left, my elder brother who works at the Monetary Authority of Singapore, and Jasmine who works at the Corporate and investment arm of an international bank. On the rightmost is my younger brother, Siang, an MD who now has his own practice, and Sharon, who did her Post-Doctoral at the National Neuroscience Institute and today assists my younger brother at his clinic. Ling and I are the uncle and aunt of three nephews (Danyel, Issac, Jonathan) and one niece (Natasha) too who's not in the picture. The little lass at the front of the picture is Gwen, Danyel and Issac's cousin. Our own family unit includes Hannah and Peter, both of whom came into our family in 2009 and 2013.
We worship at Wesley Methodist Church, and usually attend the early morning traditional hymn-singing services at 7:30 a.m. with Ling. It's not hard to spot the two of us – we usually sit near the podium, and is often the only semi-young couple in a crowd of mostly older worshippers. Ling likes contemporary worship, but I have this thing about singing hymns accompanied with a rich sounding church organ.:)
Updated: 2013