On FRI evening, I received an SMS from Ling:
Am watching the Royal Wedding on Channel 5 now. =)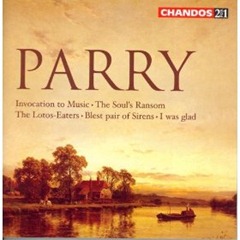 Ugh. And I was still in school for an event! I did catch the ceremony the next morning though, courtesy of Youtube HD broadcasts. Quite a spectacle, and it looked even better on a large screen Plasma.
What especially interested me though were the music items chosen for the ceremony. Most I recognized, but two I didn't: the Bridal Processional – 'I was Glad' by the 19th century English composer Hubert Parry, and the Signing of Registers music, 'Blest pair of Sirens' by the same composer, written for Queen Victoria's golden jubilee. Absolutely marvelous music, and reminiscent of both Elgar and Brahms' works! I scouted around at my usual online music stores and found these two pieces only as part of a larger album. Bought the album straight away.