The accommodation package we chose at Santhiya @ Koh Phangan was half-board – breakfast was provided, and the other meals would be of our own arrangements. Our stay though was at the fast North-East corner of the island, with the town center and most of the island's other resorts on the opposite corner – south, and south-west, and very hilly and winding roads in-between these two spots. Fortunately, there was a small village within walking distance of Santhiya that we visited, and it had several streetside restaurants, alongside several other beach-side restaurants along the way too.
Santhiya's Chantara Restaurant – where we had our daily breakfasts – was of course a deluxe five star-esque-styled hotel restaurant with all the trimmings. Unfortunately, dining was not cheap – and in my opinion was charging way too high even after considering that this is a hotel restaurant – that we largely skipped dinners at this place, outside the BBQ buffet the third evening, and the following evening with Ling and the kids after I got violently ill from food poisoning.
The much talked-about little village beside Buri Rasa Koh Phangan is actually a short 10 minute brisk beach walk way from Santhiya, though because of our two kids and also the strong waves and winds on several evenings, made the walk across the beach harder than it should had been normally. One of us had to carry Peter at least throughout most of the way. Still; we checked out two streetside restaurants on the first two evenings of our stay: Again & Again, and Bamboo Hut. Both whipped up authentic Thai cuisine, at about SGD4-5 per dish item, and both times – mindful of what the kids could take at these tender ages – stuck to pretty safe fare. Basically light curries, lots of stir-fry vegetables, and the occasional meat item too. The bills came to between THB 400-450 / SGD16 to 20.
I recovered somewhat enough to venture out again on the fifth evening for dinners again. The Beach Love is Phuwadee Resort's main restaurant, and offered not only Thai cuisine, but also Western-styled fare, including burgers, sandwiches, and even pizzas. Hannah had one look at the pizza items and wanted to try one badly – so we had a western-styled dinner this time round involving club sandwiches and a Hawaiian pizza. Not surprisingly, the prices for such more exotic cuisine were higher than the local fare – and THB500 / SGD20 this time round. The restaurant has baby-friendly furniture too, so if adult seating is too dangerous for your child, this restaurant is an option.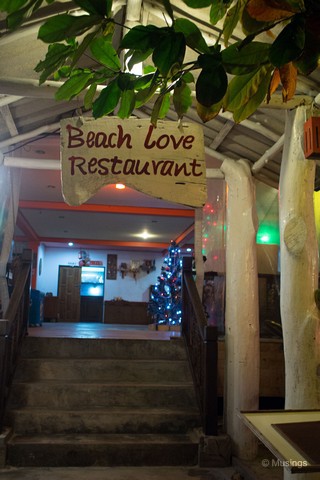 The sixth and last evening was at Baan Ta Pan Noi Restaurant / Thongtapan resort, the beachside restaurant closest to Santhiya. The restaurant had uniformed wait staff who spoke pretty good English, were quite friendly, but no baby-seating oddly. We had a bunch of local dishes again and ate our fill for THB 655 / SGD26. The restaurant has a lovely ambiance too with their tree-lined lights, and are situated on a pretty flat beach area. Of the bunch of restaurants we dined at outside Santhiya, this one would had been our favorite.
Not surprisingly too – the prices of fare increase the further one is away from the village, notwithstanding the premium prices we were paying for dining at our Resort, though quality-wise, the local fare were savory but close enough all times round that we couldn't really distinguish between them, putting aside price-differences and presentation of fare. All-in, if you're staying at Santhiya, there's no reason not to at least visit these restaurants and save some money.