Traveling
now browsing by category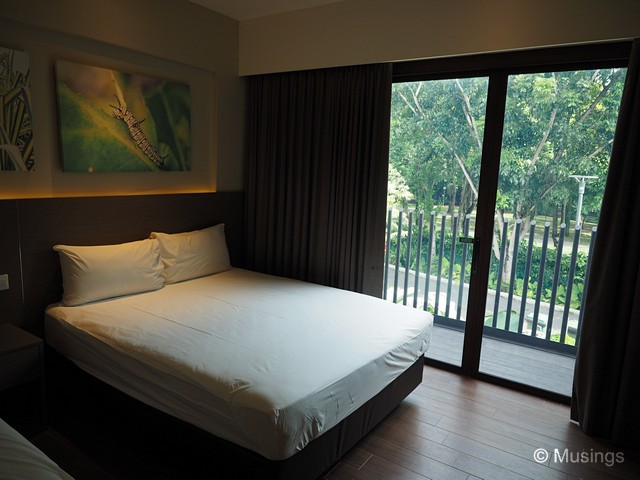 D'Resort @ Downtown East
After splurging for a fairly expensive Melbourne vacation in June this year, we decided we wouldn't travel out of the country for the December school holiday break. I still had a ton of annual leave to finish clearing though, so we chose a staycation and at the relatively new D'Resort @ Downtown East, a leisure and resort hub located at Pasir Ris. We've been in the vicinity several times of course now, since both Ling and my workplaces are nearby, though this was our first time staying in the resort itself.
Our staycation was a 4D3N. Our comments below:
Ling had the NTUC Plus! card, so enjoyed a nice member discount on selected room types. We chose a Park View room that could sleep four, and paid $481 for the three nights. With the same member privileges, one can get the same room type for even lower rates than this too during off-peak seasons.
Check-in was from 3PM onwards. We arrived slightly earlier at 2:45PM, and the check-in row had no queue. But as soon as we got our keys and just barely after 3PM, streams of guests all arrived to queue up for their rooms too.
The Park View room floor area itself isn't large at 33.5 square meters. But it seemed spacious nevertheless, on account that the room was largely absent furnishing amenities you expect from more luxurious properties. Aside from the two queen-sized beds, a shared bedside table, one chair, a TV console that ran the long-side of the room wall, wardrobe and a mid-sized fridge, there weren't any other significant furniture.
The second floor room has a small balcony that overlooks Pasir Ris Park, and also the ground floor BBQ pits. The balcony itself is too small to do anything much on it, but it was nice to find a laundry hang rack on the short side of the balcony though.
The two beds were large enough for the four of us, but on the hard side, and using linen that felt coarse. Both kids slept soundly, but Ling and I woke up each morning with aching backs. Ling in fact rates the sleep level 'terrible '. There were four pillows, fabric type blankets and no quilts. Persons who require more pillows than that will be disappointed. The sleep quality got so bad that D'Resort is the first Staycation property we've stayed where we seriously considered driving home each night to sleep on proper beds. And while we didn't eventually, we had enough of the resort by the last early morning, and checked out as soon as the kids woke up and got ready
Flooring was a laminate type, which was clean and smooth. We always prefer this type of hard flooring in our stays than rugs or carpets. There were night curtains only in the room though. We didn't want people to be peering into our second floor room, so the curtains were closed for the entire stay.
The room has a ceiling fan installed coupled also with air-conditioning that works well. Our stay saw relatively humid afternoons, so that the room could be quickly cooled on a hot day was very welcomed relief!
Amenities-wise was a mixed bag. There was a wall-mounted 40″ LCD Smart TV with a large number of channels. We stuck a thumbdrive full of children cartoons inside it – and that kept the kids happy throughout.:) The in-room WIFI connected quickly, was reliable, and reasonably quick – though with the provided speeds, you still won't be downloading the Internet during your stay. There were a small tray of complimentary beverages that we didn't touch – Starbucks, Coffee Bean, Ya Kun Toast, and Heavenly Wang were all just a few minutes walk away – but the mid-sized fridge with a freezer section will certainly please guests who need their sodas or beers chilled.
The room toiletries were a disappointment. The Tripadvisor photos showed toiletry bottles, but our room's shower stall had wall-mounted all-in-one hair/body wash dispensers instead. Or perhaps those toiletries we saw in photos were from a different room type? Water pressure was on the low side too, though the instant water heater worked well enough.
Room was cleaned on alternate days. On the one day we got the service, we received four fresh towels – only to later discover to our horror that they were coated with lint.
The accommodation price included complimentary admission to Wild Wild Wet for all of us, and for all four days. This one's a real and quite significant bonus. Putting aside that the water park, fun as it is but also not large enough for most people to want to spend more than half a day in it each time, the cost of admission for a family of four would be already $59 this time of the year and just for one day entry.
Parking isn't complimentary and at ground level and mostly unsheltered. The cost per day for member parking was $10 – annoying – but at least it included parking at the E!Hub just next door. We didn't have problems finding free parking lots throughout.
Room soundproofing might also pose a problem for light sleepers. The house rules state that BBQs must end by midnight, but the fellows on the ground floor unit went on for well beyond that on our first night. I don't think they were trying to cause a din, but that they only needed to speak at normal volume for sound to be carried upwards and into our room meant that we were kept awake for a good part of the late night.
In short, we're not gushing with praise over D'Resort, and I reckon we can say exactly that because – like everything else here we blog about – our stay was non-sponsored/paid out of our own pocket, and we're not obligated to heap praises when we don't think it's deserving. Our experience 4D3N at the resort was decidedly mixed. The room was functional and clean but not luxurious. Having to pay for parking was annoying, challenges in the sleep quality and sound proofing, and remember to check your room towels for lint.
If you see yourself visiting Wild Wild Wet on more than one day and are visiting as a family with two adults and two kids, I reckon a 2D1N or slightly longer stay at D'Resort is worth it for its complimentary admissions to the water park. And go during off-peak season too if you want to save a bundle of cash. Beyond those reasons – no, we would not be returning to here.