Toys & Technology
now browsing by category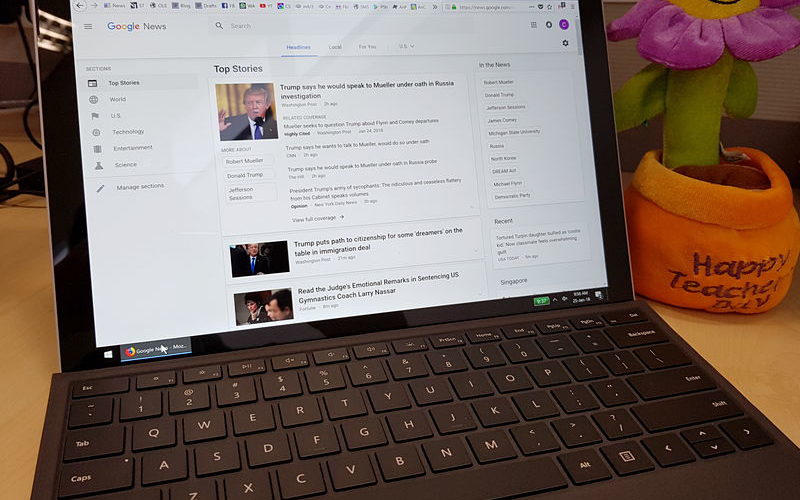 Surface Pro (2017) – Part 2
At first glance and at distance, the Surface Pro (2017) doesn't look different compared to the Surface Pro 3. The new 2-1 hybrid has the same form factor, overall design, and styling. Close-up is when one starts noticing the most obvious difference: smaller screen bezels all round, and therefore allowing for a screen with slightly larger display area: 12.0″ vs 12.3″. The significant differences thereafter are all under the hood and not visible to the naked eye.
The model I picked up was the i5/8GB RAM/256SSD – what many reviewers also note is the sweet spot for price-performance. And after 4 days of fairly intense use, my comments follow. It's mostly good with a few duhs?!?!.
The larger 12.3″ screen enjoys a beefier resolution of 2736×1824 vs 2160×144 in the SP3. But the latter's screen was already dense enough at 216ppi. You really can't see the difference in the higher 267ppi in the SP (2017) unless you have eyes capable of seeing microscopic detail, nor are most people I reckon going to get the additional mileage out of the additional 0.3″ display diagonal. No – the real benefit of the larger screen, for me at least, is that it's aesthetically pleasing to use a screen that has less thick bezels. The Elite X2 has a similar large 12.3″ screen with length and breadth dimensions similar to the SP (260mm x 173mm) and also identical resolution. But it also uses thicker bezels all round too – making the device's footprint just that bit larger.
The screen is as bright and contrasty as the SP3's, with pleasing color renditions for both photos and videos. Not quite like the X1 Carbon: where faces have an odd plasticky look in video playback. However, the new screen still has a very slight yellow tint. It's subtle, but it's there. Interestingly, forum discussions from other users do acknowledge this screen's characteristic, but also attributes our being able to notice it to the fact that many glossy display screens are slightly cool, color temperature-wise, to begin with. So, that's what we're normally used to. This color balance can be adjusted, though not by any Intel HD Graphics app. Don't bother looking for it with an SP out of the box – it's not installed. You'll have to adjust color balance using Display Settings => Display Adapter Properties => Color Management => Advanced => Calibrate Display. Yeah, Microsoft has turned something that used to be simple terrifically complex now!
The Surface Pro (2017) line of models was also accompanied by the improved Surface Pen, which is also no longer a standard inclusion – Microsoft claims that most people won't use the Pen. Which is true enough for me, but Hannah liked drawing on the old SP3, so it seems I'll have to fork out a bit more money at some point to also pick up this accessory.
My old i5 SP3 had fans that could run up to high-speed and generate audible noise when under load. This i5 version of the new SP is now fanless. Normally, the exclusion of fans is only in notebooks using low performance processors, and certainly not i5's normally. So, Microsoft has some special design and engineering mojo to have achieved this.
Compared to the SP3, the new Surface Pro (2017) has a larger battery (25% larger compared to SP4) and a more power-efficient processor too. I haven't completed a full battery usage cycle yet, but the old SP3 could run for about 4.5 hrs with my normal usage patterns. This new SP looks like it'll last 6-7hrs for me. Not quite at the level of 13+ hrs that Microsoft claims, but it's still a significant bump.
The Windows sleep mode also seems to work better than the old SP3. Specifically, sending the new SP into sleep – e.g. by closing the type cover – doesn't seem to consume any significant amount of power. An overnight sleep might drop the battery by about 0.1-0.2% – that's it. This might be because of OS optimizations with the new hardware under the hood. But the SP3 routinely would sip quite a bit more power than that when in sleep mode.
This is my first laptop with Windows Hello Facial Recognition, and it works well. And like the ultra sensitive and responsive fingerprint sensor on the Huawei Mate 9 from last year, maybe too well even! Basically, the SP's camera has been configured for near infrared (IR) imaging and recognizes authenticated faces to automatically log into the device. The SP easily registered my face in during setup – spectacles included – and the login process to Windows 10 now is fast and requiring no action on my part. What's the problem then? It works so fast that it's harder now to switch user accounts. I've set up a safe Windows account for Hannah to use for her homework, and when doing a quick account switch, it has to be her face in front of the SP and not mine – lest the Surface Pro think I'm the one trying to re-login again LOL.
The new model's kickstand is also different. The old SP3's kickstand hinge closed shut with a springing 'snap' sound, while this new one closes with slightly more resistance and it's also muffed. I reckon this is because the new SP's kickstand allows the device to sit flatter and less of an incline. Such will be useful when you're using the SP in tablet mode.
The lack of a USB-C port on this spanking new Surface Pro from a technology giant in this day and age is just stupid. I don't buy Microsoft's excuse of a lack of informed use of correctly rated USB-C chargers. I can charge my X1 Carbon and also the HP Elite X2 using the same USB-C charger, and can't do the same because Microsoft thinks users will be confused. Just bullocks.
That said, the  Surface Pro Power Charger does replenish the SP's battery quickly, and it's also slightly more compact compared to the SP3's.
The new version of the Type Cover is functionally the same as Type Cover 4, though there are a few new functions available on the function key row.
The new SP features the same magnesium-painted exterior all around the unit. It's very nice to look at, smooth to the touch and cooling even when the device is in rest mode. However, the SP3's similar coating was susceptible to scratches and stains from normal use, and I'm not positive that this new SP won't also look as dingy and worn on the exterior a year from now. So, a folio wraparound case is on the way from Amazon that'll hopefully protect the SP from these cosmetic wear and tear.
And lastly. If there was a singularly large issue with this new SP, it's that my i5 unit has the utterly slow Toshiba SSD installed on it. Some of the reviews online had units with the blazingly fast Samsung PM971 SSD, while others – like mine – ended up with the slower drive. And no, I can't change it as it's soldered onto the motherboard. Arrggghh!!!
Still, the slow-like-turtle Toshiba SSD aside, I'm glad I picked up this new SP, and it's a great machine for its asking price. More notes to come later after another extended period of use.