With no. 2 now in tow, home-cooked food has become a nice-to-have item. We try to cook on the weekends but weeknights are often defined by take-out dinners. Thank God that Hannah is fed home-cooked meals by her nanny on weekdays and well, the adults can get by with eating junk. Hee hee. Things should change for the better (hopefully) when Peter become less dependent and mommy gain yet another higher level of multi-tasking and speeds!
Whenever I think about cooking a meal, the first thing that comes to mind is how fast it gets done. Previously, congee required at least an hour of cooking in order for us to enjoy its softie-smoothie texture. One has to stand at the pot to stir regularly so as not to let the rice grains get stuck to the base. So the idea of cooking congee always get tossed out because it was time-consuming and quite laborious.
That, however, changed recently.
Thanks to the sharing by the mommy who runs the blog Food4Tots, cooking congee is no longer a time-consuming activity. In the past, I used to grind rice grains to increase the surface area:volume ratio so as to increase the rate of cooking. Well, the faster way to date is to freeze pre-soaked rice grains. The science behind it: when water in the rice grains become ice crystals, they rupture the cell membranes to release starch and at the same time also create internal cracks in the grains. So when the frozen grains are cooked in boiling water, they break into tiny bits (increase surface:area) and absorb water faster and release the starch sooner. Fantastic right? Many of us know that it is a bad idea to freeze vegetables due to the damage caused by ice crystal formation while few have applied this fact to quicken cooking of rice to make congee.
Oh, I digress. Back to the salmon congee. I usually use white fish (e.g. threadfin) to cook congee but recently discovered that salmon tastes just as good in congee too. In fact, I like it more. The omega 3-rich fish makes the taste buds and tummy really satisfied at the end of the meal.
Here my recipe for a quick salmon congee. Serves 2 adults and 1 toddler. I added minced pork for more flavour.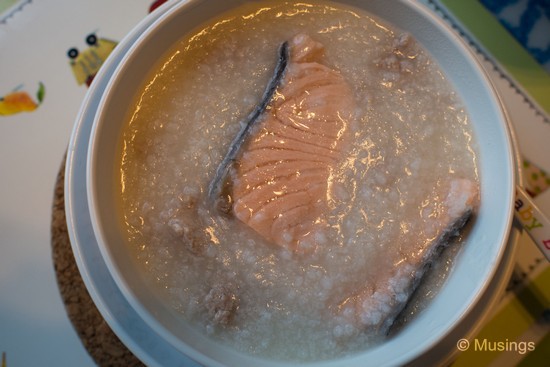 Ingredients
salmon fillet – about 300g, deboned and sliced as desired (make sure that the salmon is fresh)
minced pork – 150g, marinate for at least an hour
uncooked white jasmine rice – 1 cup
century eggs – 2, deshelled and cut into small pieces
garlic – 3 cloves with skin intact, washed and smashed with blade of knife
ginger – 3 slices
salt – 1/4 tsp
light soy sauce – 1 tbsp
white ground pepper – dashes
corn starch -  1-2 tsp
Method
Wash and then soak the rice grains for about 10 minutes. Rinse, pack the rice in a sandwich bag, tie and freeze overnight or for at least 4 hours.
Marinate minced pork in soy sauce, pepper and corn starch in the fridge for at least an hour.
Place the frozen rice grains in 2 litre of water in a big pot. (I used a non-stick pot to reduce the need for stirring) Add garlic and ginger. Bring it to boil.
In the meantime, cut the salmon into slices (about 1 cm thick), deshell the century eggs and cut into small pieces, and use your hands to form little minced pork balls and lay them out on a plate.
Once the water has boiled, stir the congee every now and then (especially if your pot is not the non-stick type). Don't cover the pot. Let it cook for 15-20 minutes in medium heat or until you get your desired texture. Add some water if the congee gets too thick for stirring. (You could also continue with step 4 if you didn't managed to prepare the items earlier on)
Add the minced pork and give the congee a few rounds of careful stirring to cook the meat. Add salt and stir.
Let the congee come to a boil again and add salmon slices with any of its juices. Gently stir to separate the fish slices if they are clumped together. Turn off the heat. Cover the pot for a minute or so. (Note: It is important not to overcook the fish. Otherwise it would become tough to the bite. Not so tasty lah.) Remove ginger and garlic if desired. Serve the congee in bowls topped with century egg. Enjoy!
p.s. Even Yang was surprised by how fast I could cook congee since I learned of this method. :)