Photography & Cameras
now browsing by category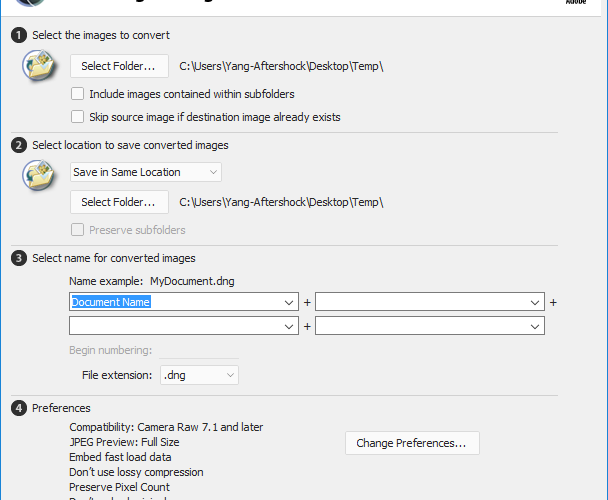 Windows Utilities V – 2017 Edition
The 2017 edition of a long-running if infrequent series of posts on Windows utilities that I have on our work and home computers. The previous post in this edition is here.
MP3 Tag Editor: another long-lived software that I use! I'm still a subscriber to the eMusic store, and every month, buy about a dozen classical music albums. Normally, there's no consistency in the way many of the MP3 files in music albums are tagged, and when that happens, an MP3 tag editor program is needed to rename those tags en masse. This software, created and maintained by a team of German developers I reckon, does that trick.
Revo Uninstaller: the older iterations of Windows operating systems didn't always do a thorough job when it came to uninstalling software that you no longer needed. In fact, over time, little bits of data, registry entries and other program elements would remain in the program files folder and registry. Most users would never have realized these bits of litter were left, much less even bothered with them.
Not the detail-obsessive though, and there were programs aplenty around that purported to do a more complete job of completely uninstalling programs. The more recent and current versions of Windows today I think do a better job at removing programs but if you still want to be sure, there's Revo Uninstaller. This software will scan the program's folder and attempt to remove everything. There's one annoyance in this program though: and that's the persistent reminders for you to buy the Pro edition.
Ninite: this is a nifty web site that lets you select from a list of popular and free software, and proceeds to automatically install them in the background. As a special bonus, the installation scripts will avoid installing all the extra 'freebies' that you really do not want (e.g. Toolbars from Yahoo LOL). Very useful not only when you're setting up a new PC, but you can also run the software thereafter periodically to mass update all your apps too.
Adobe Digital Negative Converter and Adobe Photoshop Elements: most people are perfectly happy with JPG pictures that come out from compact cameras and smartphones, but serious enthusiast photographers routinely shoot in RAW. Granted – it takes a lot more time to process RAW images, but you simply can get much better images editing a RAW than a JPG image. I'll probably do an updated post about processing RAW files soon. The problem with RAW files though is that each camera's file format is proprietary, which makes it difficult for RAW image editors like Adobe Photoshop to keep up.
So, Adobe's very novel solution is this: rather than come up with frequent versions of Adobe Camera Raw and make customers keep buying new versions of Photoshop just to read RAW files of new cameras, they've come up with a Digital Negative Converter. Basically, the application converts the RAW files into a common and open format so that it can be read by more image editors. The key advantage, using industry lingo, is 'archival confidence'.
The RAW and DNG image editor software I'm currently using is Photoshop Elements. It's for two reasons: I'd rather not have to pay a yearly subscription to Adobe Creative Cloud just to edit RAW/DNG files, and the feature set offered in Elements is more than sufficient for my needs. And Elements I think remains perpetual license software (and I hope for indefinitely!), so once you buy a version, you can use it for as long as you need to – as long as you still use DNG Converter to convert newer RAW files to their format.
Microsoft Image Compositor: I haven't been taking as many panoramic shots during vacations as I once did, and largely because it's much harder to methodically set up shots when you're vacationing with children! And many modern cameras today offer a built-in panoramic shot feature. Still – for those of us who prefer to take panoramas the old way, Microsoft Image Compositor is a nifty application that lets you construct such from a series of photos.
Advanced Renamer: the last software item in this Windows Utilities edition, and a real boon for enthusiast photographers. This software allows you to easily mass rename files (e.g. image files!). This software is highly customisable, supports all manner of name amendments – and it's free.
That's it for the 2017 edition. I probably won't wait nearly as long a period of 8 years before I do a next update in this series!