There are plenty of Internet-based ecommerce sites today that support consumer/business to consumer sales transactions. And while I have accounts on a large number of sites, the two that I find myself buying most from remain Amazon and eBay. Between the two, I've been on Amazon for much longer – since 2002 in fact, with my first order on that site comprising several research and dissertation writing books I bought to bring along to Perth – and the site remains my favorite place to access a large range of items that aren't normally sold in Singapore, or sold here but at higher prices. I reckon that's why Amazon's reported plans to expand to  South-East Asia and through Singapore excited many here, since it would finally bring to shore Amazon Prime, and also – likely – cheaper delivery.
That said, the number of items I buy off eBay are almost as many as that on Amazon. My first purchase on eBay was from 2008 – and a camera product LOL. The range of items sold on eBay run a crazy range, and it can often be hard trying to find exactly what you want, since each of its country market can offer a different range, with many items typically available from multiple sellers at different prices. With a large roster of international sellers also brings about issues of varying customer quality service levels. Over the years, my general impressions are that:
Sellers from the dominantly western-countries (e.g. UK, US, Australia) offer great service, though you sometimes pay slightly more for shipping. I've never had to raise a dispute with sellers based in these countries. Shipping is also often quick, with the turnaround from UK-based ones especially impressive.
Sellers from South Korea: normally quite good too, and I typically get my lens filters from them. Delivery is reasonably quick: usually a fortnight.
Sellers from China: are a huge hit and miss. I've received counterfeit items before with their sellers flying aeroplane ('disappear' for our Ang Mo bud!) thereafter. Items can take anywhere between a fortnight to six whopping weeks to arrive. On the other hand, their products are often priced lower, and shipping is typically free/incorporated into the cost of the product, or minimal.
Here's a list of things I've ordered recently on eBay that I'm pretty happy about at least.
Leather belts. Alright – so most men do not really care to spend money on apparel. I've had pretty bad experiences with under $35 belts that I buy from brick/mortar stores here, with most fraying on the edges within weeks, and the belt material also beginning to disintegrate shortly after that. I assume it's because the material isn't genuine but faux leather. I found a UK-based reseller of leather and sheepskin products, and their prices for genuine leather products are routinely cheaper than what one would pay here. And the item takes just a week from point of ordering to arriving in Singapore.

Battery cases and pouches. There's been revised regulations concerning the transportation of Lithium-Ion batteries on board airplanes, and largely to do with risks of them causing undetected fires. AA battery cases are easily available at camera shops, and I found a seller carrying colorful ones like these, and selling them for cheap at just over a dollar each including shipping. So, a couple were picked up: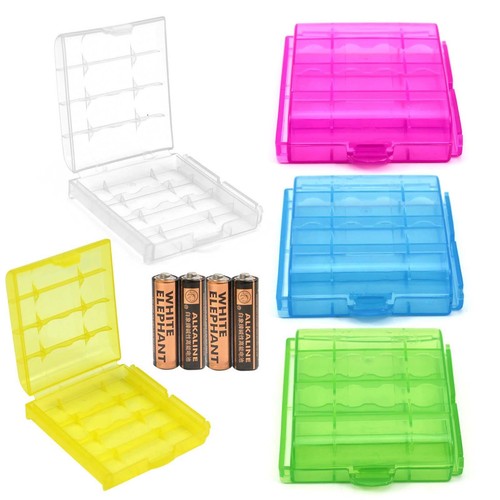 How about camera battery wallets? Think Tank sells a pricey version of a 4 battery wallet (USD18!). While on eBay, an almost similar replica can be had for $5:
And lens filters! Granted, it's tempting, and sometimes maybe even necessary, to get a UV filter as soon as you buy a new lens. But if it can wait, then you might save a few dollars by just buying them online. Important though that you get from a reputable reseller, as there are plenty of fakes around.
More in the next post!