New Home
now browsing by category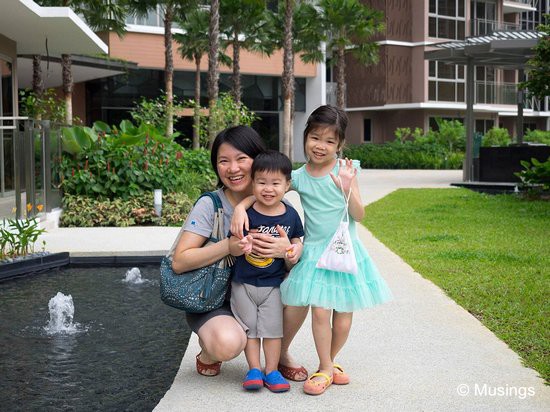 Visiting Bartley Residences
One of those very Singapore-an things to do on weekends is to check out new homes in new apartment projects. There's been a large number of such new developments in the north-east side of the island. Heck; our old home at The Rivervale at one point saw six such new developments all in eyeshot! Visiting showrooms is a great way to see what apartment developers are up to, but there's always that little sense of unease when we get tailed by property agents during a visit and routinely have to fake our guest names and contact numbers just so that we don't get harassed by the agents later on.
A friend at work had just received keys to her new home @ Bartley Residences, a 702 unit project that just TOPed a few months back, and invited us to go by to take a look over the recent weekend. Which we did, and here are some of our quick observations – especially in comparison with our (relatively) new home @ The Minton. Just casual impressions too since our encounter here was just an hour or so visit and exploring the grounds. Not commenting on the finishing and the general workmanship at BR either, since we only visited one unit. But from what I'm hearing, the general quality of that isn't different from what Minton residents had too at the point of key collections.
Bartley Residences (BR)'s location is a key advantage and more central than that of Minton's. It sits directly opposite a train station and Maris Stella High School, one of the brand name boys' schools. The wife quips that even persons who stay under 1 KM will need to ballot just to get their kids in. It's also just a couple minutes drive away from a CTE connection. Super convenient.
On the flip-side though; the major road that connects to the sideroad leading into the condo is also a major artery that connects residents from the East to the more central areas of Toa Payoh, Bishan, Ang Mo Kio and beyond in Bukit Timah. We go by the road occasionally on weekend peak hours, and routinely will hit slow-traffic. I wonder if this bottleneck is gonna be a source of daily frustration for residents trying to get home! The Minton on the other hand isn't exactly near an MRT station – 12 minutes of brisk walking is involved to get to either Kovan or Serangoon stations – and isn't near a connection to the expressway either. But it does run beside a fairly major main road, which – fortunately – isn't congested… yet (?!).
The side-road that leads into the condo is also pretty narrow, with at least one of two sides occupied by landed property. Not in itself a problem, since the condo sits among low density housing, but the narrowness of the side-road might pose challenges. We observed a lot of cars parked on one side of the road – and lots of empty or re-purposed driveways in the private houses. Once the main body of residents move into the condo, the side-road leading in and out of the condo onto the main road might get real crowded.
There are 702 units at Bartley Residences, compared to the 1,145 units @ Minton. The latter can feel crowded sometimes, though that feeling is somewhat alleviated by that the blocks are at least spaced relatively far apart facing-wise.
The condo sits on a gentle incline which the developer has employed to good effect. We explored the Kid's splash pool and were wowed by the views the deck offered: a pleasingly far view to Maris Stella High and Bartley Secondary Schools, and well beyond too.
The condo feels cosy, especially in how the pool-facing blocks hug the pool's circumference, with good use of plants to and greenery to provide a lush garden pool feel to it. The Minton main pool in contrast is more functional and probably has to fit multiple intentions – including pool-side BBQs, the garden awnings, and also for lots of kids running about with pool-side toys.  The BR main pool is also literally right at the door for the patio units, which might be a good or bad thing depending on one's expectations of privacy. The Rivervale's poolside patio units had two barrier types – a walkway, and also taller than human height flora – such that pool users would never be able to peer into homes.
I thought that the main pool seemed relatively small for the number of units it has to support, while Minton is at the other extreme with four separate pools – a pretty large main, lap, heated, and children's – and you can imagine the ruckus on weekends at all four pools. Not really idyllic living anymore LOL.
The general BR compound is beautifully landscaped too, and Ling especially liked the numerous little relaxation corners where residents can hide out and chill. The planted flora/greenery is already of sufficient height to provide a degree of privacy to patio units, unlike the Minton units back in 2014, though by this point now the flora has grown to sufficient heights.
I like the general aesthetics of the blocks. BR's blocks are a mix of white, browns with embedded design patterns that run along the entire height of blocks. Not quite like Minton's more industrial look of concrete, steel and glass.
No bay windows at BR! Bay windows are awful for already small rooms – a room constraint we had to think very hard to get around @ Minton.
No planter boxes at BR too and hence no wasted space on the balconies.
The developer-supplied washing machine and dryer stack is elegantly tucked and hidden away inside the kitchen. Definitely beats the experience we had squeezing our brains on how to fit our own laundry stack into our yard toilet last year.
There's a huge tree that sits on one side of the compound, which is a protected specimen that's hundreds of years old. The tree looks awesomely huge and I felt like a midget standing beneath it. Certainly one of the key highlights of BR. Several blocks surround this tree, and also a further-on view of low-rise houses yonder too. Very serene! And right beside it is a children's playground with several fixtures – something that's sorely lacking at Minton. We do get a crochet lawn beside the children's treehouse – the lawn of which has been re-purposed to a mini-soccer pitch / BBQ extended area / picnic lawn / children's badminton field / playing catching field / morning Qigong area – and of late, even a drone launch pad.
We saw just one vehicle entrance and exit point at BR, compared to the multiple points of vehicular entry/exit @ Minton. Three in the latter! Good in the sense that it spreads things out quite a bit, bad because the access control can be uneven across all points of entrance/egress. The manned main guardhouse and vehicular gantry at BR is also placed exactly where it naturally should be: right at the property's main entrance.
There's a picturesque cascading waterfall adjacent to the main pool, and deck chairs that are immersed into the shallow end around the pool too. Very neat! The pool is also surrounded by blocks and quite private, like at The Rivervale. The Minton pools are relatively more exposed.
The rooms in the sample apartment we visited were rather small. In the oft chance that the sample isn't representative, the apartment sizes reported on other sites are also telling. E.g.: a Bartley Residences 3 bedroom size is ~1,022 sqf compared to Minton's ~1216 sqf, and the 3+1 configuration (ours) is 1,162 sqf at BR compared to 1,495 sqf at Minton. These aren't trivial differences in sizes and seem to be the norm for newly built condos. I wonder how much smaller can apartment developers shrink units until they essentially become unlivable! Part of the generous floor area of Minton units though is taken up by those massive balconies in most units here, with the joke being that our front balcony is larger than our bedrooms.
The sliding door-type of wardrobes in each room is also more practical than the swung out wardrobe doors @ Minton, which posed further constraints on the furniture we could fit into the bedrooms.
The final verdict? Hannah liked Bartley Residences, and said "We should come here more often and swim in the pool!". :)