Music
now browsing by category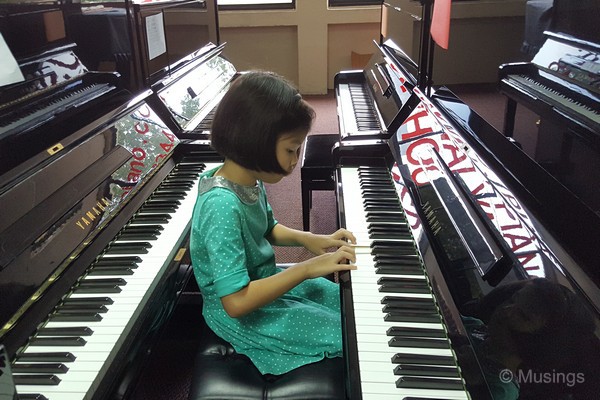 The Piano Project – Part 2
Truth to tell, when Hannah decided that she'd like to learn the piano rather than the violin, I was probably the more relieved – even happier – of the two of us parents. Ling's neutral since she can play both instruments. On the other hand, I can't play anything other than the piano and been longing to return to practising for years now. And what kept holding me back was that pianos are not really the best instruments to play in a living room! Possibly because of how small Singaporean apartments are, sound gets bounced around the house, and also that my skills on the keyboard have deteriorated significantly over the years, I was – for want of a better word – embarrassed to return to the piano.
Thankfully, while the basic technology in acoustic pianos have not changed over the years, the add-ons have. Selected piano manufacturers now offer acoustic pianos with an additional module – the silent piano feature – which drive piano sounds to a digital module and in turn headphones, while muting the external acoustic sounds altogether. The digital sounds aren't quite like what one would hear acoustically and also limited by the tonality of the audio samples used to recreate the sound of each key. But it's close enough for non-professionals like myself.
With the school holidays starting in just a few weeks, we decided that this would be about as good a time as any to get Hannah started on formal lessons. We've been scouting the neighborhood for teachers. We've shortlisted a couple, and have been bringing Hannah for trial lessons to see which teacher especially 'clicks' with her. With any luck, we'll decide on her teacher will be in the next week or two. Foremost in our mind too is that we want her to learn as an engaging and enriching activity, and will not have her take exams until she wants to.
As for the instrument, our hunt for it only started a week ago. Yep – a lot quicker compared to the amount of time we routinely spend on large investments, in this case, both in the price dimension also in the literal physical sense! We didn't have too many requirements: apart from that we were going to avoid South Korean and Chinese makes (good reads here and here), keep to an upper price ceiling of about S$7K, and hopefully something with the silent piano feature.
The last requirement also meant that there were only so few piano models in consideration. At least in Singapore, the piano would likely be a Kawai or a Yamaha, and thankfully both are Japanese-designed pianos. After checking out the showrooms and obtaining indicative prices of new units, our choices were about narrowed down to:
A new Yamaha JU109 Silent Piano for about $5K.
A new Yamaha JX113T Silent Piano for $6K
Both of the above are considered 'standard grade' in its sound boards, strings and hammers, and are assembled in Indonesia. Brand new Yamahas silent pianos of higher-grades (e.g. in the U series) would easily bust our budget.
There's quite a vibrant used piano market here in Singapore too. After reading up online and making some initial queries with a couple of stores, we visited an importer of used Japanese pianos – Asia Piano – over the Deepavali public holiday.  And after an hour of browsing/chatting/Hannah playing Beethoven's Ode to Joy on every piano she could get to in the store, we selected a Yamaha piano: a used U30BL with an added SG2 silent piano module. And from what we can see/tell and found out:
There's a lot of very interesting discussion about the 'grey' market for pianos, including here, here and here. All this said, even in the worse possible scenario, the prevailing Japanese climate isn't exactly similar to Singapore's, but as far as humidity is concerned, I reckon it's closer than say the US.
The U30BL is an improved variant of the very popular and well-known U3 pianos, though there seems to be little information on what are the differences between the two models.  Beyond that, it's the same size, built to the same quality and at the same factory – Japan's famed Hamamatsu factory – as its better-known sibling.
The piano is 131cm tall: which, all things being equal, is always better than a shorter piano on account that a larger sound board can be fitted into it.
Judging from the piano's serial number against the Yamaha's database of serials, this particular piano was manufactured between 1989 to 1990.
The piano was made for the Japanese domestic market with its original owners there. The dead giveaway is that the Japanese-styled power plug to the piano's SG2 module, which will in-turn require a transformer for it to work with local power points.
The SG2 module was added to this unit just a few years ago by Yamaha-certified technicians. Didn't know that was even technically possible! I'll have to read up more about it, and see if an upgrade to the newer SH module is also possible.
There was a about same age used U30A model in the store going for $100 more than this U30BL, but offering the older digital module which did not include a recording function. The piano sound was also tonally different and very slightly brighter. Ling preferred the U30BL, though I would had been fine with either – though a recording feature was quite desirable.
The piano was coming with just over a dozen freebies, which the attending salesperson, also the co-owner of the store, explained in detail of. Of particular interest was a soft-fall hinge that he would be installing to the piano (decades ago, my mom on many occasions would thunder at us for letting the piano's fallboard slam against the keyboard ledge), and also his store's custom-designed adjustable bench with its innovated seat overlaps, an innovation he seemed particularly proud of.
Comes with 5 years parts warranty, 1 year exchange programme, guarantee buy backs up to 7th year, and two free tunings in the first year.
The piano will be delivered this weekend, so more notes to come on it soon enough.:)