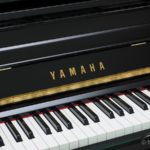 One of the key things I was looking forward to with our new piano was composing again – with the last piece I wrote being just about 20 years ago. Unlike trained composers though, I write while playing on the piano and often with a very large dose of improvisation. And in order for a piece I'm playing off the top of my head to be transposed to a score, the piano needs to have a recording function.
We weren't about to convert our living room into a recording studio for sure – it would had been logistically difficult and prohibitively expensive to achieve any measure of aural accuracy. Fortunately, the SG2 module on our Yamaha U30BL permits two methods of recording: via MIDI with a good soundfont bank, or recorded directly via the SG2's audio jack. The SG2 module is the cheaper of the two Silent Piano options currently offered by Yamaha, and uses 30MB of wave memory to reproduce the piano sounds with a Yamaha CFIIS Concert Grand used to record samples. It's not the highest fidelity sound you can get digitally, but it's close enough. As for the former: I fortunately still have the very high quality note samples recorded using a Steinway & Sons Type C Grand, purchased from Warren Tracthman from 20 years ago – which I used to create a new soundfont bank for.
The recordings I made in 1996 were assisted by Cakewalk Professional and Encore Music Notation, and interestingly – both products are still around in their new versions, if also slightly rebranded. Thanks in great part because of open source, my software suite is a little different now and comprised of freeware. These might be somewhat gimped in support features, but they pretty much meet my needs. They include Anvil Studio, the ubiquitous Audacity for editing, and VirtualMidiSynth – a necessary item since I no longer have a dedicated Creative soundcard in my home computers.
The result after a first attempt is below: and a couple minutes of my playing Variations from a Theme from Pachelbel's Canon in D by David Lanz. Numerous mistakes in my performance below, including a particularly obvious timing one at around 1 min 10 second mark.