Dining
now browsing by category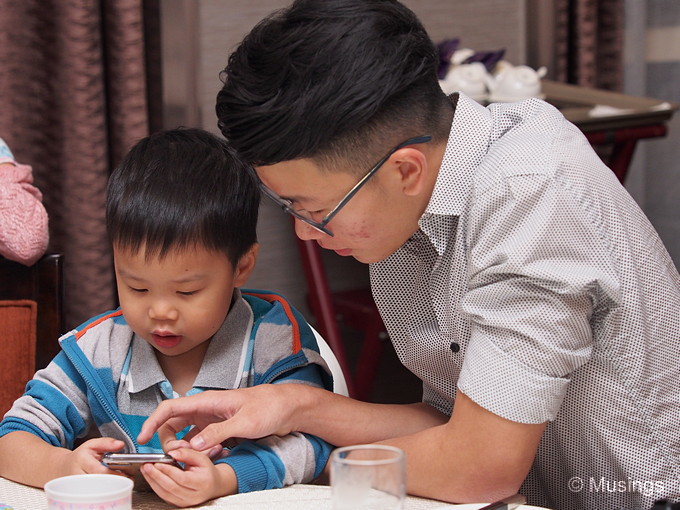 A Chinese Banquet with the Olympus E-Ms and Pros
A typical Chinese wedding in Singapore typically comprises several segments: the Fetching of the Bride, Tea Ceremonies, a religious segment (e.g. a church wedding), followed finally by the evening banquet. Wedding photographers are routinely contracted to cover an entire day packed with these events, and it can run from as early as 6AM and non-stop all the way till 10PM, and they are also often even asked to find time in-between to put together a montage of photos taken in the morning so that they can be shown during the evening proceedings.
Dad recently had a fairly lavish 80th birthday celebration banquet at Wah Lok Cantonese Restaurant @ Carlton Hotel, the same hosting hotel and also restaurant when we had our own wedding banquet 10 years ago. To be fair though, we've been several times to Wah Lok over the years, since it's one of the larger family's favorite Chinese dining places, and the family knows some of the restaurant's personnel well enough that we get pretty good service. All of our closest relatives and neighbors were invited to form four tables, and my role was the designate event photographer. Not a role I'm experienced in at all of course, but it was a fun opportunity to try a few new things, and perhaps also get a small degree of insight in to what banquet photographers do and the circumstances they work in.
The equipment outlay was pretty simple: both the E-M1 and E-M5, and both of the Olympus f2.8 pros: 12-40mm and 40-150mm, and the every trusty Nissin i40 for fill-in flash. The ceiling wasn't very low, so flash bouncing off the ceiling wasn't going to work well. Unsurprisingly, the Stofen-styled diffuser was throwing so much light around that there most persons' faces got harshly lit, necessitating adjustments in Photoshop. Shots taken with the i40's built-in flip card looked much better.
The two E-Ms are similarly configured, and the outputs of both are basically similar. The almost 5 year old E-M5 has started acting up though – it occasionally takes a couple of tries for the unit to power-on properly. Old age? And of the two lenses, the real champ was the 40-150mm. It nailed focus reliably and briskly, and made possible candid shots from halfway across the room. As for shot parameters: pictures were between ISO400 to 800, and for print and blog display purposes, totally usable, and flash sync was set to 1/60s.
A small sample of the pictures from last evening then.
If there's one other consideration the next time I'm asked to do an event like this again, it'd be that I'd seriously have to think about bringing a second flash-gun. Two camera bodies with two f2.8 lenses great! Having to repeatedly switch the flash gun between the two E-Ms – not so much LOL.