Dining
now browsing by category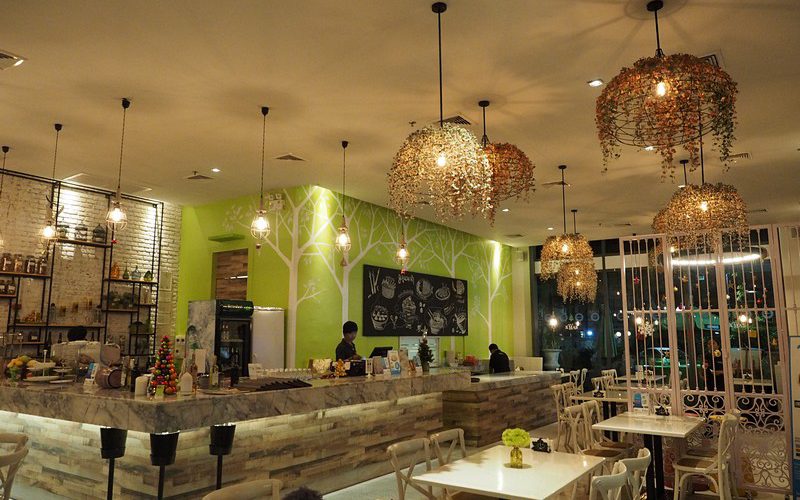 Phuket 2017 – Eat Till We Drop
Ling and I really like Thai food. And we're lucky in that in Singapore, there is wide range of options that suits all budgets when it comes to Thai food cuisine. Interestingly, the Thai restaurants here that we're familiar with are also fairly mid-priced, so it's easily possibly to get a decent meal without breaking the bank. The wife though quips that there's a lot of sugar used in this style of cooking, which also accounts for the fairly high diabetes rate in the country.
We've already remarked that dining prices for food on Phuket ranges widely depending on what part of the island you're in, and the general 'class' of the restaurant doesn't matter as much as it would elsewhere. Keep in mind too that we're not food connoisseurs or bloggers – we eat to live – and the stuff we order has to keep in mind our two children's palettes too. All that said, here's a selection of comments at the places we ate at.
S Cafe @ Canal Village
This is a small cafe with both indoor/air-conditioned and also outdoor seating, and one of the two restaurants we visited in Canal Village. The offerings are both local and also international, and we dined here for both lunches and dinners several times while staying at Cassia Phuket. Wait service is attentive, and there's also complimentary WIFI. Prices are a bit on the higher-side, with the main items from 220THB/SGD10 and above. The restaurant doesn't charge taxes charge separately, so the cost on the menu is what you'll pay.
Albatross Cafe @ Canal Village
This one's all outside seating, with about a third of seats covered, and the remaining water-facing and quite al fresco. It's quite a nice view in the evening. The restaurant is a little less modern and in the early evening, the wait staff seemed flustered as they were struggling to keep up and we had to wait our turns to have our order taken. The menu prices are cheaper than S Cafe, but the restaurant will charge taxes separately.
Jungle Deli @ Splash Water Jungle Park
The kids have to be fed, after several hours of excitement at the waterpark. This is one of the several restaurants located within the park. It offers a few indoor/air-conditioned seating, but we sat on the outside as the weather was really pleasant and cooling. Most menu items are about 200THB and above. Taxes and such are already included in the menu prices.
Believe Café @ Amphoe Muang
This is a small cafe just a few minutes walk from Sino House. Aside from the standard fare, there are also numerous fusion items. Prices – unlike those in the Laguna area – are decent with main items starting from around 80THB. This was supposed to be just lunch, but we stuffed ourselves silly with Hawaiian Pizza Toast, Ham+Cheese Pizza Toast, Green Curry Chicken, and finally Sliced pork with spicy Thai sauce. And total damage? Just 406THB/SGD16.
Kasa Japanese Restaurant @ Limelight Avenue Phuket
The Limelight Avenue Phuket has several restaurants/eateries on the first floor (we dined at three LOL), with Kasa being the only one offering Japanese cuisine. Prices are again a fairly reasonable 160THB onwards, though their Sashimi items were quite expensive. We had the Tonkatsu set, Salmon Fried Rice, and Japanese Pork Curry and ran up to 632THB/SGD26.
Lemongrass Restaurant @ Limelight Avenue Phuket
This restaurant offers Thai cuisine, is beautifully decorated especially on the inside, and offers both indoor/air-conditioned and outdoor seating, and items were in the 120-150THB range, with taxes already included. We had a number of items: Green Curry, Stir-fried Broccoli, Sun-dried pork slices, and Omelette with pork – and the bill came up to 600THB/SGD24. Very reasonable for the high quality of cooking and also ambiance.
Tomtom Coffee @ Limelight Avenue Phuket
Phuket's equivalent of pricey beverages the likes of Starbucks and Coffee Bean. We had the Ham & Cheese set with Latte, Dog Pretzel set with Latte, and Pepperoni Pretzel – and ran up to 460THB/SGD19.
And finally, just to complete this post: we landed back in Singapore at 7:30PM. And this is what we had straight away at Changi:
Next, Hannah's perspective of Phuket Dec 2017!