I have put on at least 10 kg during this pregnancy and am feeling easily tired in the last trimester. I promised to bake rock cakes with Hannah a month ago and since both of us are having school holidays now, I better keep my promise.
We went to supermarket this morning to buy a tray of eggs, the missing ingredient for the recipe, and started baking in the late morning. It was a simple recipe to follow and within 30 minutes the rock cakes were baking in the oven. I got Hannah to help in measuring the ingredients using the digital weighing scale, whisking dry ingredients, pouring ingredients and rubbing cold butter into flour. She was very excited since last night when I announced that we were going to bake the rock cakes together on the following day. She reminded me to buy eggs the moment she woke up in the morning and fished out her apron from her drawer to get ready. Below is the recipe we used.
Ingredients
Plain Flour – 100 g
Baking Powder – 1 tsp
Cold butter – 50 g
Castor sugar – 50 g
Raisins – 25 g
Egg – 1
Salt – pinch
Method
1. Preheat oven to 190 °C. Grease the baking tin.
2. Whisk flour, baking powder and salt in a mixing bowl to mix well.
3. Cut cold butter into small chunks and rub into the flour mixture.
4. Add sugar and raisins.
5. Add egg and whisk to a stiff batter.
6. Use 2 metal spoons to scoop and unload the batter in small heaps onto the baking tin.
7. Bake for about 15-18 minutes until lightly golden brown.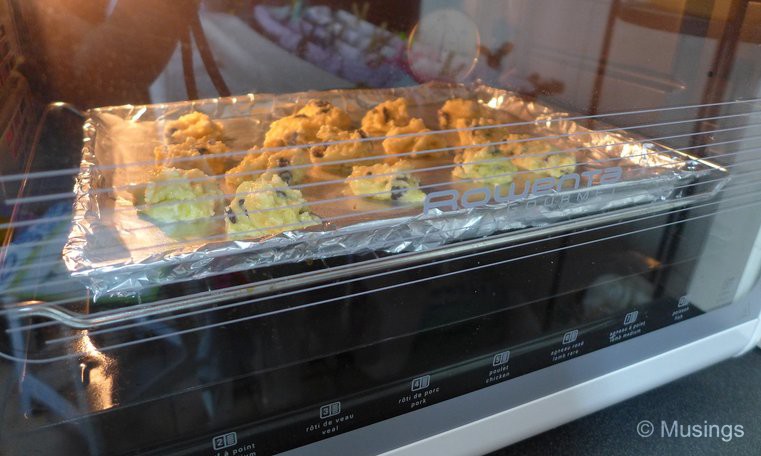 8. Take out the rock cakes to cool before serving.