Baby Recipes
now browsing by category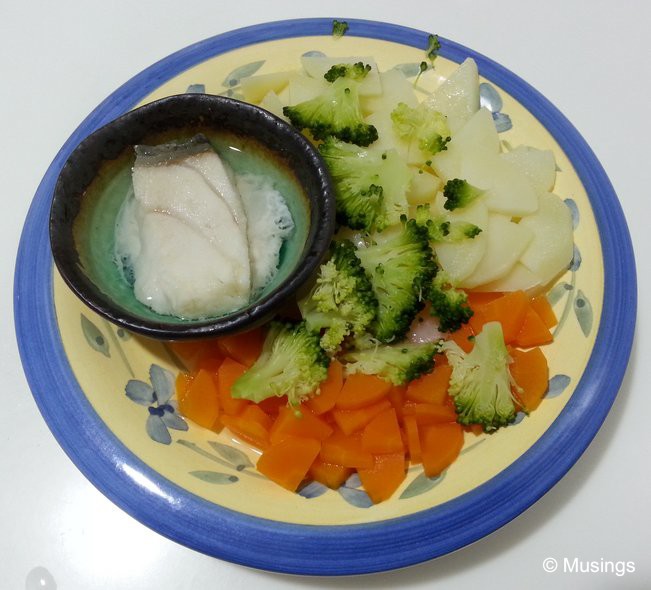 Yummy Baby Foods: Mash something something
Feeding Peter solid foods has been a different experience altogether as compared to Hannah's. Hannah readily accepted almost any type of food I introduced to her. Peter was almost the total opposite.
At 6 months, it was a real challenge to get any food pass his lips. And he enjoyed making a show of spitting bits of food noisily out of his mouth if we could shove it in before the clam-down. Cooking tiny portions was another challenge as we prefer not to cook in bulk and then freeze in small portions. I have a thing about feeding our children freshly cooked food. Porridge was rejected at the start. However, we had some success with avocado, sweet potato and carrots. It was with a lot of perseverance that the little prince finally opened up to the idea of eating something that is not milk or water.
His nanny has been feeding him porridge on weekdays and I try to provide variations on weekends. Not much variation actually. Just a change of the source of carbohydrates from rice to potato and do a mash up with an orange veggie, a green veggie and a meat. I like this mash-up meal as it is quick and easy to prepare. It is tasty too – Hannah often asks me for leftovers. Below is the recipe for Peter's mashie meals.
Ingredients
1 small potato (I recently discovered Australia's red potatoes available from NTUC. It makes a creamy, yummy mash)
1/2 a small carrot stick (about 6-7 cm long)
1 broccoli floret (or 4-5 spinach leaves)
1 small piece of fish (I alternate between threadfin and salmon) or minced lean pork or chicken
Method
1. Prepare a boiling water bath (I did this with a covered wok over a gas stove.)
2. While waiting for the water to boil, peel and slice the potato and carrot thinly. Spread them out on a porcelain plate.
3. Steam the plate of veggies for 7 minutes.
4. Slice the broccoli thinly (or chiffonade the spinach leaves). Wash and place the meat in a small porcelain saucer.
5. At 7th minute, open up the water bath and place the saucer on the plate and spread the green veggie over the potato and carrot. Cover and continue steaming for another 7-8 minutes.
6. Once time is up, remove the plate of steamed food and mash them up. Pour the leftover liquid in the saucer and plate into the mashed up food to moisten it. Test the consistency of the mash and add a bit more hot water to soften it if your baby prefers it softer.
7. I usually place the small bowl of mashed up food in a hot water bath to keep it warm while I feed Peter.
Sometimes I pack this mashed meal in a small tupperware to feed Peter if the family is going to dine out. I would bring along a small bowl and then request for hot water from the restaurant to heat up the meal before serving Peter. My tupperware can sit directly in the hot water bath and it takes only minutes for the heating process. Peter would be fed while the rest of us wait for our food to be served. Then we can all eat in peace – or so we always hope.
My next challenge is to get Peter to accept fruits! Urgh.