The SON is a champion drooler.
Between Hannah and Peter, one is an occasional leaky tap while the other is an OPEN tap. Peter started drooling when he was about 2 months old. Initially I thought he might be teething but hey, wasn't that a bit too early? This boy loves to suck his fingers and smear saliva all over his face, ears and neck. To make matters worse, his bed sheets and waterproof sheets were constantly soaked through and he would sleep on his tummy with his cheeks plastered onto the wet bedsheets. Consequently, he developed drool rash with his cheeks and chin being the hardest hit.
My first reaction was to clean his face and hands regularly, before and after every feed. With quiet resignation, I have been taking out his bedsheet and waterproof sheet from his mattress to blow-dry with a fan every time he wakes up from a nap. I'd then tuck in the air-dried sheets back to the mattress just before his next nap. I do this about 5 times a day. Because he overwhelms his bedsheet with so much saliva, I need to change it every 2 days. Yeah, we have that many bedsheets.
ARGHHH!!! Somebody turn off the tap!
To treat the drool rash, I tried the steroid cream prescribed by his pd for his acne prior to this rash thing. It helped but it also lightened his skin tone and thinned out his skin. Definitely not a long-term solution. As usual, I searched the Internet for ideas to treat this condition. I was inspired to try Aquaphor but this product is not available locally. (This is a crime!!) Next, I bought California Baby's Calendula cream but the rash didn't go away. Wasted $$. I also tried his diaper cream, Desitin creamy. Well, it wasn't an effective barrier between the skin and saliva. I started digging my stash of baby skin products bought previously for Hannah. Found her Mustela Stelatopia moisturizing cream – saw only a little improvement. In the end, I'm left with a tube of pure aloe vera gel to experiment. I took a skeptical glance at the colourless substance and wondered what healing agents it could possibly contain to treat the rashes. I was on the verge of giving up. Checked its expiry date and duh, it expired 6 months ago. I couldn't care less and so I applied a thin layer on Peter's rashes.
I was so wrong! Miraculously, the angry rashes on Peter started to tone down. Amazing! The inflammation subsided. I diligently applied this humble-looking gel about 3-4 times a day, each time making sure that his face was properly wiped clean with a damp cloth. I also ensured that the gel dried up on him first before letting him do his usual antics with his hands. The rashes didn't disappear overnight but they gradually went away. Hooray!
So my friends, do not judge a book by its cover, nor a gel by its colour. LOL :P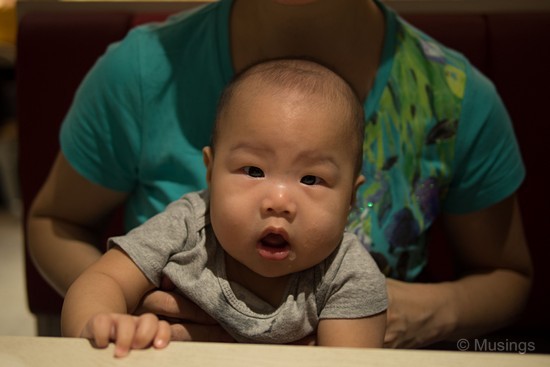 P.S. If you know how to fix a 'live' tap, I'm all ears! :)