Archives
now browsing by author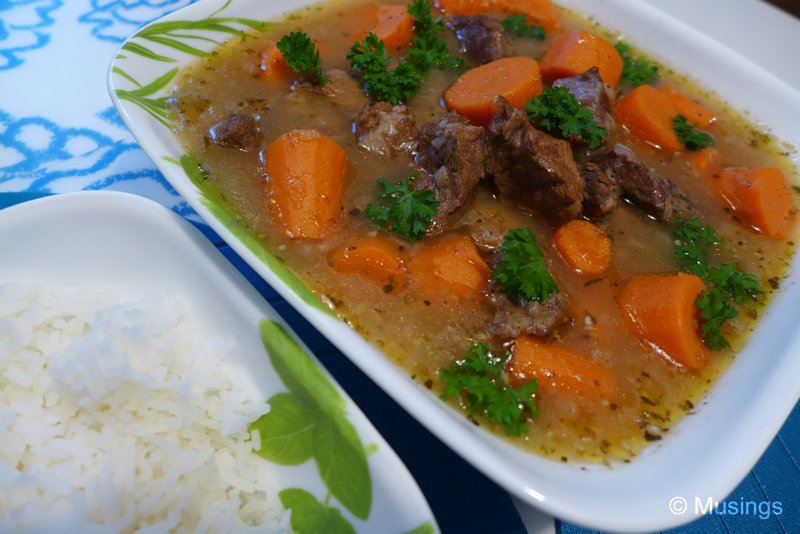 Finally, a Beef Stew Recipe that We (especially Mommy) Like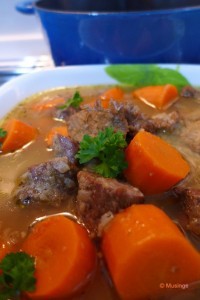 Of all the beef stew recipes I have tried over the past few years, none of them consistently results in moist, tender beef with a reasonably full-bodied broth.
I tried using both chuck tender cuts and stew meat cuts for the stew. Results were hit-or-miss kinda thing and most of the time I  ended up serving dry meats. I almost wanted to give up until I chanced upon a lovely food blog which featured their Italian beef stew.
Although red wine is found in the recipe, using red grape juice as substitute can still produces a yummy stew that is worthy to be served to guests. Yang is a teetotaler and I don't drink wine as a beverage at home. Hence, not having to add wine to the stew is a big plus.
Now, the recipe still uses chuck tender cuts and I decided to try out a different cut, shin of beef, after reading up on Delia's recommendation based on her mom's recipe and knowing my MIL's preferred cut for her Chinese-styled beef soup. So, gotta listen to your mothers. LOL :)
Finally, I'm so glad to see that tomatoes have no place in the broth. Me thinks the taste of tomato complicates the taste of a hearty beef stew.
At last, moist, tender beef cubes in delicious broth! Ahhh, my search has come to an end. I have a beef stew which I could call my own and feel like a great cook whenever this dish is served.
Credits must go to Donna and Chad from The Slow Roasted Italian for sharing the recipe with the world. :D Below is the recipe modified to suit our family's tastebuds. It's a perfect one-dish meal served with steamed white Jasmine rice.
Ingredients (serves 2 adults & 2 toddlers)
• 450 g beef shin – trim fats, sinews/silvery white outer layer, cut into 1.5" cubes
• 2 tbsp all-purpose flour
• ½ tsp paprika
• ½ tsp coarse ground black pepper
• 1 tsp salt, divided (to taste)
• 1 tbsp extra virgin olive oil
• 1 tbsp unsalted butter
• 1 shallot, diced
• 1 garlic clove, minced
• 2 cups home-cooked chicken stock (unsalted)
• 1/2 cup red grape juice
• 1 tsp Worcestershire sauce
• ½ tsp dried Italian herbs seasoning (I think this is important to the overall taste)
• 4 large carrots, peeled and chopped into chunks (becos' there's a rabbit in Yang. JK. Seriously, forget about potatoes. Carrots complement this dish better.)
• fresh parsley to garish, optional
Method
1. Trim hard fat (which does not melt during the cooking process) and silver skin (white and silvery looking) from beef shin and cut into 1.5″ cubes. It takes about 5 minutes, but don't skip this step. It is so worth it.
2. Combine flour, paprika, pepper and ½ tsp salt in a medium ziplock bag. Seal and shake to combine. Add beef and shake until well coated.
3. Warm olive oil in a French oven over medium low heat (to avoid burnt meat), once you can feel warmth when holding your hand 6 inches from the pot, add butter.
4. Once butter has melted, remove beef from flour and shake gently to remove loose flour. Place coated beef in the French oven, one piece at a time and then brown on all sides. Cook in two batches. Turn pieces until all sides are browned and remove them and set aside in a bowl. Once the first batch is cooked, add the second batch and repeat. Remember, watch the heat. Don't let the meat burn as the French oven can heat up quickly.
5. Meanwhile, prepare shallot and garlic. Shallot should be diced and garlic minced. Set aside.
6. Once all beef is browned and removed, add shallots and garlic. Cook until translucent. Add grape juice and deglaze by scraping up the browned bits at the bottom of the oven. Add chicken stock, Worchestershire and Italian seasoning. Stir to combine. Return beef to the pot. Cover and bring to a boil. Once boiling, reduce to simmer and cover. Allow soup to simmer for 1.5 hours.
7. Meanwhile, prepare carrots and set aside.
8. After about 1.5 hr of simmering, add carrots. Stir to coat vegetables and cover. Cook for another 30 minutes or until carrots are fork tender. Taste broth. If necessary, add additional salt to taste (mine needed ½ tsp).
9. Garnish with fresh parsley if desired. Serve hot with steamed white Jasmine rice. Bon appétit! :D

p.s. French oven is preferred for its even heat distribution.