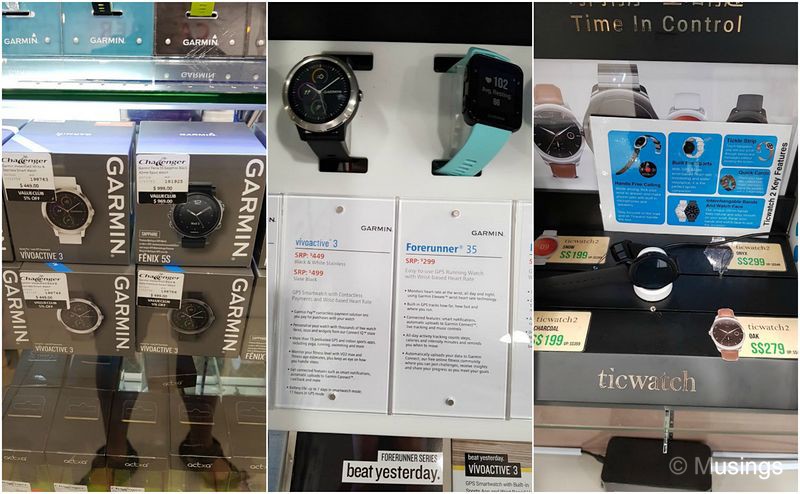 Samsung Gear Sport – Part 1 – Decisions
Of all the tech toys I buy, I don't remember ever having had this much difficulty deciding which smartwatch to get to complement my Huawei Watch! Aside from the sheer proliferation of smart watches out there now – and I didn't have time to look at the cheap Made-in-China no-name models in my week long survey – many of the main stream models from the well-known manufacturers are widely sold in Singapore. And surprisingly, local prices here weren't always higher than Amazon. At times, it was competitive, and in a few instances, even slightly lower when compared to pre-Black Friday Amazon prices.
There are three mandatory specifications for the new watch:
It has to be waterproof – since one of this watch's core use is for me to swim with it.
Activity and health tracking – which means tethering with the smartphone. Decathlon Singapore sells a number of waterproof watches with heart rate sensors and the like, but they are standalone devices.
Supports notifications from the smartphone.
As for nice-to-haves, from the most important ones:
At least 3-4 days battery life. Having to charge the watch everyday, as my Huawei and LG watches required, is simply annoying. This also meant that most watches running Android Wear, alongside all of the Apple Watches would not be in the running.
Supports either contact-less charging, or uses a clip-type charger. I reckon the experience with Huawei's very fiddling watch charging has made me wary. Aside from that the Huawei watch isn't waterproof, that charging the watch is a hit and miss affair has significantly limited how much reliable use I can get out from it nowadays.
Form factor. The watches in this group can really be divided into two basic designs: those that look and feel like traditional watches, and those that don't. I have a preference for the former: on account that while this replacement watch doesn't need to replace the Huawei watch when I need to wear something nice with formal wear, it just feels strange to wear a rectangle on my wrist.
Screen. A number of watches I looked at – especially from Garmin – make use of transreflective LCD or e-Ink technology for its display: which permits great legibility in strong light. But conversely, the display can also look really dim indoors. This was a very hard call to make, since the other huge payoff of a transreflective LCD is better battery life than watches that make use of AMOLED screens. But I reasoned that I was going to wear this watch much of my awake time, and my day job is indoors. Which meant that a nicer display indoors would be of more importance relatively than how it looks when outdoors.
There was a lot of back and forth between models last week, and briefly:
Nokia Steel HR – really nice classic watch design, very affordable and features long battery life – but not waterproof.
Garmin's Vivoactive 3 and HR – similar features, if different designs and price-points. The Vivoactive 3 has a traditional watch design, but is fairly expensive here. I very nearly went with the Vivoactive HR as Amazon was selling it cheaply, but cancelled just when the store was just about to ship the item. The transreflective LCD screens just didn't work for me.
AmazFit Pace 2 – haven't seen this watch series on sale in Singapore, but this just recently released model from Xiaomi's subsidiary can be bought from overseas stores for cheap and hits all the check-boxes easily. But it has one issue which make this a non-starter: the watch is in Chinese, only. Ugh.
Samsung Gear Sport – this was a late inclusion: meets all the mandatory, and all but one of the desirable specs. The battery can hit 3-4 days yes – but only if you're disable a good number of its features.
So, no easy decision: but the watch I finally decided to go with was the Samsung Gear Sport:
A review of the watch itself to come soon!