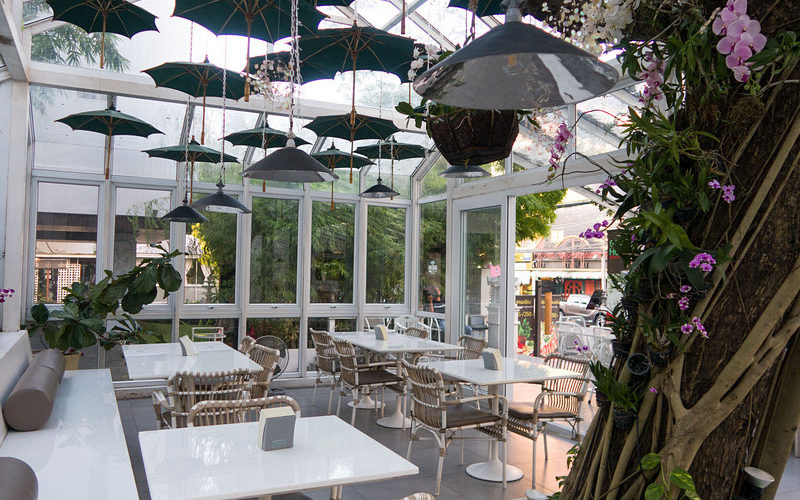 Phuket – Sino House Phuket Hotel
Our second place of stay for Phuket Dec 2017 is situated at the eastern side of the island – the opposite and western side of the island is where Patong and party creatures would gravitate towards. The eastern side doesn't really have interesting beaches, no – but it's also where Phuket Old Town is, and also one of the two major arteries connecting the north and south parts of the island runs right through the area.
There actually seems to be several Sino establishments on the island – Sino House, Sino Inn, and Sino Imperial – all roughly in the same vicinity of Phuket Town, but differing also somewhat in pricing. Sino House is relatively the most pricey stay at about SGD151 per night for the four of us, but make no mistake though – none of these are five-star establishments, and I'll be hard-pressed to rate even the most luxurious, comparatively, of the three to be four-star even.
Our notes:
Our booking was for a Family Junior Suite with fairly good floor area of 60sqm or so. I initially thought that this would actually be a single unit of that size with two bedrooms – e.g. like what we had in Cassia Phuket. But it was only on check-in when we learned that their suite is actually two adjacent units that are interconnected by lockable doors, like our stay in Club Med Bintan. The kids took the room with two super-single beds, and the adults took the other room – which had an oversized king-sized bed. The four of us could easily sit on the bed to watch family TV – actually a whole bunch of Tom and Jerry cartoons we'd carted over from Singapore LOL.
Our three night stay cost SGD453 – compared to the SGD771 we paid for four nights at Cassia Phuket. The latter was a much nicer hotel of course, but the price difference isn't anything to snort at either.
Each of the two rooms are large. Ours for instance, apart from the very large bed, separate night tables, pseudo-walk-in wardrobe and bathroom stall, and its own living area too with sofa, a meidum-sized four seater dining table, kitchen, mid-sized fridge and so on. Everything in the room and mini-bar is also complimentary, with bottles of water and soft-drinks replenished everyday. The hotel does require you to keep the emptied glass bottles in the room though, otherwise they'll charge you for them.
The decor is Chinese-styled. Specifically, this is the first hotel I've stayed in with very fragile and expensive looking large porcelain vases for decor. So, the first thing we had to establish for our two kids, and particularly Peter, was no-touching zones!
The complimentary daily breakfast buffet was in a lovely glasshouse-styled restaurant near the hotel's car porch. The breakfast buffet was quite ordinary, and since the glasshouse has a living and fairly large tree inside it and the restaurant just beside the main road, we had to contend with the occasional fly and insect about during breakfast.
Sino House is within easy walking distance of the Trickeye Museum, and other smaller museums (we eventually gave these a miss), the Phuket Indy Night Market, and – importantly – Limelight Avenue Phuket, a small modern shopping center with a decent Japanese restaurant ('Kasa'), a Thai restaurant ('Lemonglass') that we really liked, a pub joint, a Starbucks-styled Tomtom coffee outlet, a few other young-people eateries, a foodcourt that seems more catered for locals than tourists, and finally a convenience shop.
And lastly, the location is ideal for visitors who do not want to be near crowds. We saw only a small handful of non-locals about in the area, and I suspect there is a large high-school also somewhere in the area. As every day mid-afternoon when school is out, there would be many students in their smart uniforms about.
There are bits that didn't work for us though, and some of these are not particularly just minor annoyances.
The hotel and rooms are worn, and could use some large-scale refurbishment. The rooms are clean, yes – but the overall feeling of the place feels very 1980s-ish, and nothing like the modernistic chic of Cassia Phuket. Ling refused to sit on the sofa as she said it doesn't look clean (I had no qualms), and the both of us felt minor itchiness at our feet every morning after sleeping on the beds. The kids were OK though.
In-room WIFI was not reliable. Signals don't drop-out, but even when they are holding, there is frequently no-access. I reckon it's to do with backend or proxy issues. But when there's a live connection, Internet download/upload speeds are pretty OK, and quicker than Cassia Phuket's.
There were very occasional power resets. The power comes back right-away, but it can be a little annoying.
Air-conditioning is powerful, and we frequently had to dial down its power even – but it's also fairly noisy.
The hotel has a single lift for guests, but there is a horrendously pungent smell in the lift. Ling says it smells of urine, with her nose (and eyes) of an eagle. The  smell is bad enough that we preferred to walk up and down to our units – 307 / 319  – whenever we could.
In all, this was an OK stay – but we can only recommend it for its attractive rates, cleanliness, great location (especially Limelight) and very large rooms. If you're looking for something that even approaches luxury, then I reckon you will want to look elsewhere for a place to stay.
Next post is a retrospection of our Phuket Dec 2017 itinerary!