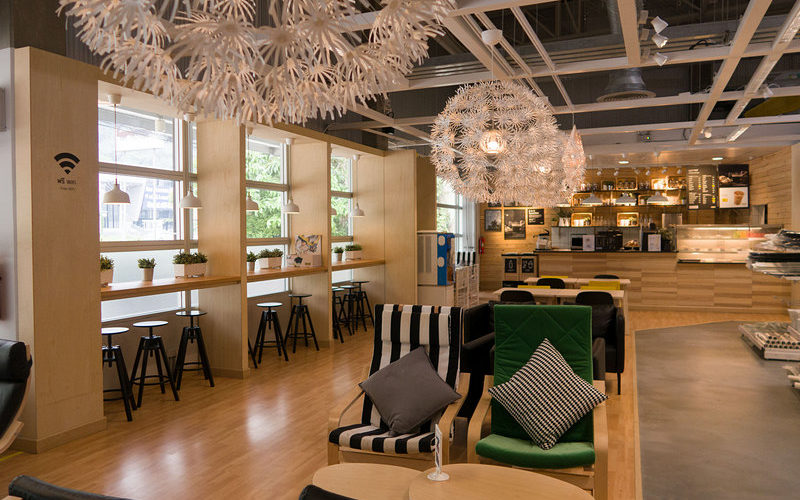 Phuket – Day 7 – Ikea Phuket and Central Festival Phuket
We finished The UpsideDown House, maze and tree house in less than an hour – as Ling quips, a pretty expensive 1,420THB/SGD 58 thrill where we would also have no absolute certainty that the pictures are any good until we post-process them. As luck would have it, Ikea Phuket is a very close 100-150m away – easily manageable walking distance even with two kids in tow.
There were barely any visitors to the store as we'd just arrived after their 10AM opening hour. The store isn't nearly as big as the Ikea Alexandra, let alone the Tampines store back at home – but it's still admirable on the amount of stuff they got to display with so little floor-room. The items seemed about the same as what we see at home. Most importantly, the store has a small cafe that offers beverages; hot/cold coffee for the adults, and ice-cream for the two kids – at the rock bottom F&B prices that Ikea is well-known for.
The general area – from which Ikea seems to be at the edge of – seems to be filled with large home decoration and furnishing stores, which are still relatively spaced apart to make walking point to point a fairly demanding activity. So, we hailed a GrabCar to bring us next to Central Festival Market, a shopping mall that we'd passed by yesterday on our way to Patong/Jungceylon.
The mall is also an exemplar of never judging a book by its cover. On the outside it looks a little worn, but the inside is huge, beautifully decorated and loads of restaurants, shops and department stores. It's still not as large as the gargantuan beast that's Jungceylon – but easily the size of Raffles City. A cineplex – SFX Cinema – occupies one end of the third floor, with ticket prices between 150 to 220THB. And cutely, on the same floor, there are six Japanese/Korean restaurants side by side/opposite sides all eye-balling each other LOL.
Since we had pretty much the rest of the day to spend at this mall, we opted to catch shows. The Last Jedi for myself, and the kids and Mommy went for the new Pixar animated film, Coco – at 200THB per ticket. Point to note: make sure you choose the correct screening, as the shows typically run in both English and Thai, so you'll want to select the correct language screening. The automated ticketing booth we initially purchased tickets from took our money but refused to release tickets, but the helpful manual ticketing staff – after the usual language difficulties – understood our dilemma and got their supervisor out to reprint our tickets, and their technical staff to open up the booth to see what had spoiled inside it.
We were all done by the late afternoon, so it was a final short 10 minute GrabCar trip back to Sino House for a quick rest, before dinner at the Lemongrass Restaurant.
This about wraps up the main posts for our Phuket 2017 trip. Next post is on Sino House Phuket Hotel!