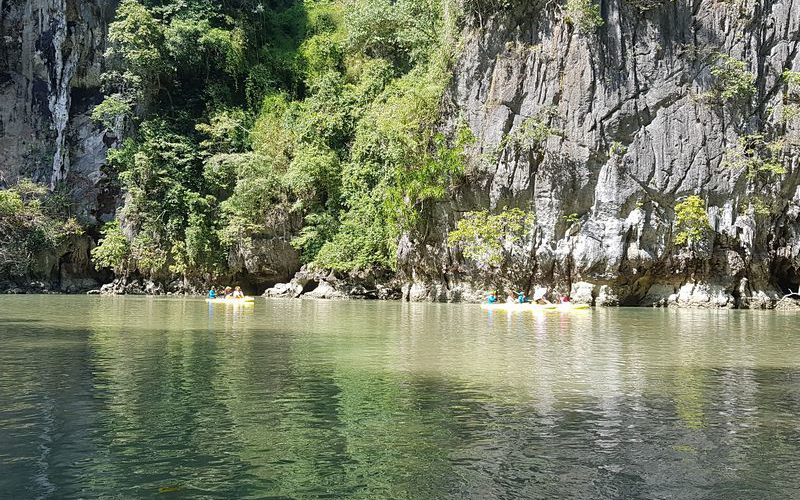 Phuket 2017 – Itinerary Retrospection
Eight days in Phuket, and as we still have an hour to kill before hailing a Grab Car for our ride from Sino House Phuket Hotel to the airport, I wrote up a retrospective post on the itinerary covering what worked well and what I reckon can be skipped. This will get posted after we get home @ Minton.
Flights in and out: we're glad we went with Jetstar. The flight arrived in Phuket mid-morning, and departed mid-afternoon. These were the best timings for us, as the kids could get what's close to a normal night of sleep before leaving, and we were also able to reasonably maximize our period in Phuket island too.
Day 1
Cassia Phuket: Our nightly rate was SGD192 for a 2 bedroom loft suite with pool/lagoon view. The loft suite is really nice and roomy, and the hotel on the overall is also modern, and clean – all located in a fairly newly-developed, upmarket but yet still quiet side of the island. But the room view comes with a cost: the master bedroom was warmed up from the full-blast of the afternoon sun everyday. So, if the view doesn't matter to you, consider going for what should be cheaper loft suites without the pricey views.
Canal Village: The two restaurants – S, and Albatross cafes – serve up both Thai and also international cuisine, but the menu price items are also significantly more pricey than elsewhere on the island. Be prepared to spend SGD10-15 each for most ala carte main menu items. Albatross cafe sits beside the lagoon, so you get pretty nice views while you dine, especially at night – but S cafe has seating inside the restaurant itself, and you'll get air-conditioning. Pick your poison!
Day 2
Bang Tao Beach:A small stretch of beach that's shared between guests @ Cassia Phuket and the adjacent hotel, Laguna Phuket. The beach itself is about 7 minutes walk from Cassia, shaded and reasonably well-paved – but you might be  alittle uncertain finding the way there the first time you try walking the path.
John Gray's Sea Canoeing 'Hong by Starlight': This 10 hour tour is now currently rated the top-rated trip offered in Phuket, the second one being Simba Sea Trips that we did in 2008. The experience is incredible, the tour operators a pretty confident and well-oiled machine. You will need to temper your expectations of it being a serene experience of just you, yourself and nature though – as there are a lot of operators all gunning for the same area. John Gray's package though is environmentally responsible, and their timing a little off-sync from the other operators – so from about mid-day onwards, the number of canoes all jockeying for elbow space falls significantly. We paid 9,875THB / SGD402 for the four of ours, and it was worth it. Very highly recommended.
Day 3:
Phuket Elephant Sanctuary: This Save the Elephants project isn't the only one in Thailand, given the country's notorious animal tourism industry and the truly awful conditions the animals are trained and treated for entertainment. But it's likely the only ethically-responsible park for elephants on the island itself, no matter what the other parks might be claiming too – and the proof isn't just in the introduction videos, but every thing we saw in the park. The Caucasian project/park managers were on-hand to keep a general eye on things, the mahouts had no cattle-prodding instruments with them, only food and treats for the elephants, and the gentle giants basically roamed around to do whatever they felt like doing, with the rest of us following and observing. We paid 9,270THB / SGD378 with a 3% credit card charge added for the four of us. Pretty pricey for just a morning tour, albeit with a great vegan lunch provided – but if you can spare the cash, go for it and witness a truly eye-opening experience that will leave you shredded on the insight about the plights of these stunning beauties.
Day 4:
Splash Water Jungle Park: A lot of fun for our two kids, though from the adults' perspective, the park's rides are not particularly different from the other water theme parks we've already visited at this point. You can easily spend about 3 hours here if you go at a leisurely pace, and longer too if you'd like to also grab a bite to eat at the couple of restaurants in the park. Do remember that there are also other eateries just outside the park, many within easy walking distance. Admission for us was a fairly high 3,600THB, and you might get discounts if you buy tickets online too.
Day 5:
Sino House Phuket Hotel: This small hotel is all about good rates (we paid SGD151 per night for two interconnected rooms), large rooms, overall cleanliness and good location (for us) that was well away from the drunken crowds and bus loads of rowdy and loud tourists from the usual country far up north of Singapore. But if you need higher-quality stays and luxury, this hotel is not for you.
Phuket Trickeye Museum: This little museum was just a manageable 6-7 minutes walk away from Sino House. It shouldn't take more than an hour even if you posed for every exhibit. The experience is semi-special, but the 1,600THB admission for the four of us I felt was just too high compared to what you'll get out of it. Keep in mind too that your main takeaway from this museum are the photos, and you will need some decent photography skills, spontaneous human subjects, and a good amount of luck to get really nice photos.
Limelight Avenue Phuket: A small fairly modern shopping mall with the key essentials, and just a few minutes walk from Sino House too.
Phuket Indy Night Market: Right beside Limelight Avenue Phuket and opened on Wednesdays to Fridays. On the nights the Market is opened, don't have dinner at Limelight. Go eat at the market for real, authentic street Thai food. Very highly recommended!
Day 6:
Patong Beach: A must-visit at least once in your life, if only just to see what the fuss really is about. The day and night time vibe is also completely different, with the partying starting from early evening onwards. A day-time visit to the beach will be safe enough if you're towing along young kids, like we were.
Jungceylon: A huuuuuge shopping mall that you can spend hours in. Lots of shops, stores, eateries and restaurants – and several of the well-known chains have multiple outlets in the mall too.
The Kids Club Phuket: A short 5-6 minute walk from Jungceylon if you also take shortcut I wrote about in my blog entry. This indoor playground is reasonably spacious, and there were very few visitors the weekday afternoon we went by too. Admission, like many of the other Phuket tourist spots, is rather pricey at 350THB for a child's full-day play, and 100THB for each accompanying adult. Remember too that socks are required, and you can save yourself from having to spend SGD2 for a pair of socks.
Day 7:
The UpsideDown House: Like the Trickeye Museum, this tourist spot offers a relatively new experience, but offering an even less generous entertainment hour to baht ratio than the Trickeye Museum. We paid 1,420THB to include the Treehouse/Maze, but suggest you dont – the house is passable if you're in a mood to spend, but the Treehouse/Maze is simply not worth it.
Ikea Phuket: A short 5 minute walk away from UpsideDown House, and a great place to relax in the furniture store and enjoy the affordably priced snacks and beverages.
Central Festival Market: Also a short 5 drive away from Ikea Phuket, and a decent-sized mall with the usual suite of Asian restaurants, department stores of all kinds, and also a cineplex.
We didn't do much on the last Day 8, basically taking our time to leisurely pack for our flight home, and a last visit to Limelight Avenue Phuket for lunch.
Essentially, our itinerary can be spit into two parts: Days 1 to 4 were spent north of Phuket, and Days 5 to 8 just in the central part, as we dropped our Day 7 activities in the Rawai area which is located in south Phuket.
Legend for the map above:
1 – Cassia Phuket / Canal Village / Bang Tao Beach
2 – Ao Po Pier (Hong by Starlight dispatch point)
3 – Phuket Elephant Sanctuary
4 – Splash Water Jungle Park
5 – Sino House / TrickEye Museum / Limelight Avenue Phuket
6 – Jungceylon / Patong Beach / Kids Club Phuket
7 – UpsideDown House / Ikea Phuket / Central Festival Phuket
While our Phuket 2017 trip was 8 days long, one could easily pack in more activities into this period. There are numerous island-visiting trips offered from a large number of operators, including to Banana Beach @ Rawai Island, Maiton Island, and the Phi Phi islands. Be prepared for crowds though, as several of these day tours operate at bargain-bin prices, and inevitably bring about the usual avalanche of bargain-seeking tourists.
Next posts on our gastronomical experiences in Phuket!