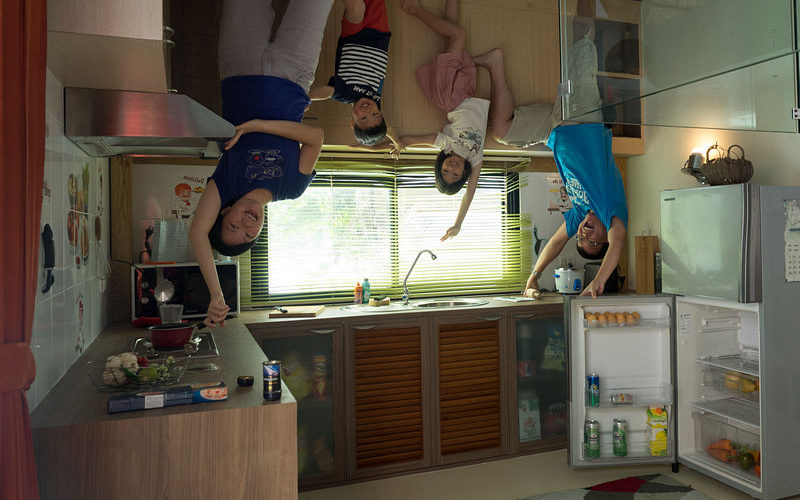 Phuket – Day 7 – The Upside Down House
Our original pre-departure itinerary for Day 7 was centered around the Rawai area of Phuket: with a visit to Rawai Park in the morning, the beach in the early afternoon, and Phuket Seashell Museum for the rest of the day. But all that got thrown out after Day 6 – on account that after a bit more researching, we doubted if Hannah would enjoy Rawai Park after all as the park seemed more suitable for younger kids. Ling was also worried if Peter could take any more sun – he's already pretty much baked to a brown shades after six days now, since his skin is relatively the least developed among the four of us.
So, we decided to do indoor places for Day 7, our last full day on the island – and checked out The UpsideDown House and its surrounding amusement park – a fairly small spot about 10 minutes away from Sino House. I did list this spot in the very early versions of our itinerary, but chucked it largely on account of its very pricey admission rates.
Our notes:
There seems to be confusion about opening times. Tripadvisor says it opens at 9AM, Google says it's 9:30AM, and the attraction web site says 10:00AM. We got there at 9AM nonetheless as the journey from our hotel took shorter than expected. Upon arrival, we were told by staff that they're indeed opening at 10:00am – but since they were ready, they let us and another Indian family that also just arrived in.
There's a bunch of 3D murals outside the house, similar to those in the Trickeye Museum, though not done up nearly as nice, and there are no floor guides nor suggested poses that you can adopt.
There are actually multiple attractions in the small area: the UpsideDown house itself, a treehouse/garden maze, a tilted 'drunk' house, and what looks like a VR experience. Admission rates are quite pricey, with the four of us paying 1,420THB for the first two attractions.
The inverted house actually comprises two levels of activity, with the main area being the second level and a patio level that has just a fairly small number of exhibits.
Basically, every furniture item is inverted and nailed to the ceiling. What you need to do is to pose, then flip the picture vertically to get a sense of illusion that you're the one who's inverted, not the furniture. The difficulty of course – like the Trickeye Museum – is that it's tremendously difficult to nail those pictures. It's very easy to accidentally include telltale signs in the picture that'll destroy any sense of illusion you're trying to cultivate. My advice: get the staff's help to either tell you how to pose, or ask them to take your pictures.
Admission to the Treehouse/Maze costs just a little more extra, but the maze is very small – nothing like Amaze'N Margaret River that the kids really enjoyed in June this year. The kids finished it in 10 minutes.
Bottom line: this amusement park costs a lot of money for the fairly little it's offering, so it's hard for us to recommend it if you want to get your money's worth. Only go if money is no objection.
Day 7 continues at Ikea Phuket (?!?!) and Central Festival Phuket in the next post!