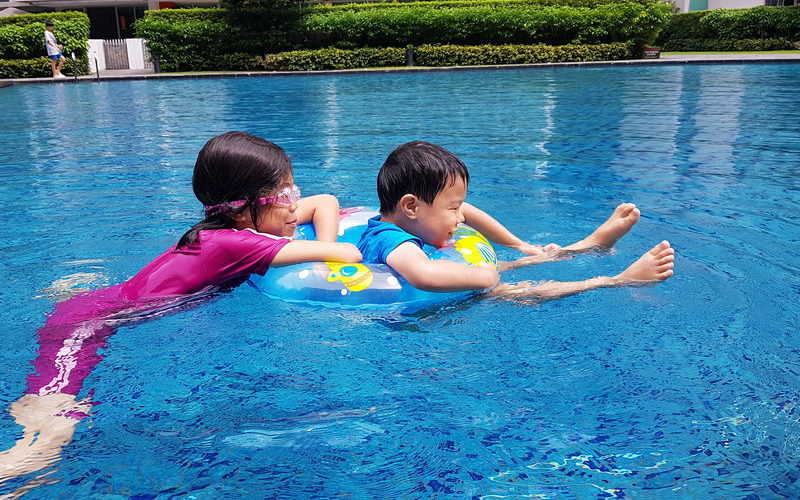 Kids @ The Minton Pool
One thing about living on an island is that as since we're completely surrounded by water, it's practically a life-skill requirement for all of us island-dwellers to learn how to swim! We often brought Hannah as a young girl to our old condo pool, and took a lot of pictures on the now six year old setup: a cheap Canon IXUS HS115 protected with its dedicated underwater casing. This little camera over the years has survived loads of water dunking, beach sand etc. without ever breaking a sweat figuratively, and the little Canon compact camera always emerged unscathed and continued to work perfectly.
If there are limitations to the HS115 with underwater setup:
It shot full HD videos at a fairly pedestrian 24 fps rate that's closer to film than home video.
It didn't shoot in RAW – and color sensing was very occasionally off, given the significance presence of blue colors in a typical pool or underwater image.
The camera slightly heated up after extended use – which in itself doesn't hurt the camera in any way, but it inadvertently caused condensation to build in the air cavity in front of the glass lens elements and housing's lens protrusion.
Water droplets occasionally retaining on the lens protrusion: resulting in ugly blobs on pictures taken.
With our trip to Phuket coming up shortly, I've been looking into replacing this setup for pool and underwater pictures. Despite that dedicated underwater housings – what I've been using – are supposedly more reliable than underwater compacts, they are also by their very nature bulky, and also are a hefty additional expense – the HS115's housing being a rare exception as I bought at a very low price. I did find a fairly cheap third party manufacturer of housings, so kept that in view for the GX7 Mark II.
So – looking at underwater compacts then. Most of the large camera manufacturers – Panasonic, Canon, Nikon, Olympus and Fujifilm – carry their own compact underwater cameras, with many costing at least SGD300 and more. But with the exception of a couple of the higher-tier (i.e. expensive) models, the cameras routinely do not support RAW. More worryingly though was that no matter how highly rated and well-reviewed each model was, there would be a few reviewers @ Amazon who'd comment on water seeping into their units – sometimes eventually, at other times shortly after purchase – typically rendering the camera useless thereafter. And manufacturers apparently do not honor repair warranties for damage from water for their underwater cameras. The irony!
The solution I eventually went with was different: the Samsung Galaxy S8+ is water-resistant (note – not waterproof though!), so why not just couple the phone with a dedicated waterproof case? And the S8+ would offer RAW support, touch-AF and controls, 4K video at 30fps – all the nice trimmings of a full-featured compact camera. And the housing isn't technically sophisticated since there are far fewer dials or buttons on the S8+. The case just needs to be solidly waterproof. And to begin with, even with some water got in, the S8+ is water-resistant!
After a lot of exploration around competing cases, I found a S8+ case that was well-reviewed @ Amazon, and made by what sounds like an Asian – likely Chinese – company called UBeesize. The small number of negative feedback mentioned its bulkiness – but still way smaller than a dedicated camera housing – and issues of sound echoing when the phone is used, a non-issue as I do not intend to use the phone in the pool. And the case costs just USD22 – so it's it doesn't burn the pocket. But being the kiasu person I am, I ordered also an Amazon Basics generic waterproof case.
Both items have arrived, and after the usual extended water test using absorbent material, the UBeesize got taken out for a spin at the pool over the weekend – and the results were wonderful! The case kept the S8+ fully dry, and I had no difficulties triggering pictures and videos (note: touchscreens do not work underwater, so the phone needs to be configured to snap pictures using one of the physical buttons). And the images and videos coming out of the S8+ were pleasing too, though all were taken at fixed focal length.
Pictures!
And a quick video. The source is 4K 30fps, with YouTube's usual video compression algorithm applied too. But the short 14 second clip shows pretty decent results.