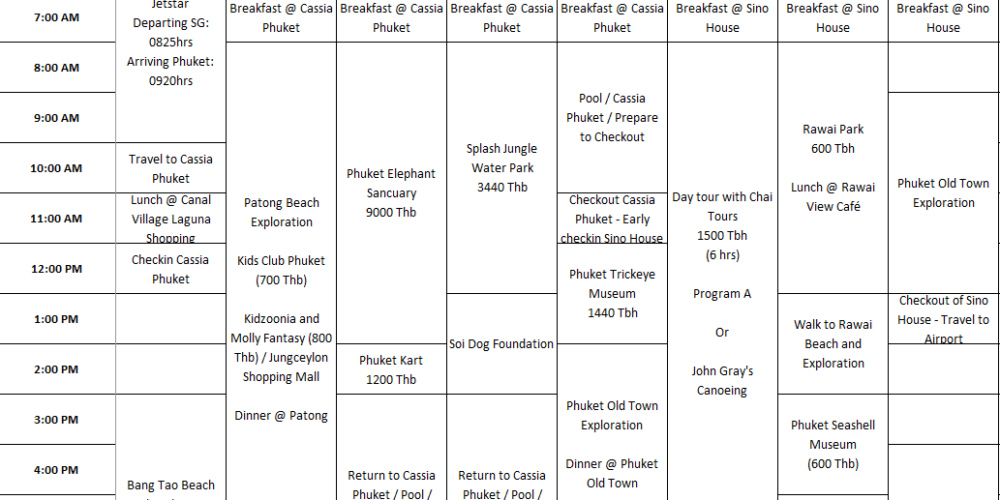 Phuket 2017 – Itinerary v1
Oddly, while it's just about 6 weeks before our year-end 8 day Free and Easy holiday in Phuket, I've felt less of a compulsion to blog about our developing itinerary than say 11 day trip to Western Australia. It's probably a mix of several factors – including that Phuket is such a well-known and traveled-to place for residents in our part of the world, I'm not sure how much I'd be able to add to the volume of information there's already out there on it! Secondly, unlike our WA trip, our current Phuket itinerary is less structured – on account that I'm honestly having difficulties now filling it up with activities suitable for kids too.
Still: our current itinerary looks like this: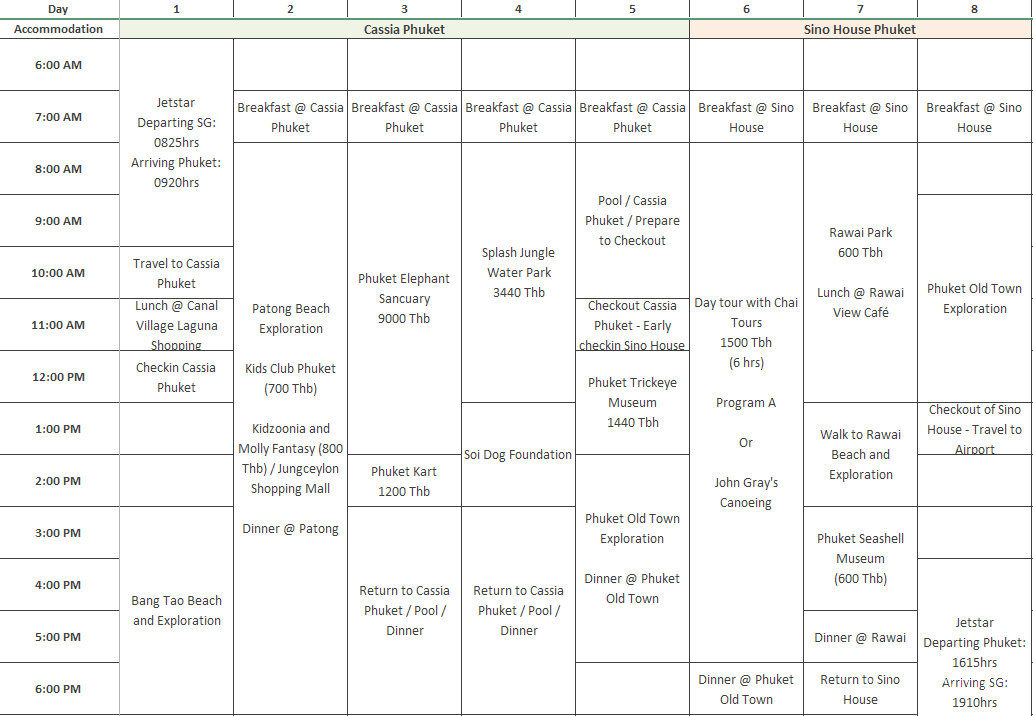 It's a fairly light itinerary, and some of the key highlights being:
Bang Tao Beach: OK and certainly less crowded beach area than the Patong area.
Patong Beach: party capital of the island and maybe even the region.
Kawai Beach: less busy and tourist-y stretch on the southern-tip of the island.
Kids Club Phuket / Kidzoonia / Molly Fantasy: indoor playgrounds for our kids
Phuket Elephant Sanctuary: a protected reserve for elephants, and unlike a few other places on the island pretending to be such – this one is the real deal. Admission prices fairly pricey though.
Soi Dog Foundation: from the web site's brief: "Soi Dog was created to provide a humane and sustainable solution to managing the stray population and to address their medical needs."
Splash Jungle Waterpark / Rawai Park: two water-theme parks for the kids
Phuket Trickeye Museum: just for laughs – and fun photos!
Phuket Old Town: exploration of the old historical center of the island.
Phuket Seashell Museum: this one's for Peter and his fascination with sea shells.
I was initially toying with the idea of repeating the round-island trip with the same provider we went with 9 years ago – Simba Sea Trips. But while they are as highly regarded as they were back then, their prices seem to have also skyrocketed. And since we won't be swimming or snorkeling, I wasn't sure how much the kids and us would get out from the trip. So, that got dropped in the current iteration of our plan.
We're seriously thinking of opting for canoeing around the Phang Nga Bay, and for that we'll need to engage a day operator. More to come soon enough!