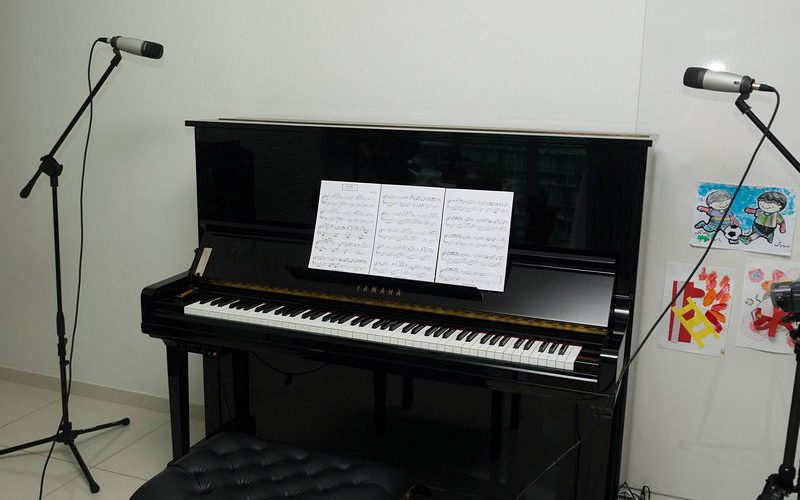 Home Recording – Part 3
I didn't think for a moment that home studio recordings were going to be easy. Never mind that I wasn't going to do both video and audio recordings and any mistakes would be very hard to correct. I reckon professional musicians typically do multiple takes when doing studio recordings, then splice and re-edit them so that what you get is often a piece that comprises the best bits of multiple takes. That's why live recordings are often regarded as the most authentic performances.
Moreover, the fairly small living room and its odd shape, coupled with the against-wall placement of our piano also meant that sound would be bouncing everywhere and creating echos and reverbs that would be very tough to correct in post-processing. What I was totally unprepared for though was the physical exertion involved. I was perspiring buckets after a two-hour recording session on a weekday morning, even though the living room was air-conditioned!
Microphone-placement was also extremely difficult to get right, compounded also by the awful reverb in the room – so it's something I'll have to keep trying until I find something that works. The raw video and audio files were at least manageable, though I was able to clean up only a small part of the echoing and muddy bass in Audacity. Also another part of the workflow I'll have to read up more on.
I did a total of 23 takes of eight pieces over the two hours, of which seven takes for seven songs were the least sloppy LOL. Here's the first one: Mika's Song, a lovely piece written and performed originally by Korean pianist, Yiruma. The tempo I used for this song is a little more brisk than the original recording: