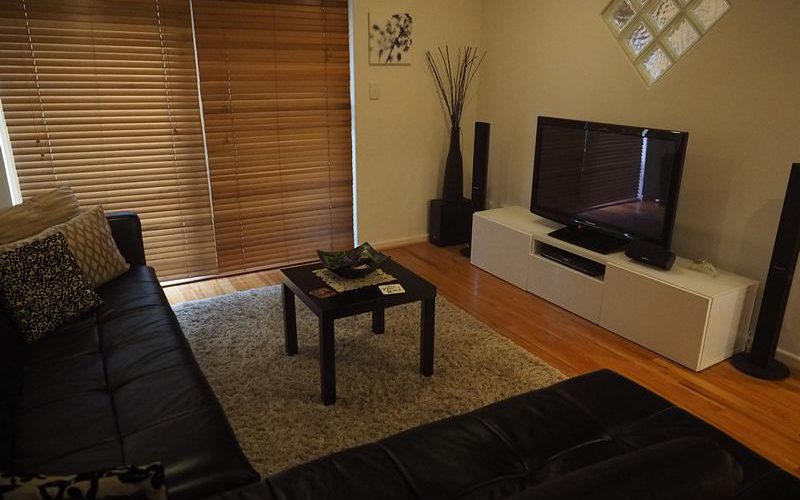 Western Australia – 11 Days in WA – Airbnb
This has been our first experiences staying in Airbnb properties, and came away having good impressions of of it. We stayed in two such properties at the start and tail end of our trip. There weren't a lot of options for Fremantle, and the average rental price/night was noticeably higher than in Perth. Some quick notes that also formed my reviews for both properties:
Fremantle
Our Fremantle place was an easy five minute drive away from the center of Fremantle. The place wasn't as new or in a pristine right out of refurbishment state, but it was easily more than made up by many things.
Host accessibility: the host more than exceeded our communication expectations by being prompt in every query we had (with replies often in well less than an hour), and also ensuring that we were able to get to his place and also check-in safely, right down to blow by blow queries on how to find keys!
Beautiful view: we got a beautiful view of Swan River right from the living room sofa. And it's a fairly lively view too with boats going past frequently.
Good amount of space: with three bedrooms: two with double-beds, and the third room with a single.
Fully equipped everywhere. What really surprised us was that the place didn't just have the standard furnishings like a kitchen and washing area. It also had all kinds of supply items: including snack foods (e.g. fast-cook noodles who need that kind of unhealthy fix!), a extremely wide range of beverages and coffee types, a library of books, board games, a small collection of DVDs to suit different ages, a storage closet with loads of spare linen and towels, toiletries, and – as the wife even saw it – backup wet wipes!
All in, we liked this place and would had been fine staying for longer were it not for the fact that we were only passing through Fremantle and could only stay one evening.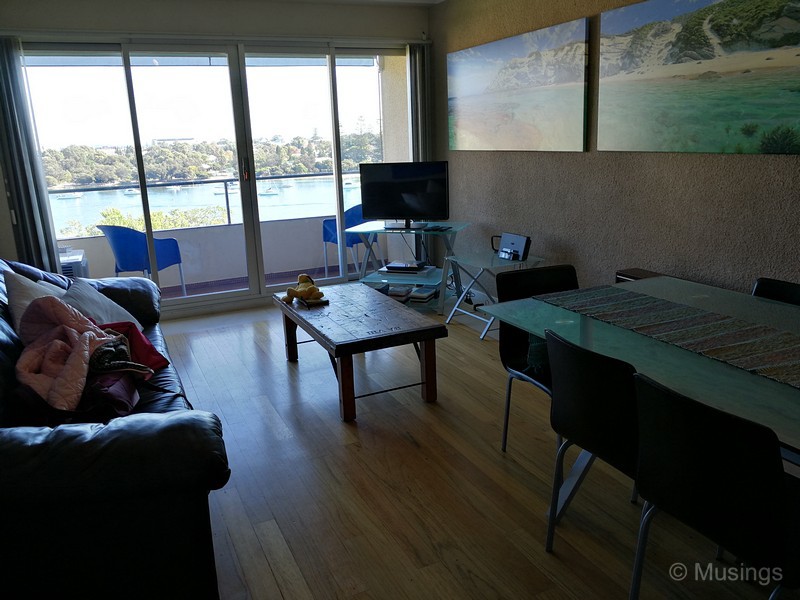 Perth
We stayed at a property that was situated in Victoria Park, and alongside a very quiet road that is still just a couple minutes drive from Albany highway and the numerous shops and restaurants along that stretch.And our comments"
The place was beautifully decorated with all the amenities as noted in the Airbnb place's description. The living room was equipped with a large sofa, flat screen TV equipped with surround speakers, channels and a small collection of audio CDs and DVDs too. In a very nice touch too, one of the drawers in the living room is stuffed full of power adapters, in case you have a gazillion electronic gadgets to use from elsewhere.
Beds were large and comfy enough for our young kids who slept soundly every night. Bath towels were clean and laundered with a nice scent too. The kitchen also had an oven, microwave, dishwasher, large fridge, and lots of utensils and cookery items, condiments and beverage types that you really won't need to buy your own.
There are even bicycles with a couple of adult helmets if you're up to cycling around the area.
There was a reasonably quick Internet connection though oddly, there were occasional disconnections that required either a period of wait, or a restart of the router. The host did ask guests to be respectful in usage of Internet data as there is a cap involved in the plan I suspect, but the data limit was generous enough, unless you intend to download the entire Internet while staying!