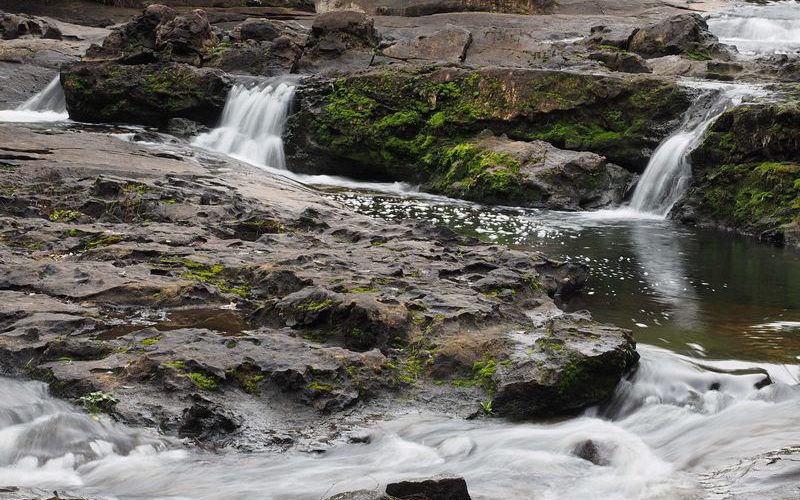 Western Australia – 11 Days in WA – Itinerary Retrospection
Our flight departed Perth on Saturday night and arrived in Singapore just before 4AM on Sunday morning. The Jetstar flight was uneventful. While we don't mind the absence of in-flight food or freebies like entertainment systems, the minimal legroom and also seats that didn't incline sufficiently far back meant that none of us – maybe except Peter – could really get any sleep! Still – you get what you pay for, and we saved a lot of money traveling budget for the short flight.
This has been our sixth family vacation in two years now, and like the Melbourne trip from last June, this one to Western Australia went along extremely well with really nothing significant that went wrong. Guess the months of preparation and reading-up paid off! There were a few things we spent on which in retrospect probably wasn't necessary – these I'll write about in the next post. For the moment, here's our itinerary and our summary comments and notes on how much time I feel one should ideally spend at each place.
Day 1: Arrival and Fremantle
Europcar car rental: some minor annoyances (basically, their booth in the Arrivals terminal was unmanned and their car park booth was a good distance away from Arrivals), but service recovery was amazing. The rental agency waived off both second driver and also car seat charges, and finally upgraded our ride from a 1.6l to a 2.0l. Despite Ling's misgivings about Korean cars, the Hyundai Sonata we drove in for the next 11 days was stable, comfortable, and had all the nice amenities. Peter quipped when we got back home that our Mazda 3 is so small, and that we should buy a bigger car now LOL.
Western Australia Maritime Museum (1 hr+): not a huge museum, and will be of particular interest if you're interested in boats, maritime work in Fremantle in the last 100 years, and the submarine tour of course – and if you're going into the latter, you'd want to allocate more time to the visit then. Beyond that though, this spot can be skipped if you're pressed for time.
Day 2: Busselton
Busselton Jetty and Underwater Observatory (2 hrs): an easy recommendation, and the jetty that stretches out 2.1km into the sea is quite stunning! The Underwater Observatory guided tour also involves a sight that you don't see very much either, since we normally only see aquatic life in artificially setup aquariums. It's also possible to save a bit of money and walk the couple of kilometers out to the jetty and Underwater Observatory, though we won't recommend it in summer for sure. Also, do especially check for peak dates as pictures we saw can show how crowded the jetty can be. Guess there's only so much space on the jetty's boardwalks!
Drive: Fremantle to Bunbury to Busselton to Pemberton (5 hrs): the drive from Fremantle to Busselton is easy, with wide roads, a good portion of which are multi-lane. The Busselton to Pemberton stretch might be a more tricky for drivers unused to country road driving. The roads are still well-paved, but do get a bit narrower, and a bit more winding especially after you pass the Margaret River point. Do be especially watchful of speed limits around the Margaret River town area along the Bussell Highway stretch too.
Day 3: Denmark / Walpole
Valley of the Giants: Treetop and Ancient Empire Walks (2-3 hrs): you'll want to set aside at least 2 hours for this, and 3 if you can. The Treetop walk shouldn't be scary even for those terrified of heights, as the steel gangways are secured, and don't sway too much – unless you have kids that are deliberately jumping up and down walks!
Walpole: there are perhaps 2-3 restaurants and cafes along the main road of Walpole, and a small pharmacist, supermarket and also convenience store if you need some urgent things.
Nornalup Inlet Jetty (1 hr): this is a quiet and beautifully scenic spot that's just a few minutes drive from Walpole town center. This wasn't on our initial itinerary, and we're glad we went by it after spotting it on the map.
Drive: Pemberton to Walpole/Denmark (2 hr): slightly tricky drive as roads really do get narrow, and the morning sun light reflecting off road surfaces also made the drive even more challenging!
Day 4: Pemberton
Pemberton Discovery Tour (4.5 hrs): the half-day tour covered a number of sights that included Warren National Park, D'Entrecasteaux National Park, and Yeagarup Beach. The really spectacular sight for us was the Yeagarup Dunes. Note: you need a 4WD if you're exploring these places out on your own – not something we recommend for persons not skilled in 4WDs as the path from the Dunes to the Beach is very tricky – and you'll also need to pay a small admission fee (honor-based system though) into the Parks too.
Pemberton Tram (2 hrs): the train runs twice a day most days of a week. The ride is very slightly bumpy as tram rides go, and the wooden seats aren't cushioned. You'll also get just perhaps 10-15 minutes to explore the Cascades. Not nearly enough if the tram just offloaded a lot of visitors all cramming to get their best shots of the waters! Some of the Tripadvisor reviewers note that the commentary can get a little overbearing, but we didn't find it so though the commentary did sound like it was on auto-mode.
Day 5: Pemberton/Margaret River
Beedelup Falls (1 hr): just a short drive from Pemberton and very easy to get to. The paved trail circuit – which includes the suspension bridge providing a great view of the small cascading waterfall – is an easy 20 minutes walk-around.
Amaze'N Margaret River (2+ hrs): really fun maze-themed park for the kids! The giant hedge maze is also suitable for adults, and even more if you're in small groups as you spend as much energy trying to figure out how to solve the maze as in trying to make sure you don't lose your friends as they run around corners. Spend a bit more time too than 2 hours too if you have kids and can afford the additional time.
Drive: Pemberton to Margaret River (2 hrs): we took a slightly different route than the coming to journey on Day 2, and it was a much easier drive – including a very long straight road stretch along Stewart Road.
Day 6: Augusta
Cape Leeuwin Lighthouse (1 hr+): go for the guided tour – as the view from up right top of the lighthouse is totally different from the ground level. Do note though that's really windy up top, and it can get even more bitingly cold even winter.
Whale-Watching off Augusta (3 hrs): June is a great season for whale-watching off Augusta, and we started spotting dozens of whales within 20 minutes of departing the pier, some of which swam very close to the boat.
Drive Margaret River to Augusta (1 hr): easy drive – no drivers should have difficulties with it!
Day 7: Margaret River

Millers Ice Cream Farm (0.5 hrs+): you can skip this spot and get your ice-cream in town if you're thinking of coming out of town just for that, and for cheaper too. There's a milking demo on weekends that we can't comment on as we missed that though.
Cheeky Monkey Brewery & Cidery (1 hr): we had a great lunch here, and there's also a children's playground right beside the restaurant too.
Margaret River Chocolate Company (0.5 hrs+): the company runs several shops, and the one we visited was in MR itself and along Harmans Mill road. This outlet had a cafeteria on the inside. The establishment felt like it was a tourist hotspot though: noisy and a little crowded. We took a look, and left.
Margaret River Cereals & Nuts (0.5 hrs): small shop near to the MR Choc Company for us to stock up on nuts. We were the only visitors!
Rotary Park (1 hr): fairly large playground for kids, and also the start point for a heritage trail that should take an hour or so to complete.
Temper Temper Fine Chocolates (1 hr+): very quiet shop and cafe that's lovingly decorated and furnished. Hank – our Day 8 guide – remarked also that he finds the chocolates at Temper Temper much better than the ones at the MR Choc Company.
Day 8: Margaret River
Margaret River Exposed (full day): a full day exploration with one of the few companies in MR equipped to do off-road tours. We were brought to a variety of places, including Surfers Point, Redgate Beach, and Boranup Forest. The company does personalized itineraries though, so you can try customizing it with things you'd like to see.
Lave Cave (1 hr)+: a real eye-opener, and the boline cavity from the surface leading to the cave entrance was awesome. The first climb down is easy, and the 300 steps in the climb back up to the surface will give you legs a real workout!
Day 9: Bunbury/Perth
Bunbury Wildlife Park (1 hr+): modest admission fee, wasn't crowded on the week day late morning we visited, and the enclosures were well done-up. The kangaroo free-roaming area doesn't have as many kangaroos as we saw at the several dozens at a similar lawn at Ballarat Wildlife Park – where we had to watch where we were walking lest we stepped on their tails – but it's still enough for kids to enjoy themselves.
Dawesville Foreshore Reserve (1 hr): our stopover on our way to Perth. Very quiet spot to watch boating enthusiasts and to just stretch your legs.
Drive: Margaret River to Perth (4 hrs): long but easy drive. Do try to also break the long journey up midway (we stopped around the Mandurah area). There are two routes back and forth: faster by South Western Highway, or the slower but somewhat more scenic Old Coast Road. Take your pick!
Day 10: Perth
King's Park (2 hrs+): enormous park that you can easily spend hours in to explore its various parts. We had the best results photographing Perth city line from Fraser Avenue in the mid-afternoon than early morning.
Elizabeth Quay (2 hrs+): large area to see and enjoy the expanse of Swan River.
Matilda Bay Reserve (1 hr+): about 10 minutes drive from King's Park, and like the other parks we visited, beautifully scenic and very quiet.
Day 11: Perth and Departure

The Perth Mint (1 hr+): the guided tour and specifically the gold pouring demo is one of the most unique experiences we've yet had – but it's pricey. Go if you have cash to burn, but keep in mind that the actual tour is just about 45 minutes long.
Scitech Perth (3 hrs): go if you have got kids! We liked this interactive science museum more than our very own Singapore Science Center.
Next post on our Airbnb stays!