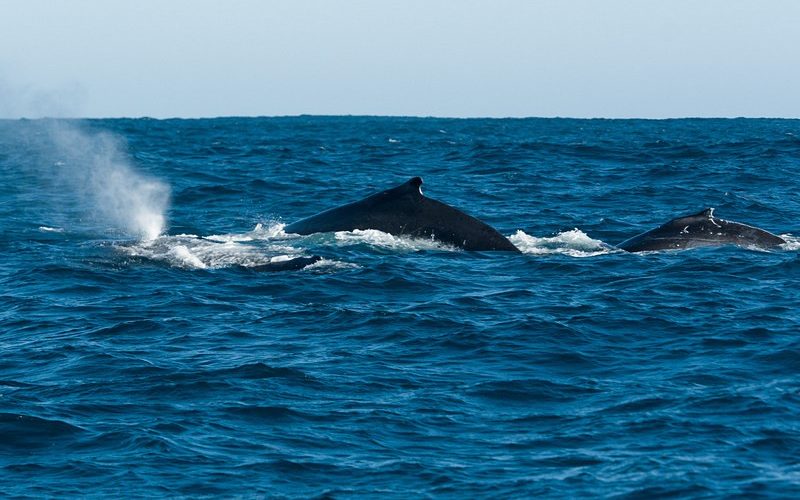 Western Australia – Day 6 – Whale Watching @ Augusta
The first whale-watching experience I with our Ang Mo bud had was in Gloucester in 2010 – site also of the famous disaster fictionalized in the year 2000 George Clooney The Perfect Storm – and I had a second trip out a few weeks later but traveling out from Boston. It was the first trip from Glouscester though that left me with an incredible memory – that of whales breaching, though as the second Boston trip and now this one in Augusta showed, you're more likely to see the whales just rolling lazily and diving than breaching.
Still, whale watching has long been one of the key highlights of our just over 11 day trip to Western Australia, on account that this would be the kids and Ling's first such. And from all accounts, whale watching off Augusta won't be anything like what Matt and I suffered: we spent 2 hours traveling out and searching in vain for these ocean-going fellows. And right when the boat pilot just above gave up to turn the boat around, we finally spotted a few who breached for us, making the entire trip worth it. Matt has a hilarious retelling  of it still here on our blog from 7 years ago. There are a few whale watching charters traveling out from Augusta, but as guests of the Margaret River Hideaway & Farmstay, we would get a small discount from one of these companies – so we went with Legend Charters.
The operator's reporting-time was 10:15 AM, but we took a few more minutes trying to find the right place: do note – the start point is in Augusta Boat Harbor, which is several minutes away from Augusta town center itself. The boat can sit around 20, so we were nearly full at 19 persons: four Singaporean families, with a Aussie couple. We could have just as well sung Majula Singapura for in-boat entertainment LOL.
I'm not sure what kind of boats the other operators used, but the Legend Charters boat was luxurious for what we paid (about AUD225). The main seating was carpeted, had tables with comfortable and cushioned chairs, and the crew offered in-boat beverages and Lamington cakes. As reported on several reviewers and unlike the trips in Gloucester and Boston, it didn't take long for us to spot whales in Augusta – just 15 minutes and right out of the harbor! And not just a pair, but several dozens across multiple sightings in the about two hours we spent out in the waters.
The waters were anything but perfect though: it was choppy, and possibly because the boat we were on was much smaller than the previous two I were on, it took an hour before I got nausea and was knocked out: and thus missed the best part of the trip: 4 whales swimming beside the boat. But Ling took a video of it that we'll post up soon.
All in – recommended and a must-see if you're in the right month and the right area!