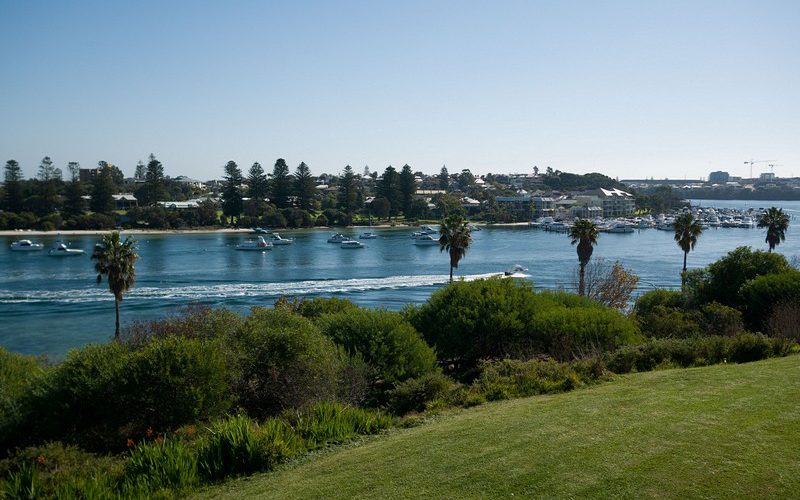 Western Australia – Day 1 – Fremantle
With the benefit of hindsight now and that the two of us were doggoned tired by the time we landed, we're glad that we didn't try to pull of the stunt of driving the about 350km between Perth and Pemberton right after landing. Just over the 25 minutes it took us to get from the airport to Fremantle, Ling dozed off 3 times while trying to be my map reader. Scary LOL.
Our place of stay in Fremantle was booked through Airbnb. There weren't very many properties available for us to choose from within Fremantle Center itself, but there were at least a few in the suburbs. This was our first Airbnb stay, and if this is the general standard of such hosted accommodations in this part of the world, we're superbly impressed! The place we got wasn't exactly new, but the host has put in all manner of touches to make the place as easy to adjust to. Branded utensils and cookery, spare linen and towels in cupboards, a very wide range of beverages, a fully equipped kitchen with condiments and dishwasher and a huge Fisher & Paykel fridge, a lot of spare toiletries, board games, and even a small range of DVDs to watch if we wanted. And the view of Swan River! Ling liked the place so much that she lamented we were only staying for one night.
As the property was not being stayed in by others when we arrived, we were able to check-in earlier at noon. Luggage down, and we headed out to find grub: with our lunch-stop Cicerello's Fish & Chips. This is a fairly well-known restaurant in Fremantle. The dock-side outdoor dining in on a sunny winter afternoon was marvelous, and we had two plates of Fish & Chips, totaling just over SGD30. A good deal of energy had to be expended to ward off the dozens of seagulls all waiting for an opportunity to swoop in and grab a bite though!
Fremantle Market was closed for the day, so that got dropped off the itinerary and we swapped it for the Western Australia Maritime Museum. The real attraction of this Museum though is the submarine tour but we had to opt out of that too. Peter was too young for it – minimum age to go is 4 years old – and Hannah was unlikely going to like or understand the tour. It was just as well, because Ling was so tired that she sleepwalked through the 1.5 hours we spent at the museum. The museum has three levels that houses several galleries that explore the state's relationship with the sea. There are also numerous life-sized boats on display, ranging from dinghy-sized boats to leisure boats, sailing boats to commercial pearl luggers.
We all agreed that we needed to have an early night before heading out early the next morning for Pemberton, so it was a quick stopover at Coles @ Fremantle Shopping Center to buy microwavable dinner packs. End of Day 1!