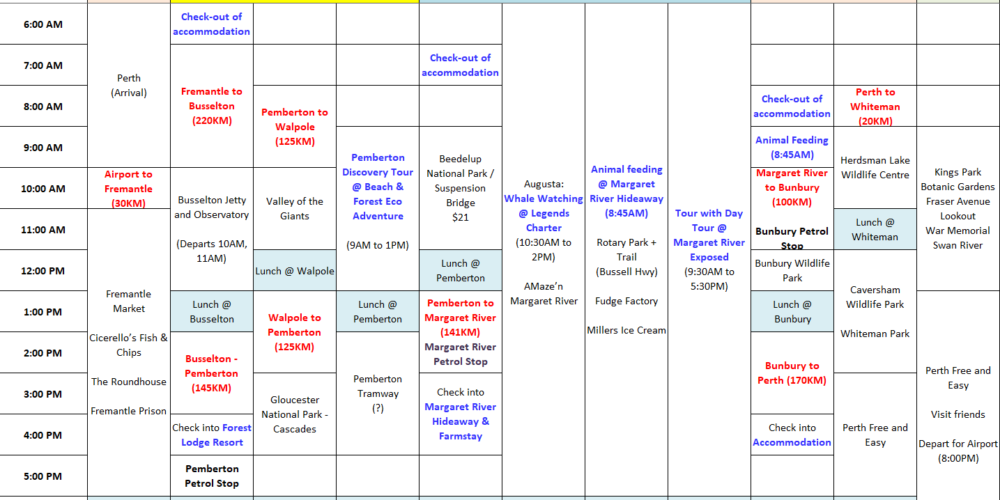 11 Days in Western Australia – Itinerary v4
It's been almost two months since the last post on our upcoming June trip. Most of the key itinerary has already been laid out in February, though we did make one large change to what we'd do on the first day. Beyond that, over the months of March and April we went about finding suitable places of stay for the head and tail ends of our trip, and also making reservations for the significant day trips at each point.
We amended the itinerary to spend our first day in Fremantle fully, and moved the selected Perth sights to the last day. Less driving around, and also that I never really spent a substantial amount of time in the town even over the three years I lived in Perth!
For accommodation; we decided to go with Airbnb options for the one night in Fremantle and two nights in Perth. There weren't very many such home stays of just an evening in the main Fremantle township itself, so we settled for an apartment in East Fremantle, an outlying suburb that's a short and quite manageable 8 minute drive away. There are plenty of options for the Perth stay of course – quite spoiled for choices in fact. We settled for a house at Victoria Park that was offered at a very good rate, and owned by what seemed like a genuinely nice host.
We'd set aside one of our days in Margaret River for a day tour with one of the town's providers, but our first choice – The Margaret River Discovery Co. – wasn't available on our date. The company's owner did refer us to another operator who was available – Margaret River Exposed. This trip out would be a personal tour for just the four of us – hooray!
The day tour choices at Pemberton were more limiting, so we went for a half-day Beach & Forest Eco Adventure with Pemberton Discovery Tours.
For one of the key highlights of the trip – Whale Watching – our place of stay @ Margaret River Hideaway & Farmstay was offering discounted rates with one such operator, Legends Charter, who were offering whale watching trips daily out of Busselton and Augusta. So, a quick email check to make sure that the discount was still on, and a quick booking followed too. June is apparently one of the better months for such in Augusta, with the operator's own notes reporting whale sightings just 500m from the harbor.
We're having second thoughts on whether to do the Pemberton Tram ride, on account that several Tripadvisor reviews uniformly commented on the poor quality of commentary provided during the ride itself. We'll put deciding on this till a later point.
So, at this point, version 4 of our itinerary looks like this: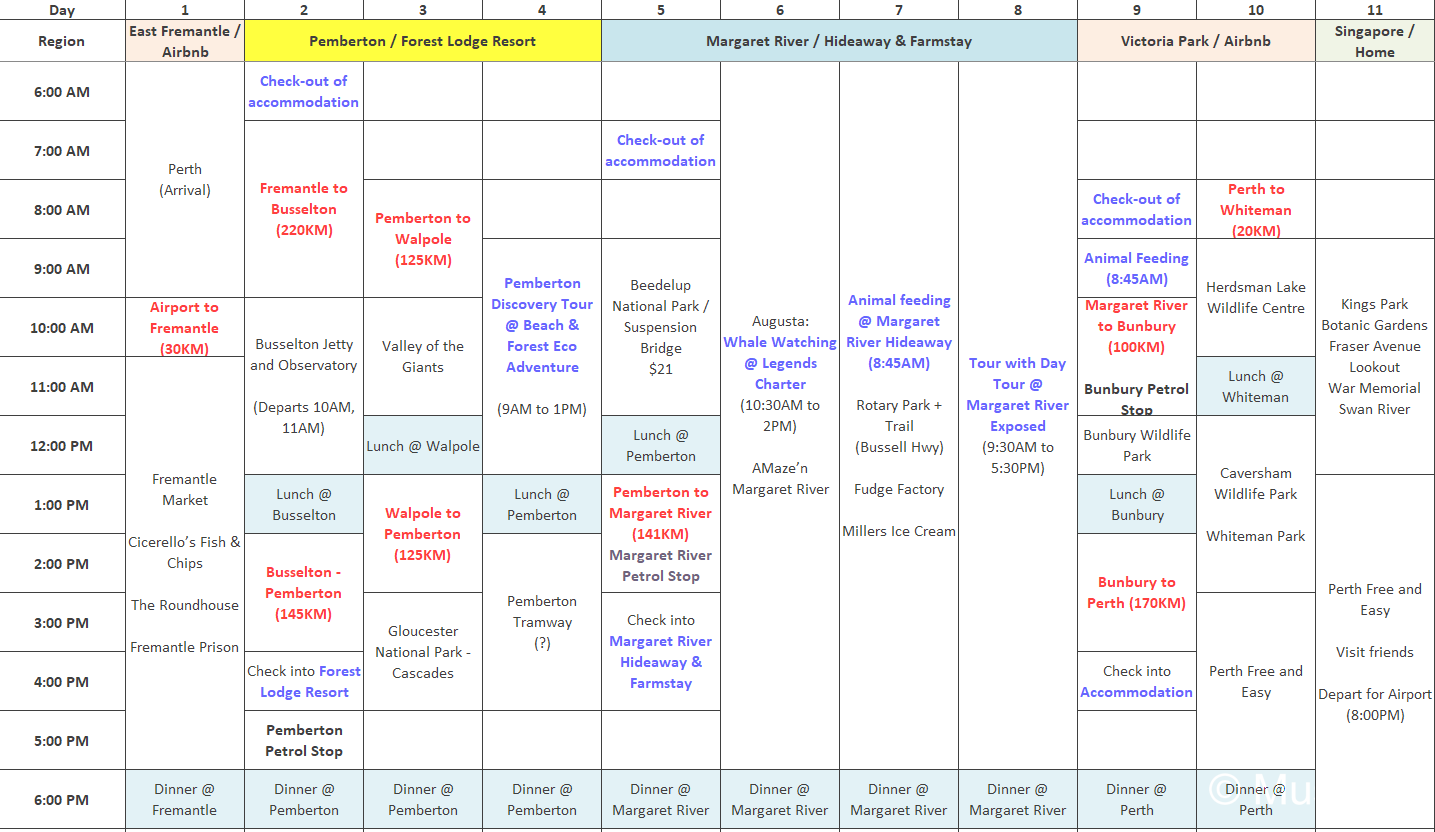 The last bit that requires booking is the car rental – something we'll get to in a few days!