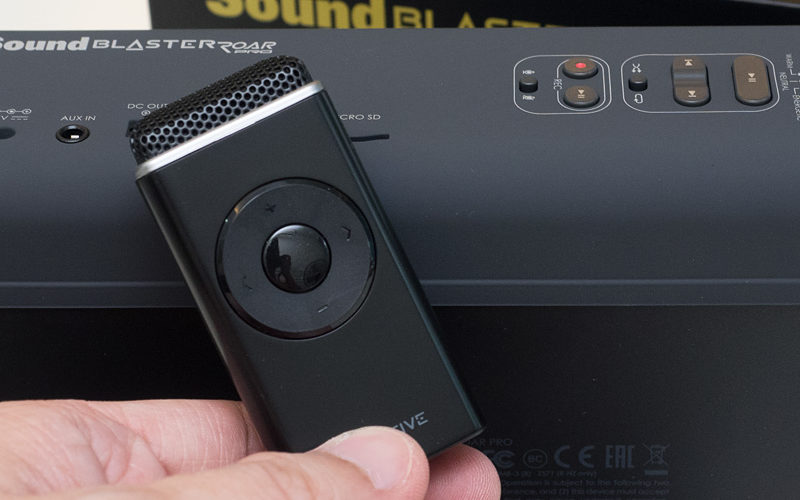 Creative Sound Blaster Roar Pro + iRoar Mic – Unboxing
One of the all-time job hazards of being an educator – here at least in Singapore but I expect it to be a challenge elsewhere too – is that we're especially vulnerable to throat irritations and sore throats. This is on account of the amount of voice projection we have to do when we teach. And when educators have to teach in this fashion for 20+ hours a week, the strain put on throat muscles can be significant. And on the same and ironically too, many educators I know of prefer not to use microphone setups if they can help it. I myself prefer not to too, but if I'm teaching a session in a large lecture theater, then audio-enhancement systems are a must.
Truth to tell; for years I've been keeping an occasional eye-out for small-enough microphone systems that I can carry around. Unfortunately, many of them are either too bulky – like those portable Public Address systems , or ungainly belt-worn ones with wires dangling everywhere.
In itself, Creative's Roar and iRoar products belong to the category of portable Bluetooth speakers, a product type that has seen all manner of manufacturers filled up with wide ranging models. The models are differentiated along battery life, output sound quality, and additional features like support for storage devices, more exotic audio connectors. But they all fundamentally do the same thing: connect via Bluetooth to a mobile device (e.g. smartphone, laptop), and play back sound. I actually already have one such – the critically praised Logitech UE Boom – for several years now, and I use it as a portable audio playback device for all my classes.
These Bluetooth speakers lack the one feature that the Creative Roar Pro and iRoar products offer though: support for a wireless microphone connection. And this is where Creative's solutions are really quite interesting. Basically the Sound Blaster Roar Pro is a portable Bluetooth speaker that can also double-up as a public address system when paired with an appropriate accessory – Creative's iRoar Mic in this case. The Roar Pro is normally sold for about USD200, and the iRoar Mic USD75. But Creative Singapore regularly throws up big discounts on its line-up at the IT/Computer/Technology show here every quarter, so it was just a matter of waiting for the right week where the big discounts are in-play. So, at last weekend's IT Show, I made an order for the Roar Pro and also iRoar Mic at the Creative online store for a total of SGD278. Much cheaper than if I'd ordered from Amazon – what a shocker. Hooray for homegrown Singapore companies! :)
The big box arrived from local courier just a few days after placing the order, and here's the outlay:
This Roar Pro and iRoar Mic is specifically intended for work and when I have no voice to project to a large group of students, and I haven't put the set through extensive use at home yet. From initial tests at work though, the Roar Pro seems better able to produce loud enough audio to fill a small lecture theater (around 90-100 seating capacity) and I hadn't pushed the speaker to its limit yet even. Still, the UE Boom's bass seems at least clearer than the Roar Pro. But more notes to come soon enough once I use it to teach.
Or maybe I should just keep it up at home and use it to thunder at Peter with several factors of audio multiplication when he misbehaves LOL.