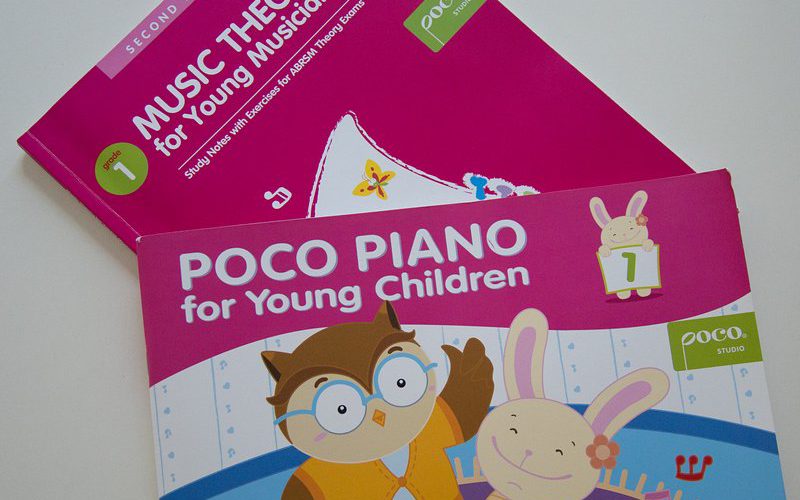 Learning Music for Kids
Both Ling and I started our formal music and piano lessons when we were in junior Primary school, which is about the age that many parents here today still get their children started at too. Both of us learned the piano using what many music teachers refer to as the 'traditional' method: basically, you learn to read notes first before getting onto the keyboard.
Hannah's piano teacher – who himself is also a Minton resident – has been teaching her using the Suzuki method. There are many apparent differences between this method against the traditional form of learning, one of them being the emphasis of listening to a piece of music extensively to learn how to play it. Which sounds like a perfectly right way to learn – and one that Hannah has really taken to, since she's inherited one of my old Sony MP3 players and listens to the pieces of her current Suzuki music book whenever we're in the car.  I reckon that even my piano teacher had the chops to teach me all those years ago with such a method, it would had been a lot harder anyway since personal audio players weren't the norm as they are today.
There's one other key difference between learning music today yesteryear and today: and it's that young learners today have access to all kinds of learning aids. Like these:
And that's not counting music software you can find on on computers and tablets. How I learned music theory was through a lot of rote: my teacher made me draw pages of stave lines for both clefts, and then all manner of notes on them as though I was learning calligraphy LOL. I think our old Lentor family home still has several of these books from more than 35 years ago – and I'll find one such and scan those pictures in to show Hannah how her parents learned!
The Malaysian publisher Poco Studio has a decent catalog of music books, and their line is carried on international retailers including Book Depository and Amazon UK.  The former in particular lists the books from a shade under S$10 to S$13 including shipping. The Magnetic Board is also of interest: it allows young learners to arrange music notations and learn rudimentary concepts of timing and such. This particular board is from Yamaha Music School. Hannah isn't enrolled in one of course, so we got one pre-loved.