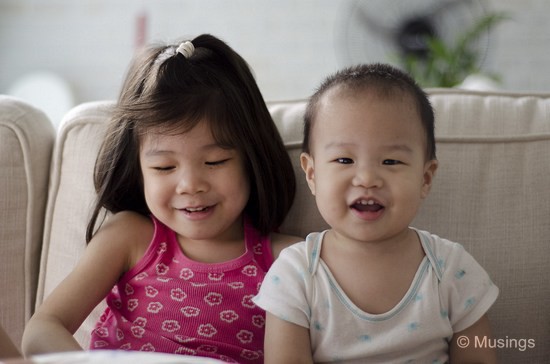 Revisiting the D7K
I've been using m4/3 cameras for more than 4 years now, and was running through my records the various camera bodies of this system I've picked up over the period.
March 2010 – Olympus E-PL1
April 2011 – Olympus E-PL2
May 2012 – Olympus E-M5
October 2013 – Olympus E-PL6
The E-M5 has been my workhorse camera for almost 2.5 years now and while it's starting to show its age through the usual nicks and bruises, still functions otherwise well. The E-M5 was joined by the E-PL6 a year ago, and both cameras have found permanent spots in my Messenger bag whenever we're out of the home.
I was curious though to see how pictures on a camera with an APS-C sensor fares against these m4/3s. Nikon has been pumping out new models of its full-frame cameras, but disappointingly, seems to have become uncertain on what to do with their APS-C DSLRs. The D7000 – which I bought in January 2012 – hasn't seen much use since I bought the E-M5. So, over the weekend, I dusted it off, brought out my two favorite primes for it – the 50mm and 35mm f1.8s – and took pictures at home of our kids.
The results were pretty mixed for sure. Running off my head:
I realized again how helpful the 5 axis built-in optical stabilization on the E-M5 is to picture taking. A small number of shots with the two Nikon primes – and these are both non-stabilized lenses – were out of focus to varying degrees because of camera shake.
The D7000's 'kaplak' mirror slap each time I released the shutter was very loud compared to the E-M5's very quiet shutter that I'd gotten so used to.
The D7000's back panel buttons and command dials feel a lot more premium than the squishy and small buttons off the E-M5.
I like the colors coming off the E-M5 than the Nikon D7000's – so much so that I found myself dialing up the image color saturation setting on the latter.
Bokeh off the two Nikon primes were marvelous, but the thinner depth of field caught me off guard. Made me realize again how forgiving are m4/3s when it comes to errors in focusing points.
The last observation was especially pertinent, since I sometimes wonder if I should give a (mirrorless?) full-frame system a go, and then become cognizant of that adage; that those systems can be extremely unforgiving, and your photographic techniques had better be pretty good already. There is a new but future camera purchase I'm thinking of though at year's end – will blog about it soon enough.:)