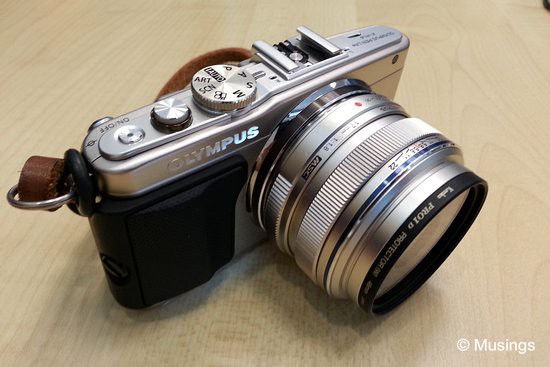 Olympus E-PL6 – Part 2
While the m4/3s family system has met all the photographic ticks I care for – compact and unobtrusive when taking pictures of kids, light, and great prime lens range – camera system watchers have been apparently somewhat less sanguine about the future of the m4/3 standard, against falling full-frame prices, smartphones who now reach the image quality offered by small sensor compact cameras, and also that crop sensor DSLRs who have also shrunk in size. The first camera range to face significant cutbacks seems to be the small sensor compacts, with talk of some manufacturers thinking of exiting the consumer and budget end of these lines altogether.
Well, that's the relentless march of technology I guess. I'll be staying with the m4/3s for the foreseeable future as long – it's really offered a nice compromise between weight, image quality, and lenses offering, with the Nikon D7000 coupled with the Sigma 70-200mm f2.8 only out for trips these days that require that focal length and at high-speed or low-light conditions too. Besides; what's the point of having large and heavy DSLR when it'll kill me to carry it LOL.
After tinkering around with it over the night and coming off nearly 18 months of using the E-M5, some initial and quick observations about handling aspects of my new E-PL6. On the up side:
Light! Not that the E-M5 is heavy at all, especially comparing with my previous D300 and current D7000. I don't intend to use long lenses with the E-PL6, so that the new camera is featherlight compared to relatively heavier zooms is a non-issue for my usage..
Stellar image quality. Based from what I have been able to get out of the E-M5 routinely, there doesn't seem to be any perceptible image differences between the workhorse and the new camera. The E-PL6 continues to produce punchy colors typical of Olympus Pen cameras which I like, even if they might not look as natural.
Shutter is softer-sounding than I expected – which is a good thing. The E-M5 has an electronic shutter and is very quiet when triggering a shutter release. The E-PL2 was horrendously noisy with a loud 'ke-plak' sound each release. The shutter audio E-PL6 lies somewhere in-between.
Touch-screen. The E-M5 comes with an AF-possible touch-screen but I never found myself using it, what with the camera's form factor, weight and girth. I'm using now for the E-PL6 though given its relative compactness and smaller width. Score a definite one for it.
A tilting screen that also flips up. No, I'm not taking selfies with it – but my experience taking family pictures of all three of us at last year's Malacca vacation showed that I really needed a camera with an articulating screen that could pivot to the front. The screen still doesn't swivel, but that it tilts to nearly 180 degrees is good enough for self-taken family shots now.
Small buttons but they aren't mushy feeling like those on the E-M5. Some buttons are relatively deeply recessed though, especially for the image Playback and Delete image buttons – which require just that little more bit of effort to press them.
On the other hand:
No main and sub dials. It won't be fair to complain about this though, since the E-PL6 by design doesn't offer these dials. But I sure miss them from the E-M5. Setting changes now need to either be done on the touchscreen or by turning the control dial at the back. Not quite as quick nor elegant as the E-M5.
The Mode dial turns a little too readily, while the E-M5's one is stiffer. I've already unintentionally changed the Mode setting a few times by just brushing the dial against my wrist.
Screen while similar in size to the E-M5 is of lower resolution. Also, it's of odd aspect ratio 16:9 instead of 3:2. I use the 3:2 aspect ratio almost exclusively, and images as they are viewed either through playback or during picture composition don't make use of the entire screen. In fact, they look positively small compared to the E-M5.
The hotshoe cover comes off a little too easily, so among the first things I did was to remove it and store it back into the box. Likewise for the strap eyelets, which can rattle and introduce unwanted noise when I use the camera to record the occasional video.
Well that's it for the first observations. Pictures of our two children using the E-PL6 will come soon and probably over the coming weekend.
One last bit to share too. The Courts store sales assistant yesterday at lunch time brought out a box containing the new silver-colored E-PL6 when I asked for it. Given my familiarity with Olympus Pen cameras by this point, I got round to nimbly testing out each dial, button, touch-screen, AF and the like – and she seemed quite impressed, remarking "Wow sir – you know this camera hor. You're so fast!"
LOL.