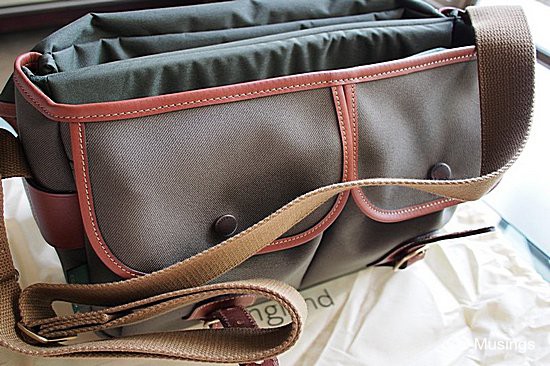 Billingham Hadley Pro
In the same way that (some?) women obsess over handbags, photography enthusiasts equally also lust over camera bags! I've blogged about camera bags here on a couple of occasions now but over the last year or so have pretty nicely settled into a small National Geographic mini-messenger bag (the 2346). The bag has accompanied me on three out of the country trips now in the last 9 months now. It's pretty ruggedly made of canvas, light weight, and can be compressed into our luggage bags without permanent damage – and size wise, is just perfect for the E-M5, flashgun, HD video camera, another lens, and the iPad. The bag costs quite a bit here at the local National Geographic stores, so I got it online from a seller based in Israel – for nearly two thirds of the resale price here.
I've been on the look-out for a larger bag too that would accommodate a refurbished Asus Zenbook I picked up for cheap, and had been reading up on the Billingham bags. These bags are widely considered the equivalent of Rolls-Royces when it comes to camera bags on account of their materials, loving care to design, and very high quality workmanship. They also, rather uniquely, have very high-resale value – the bags age very well, with many owners over the years remarking that their bags look as good as reasonably new even after years of use.
The bags are sold at many shops here, but their pricing tend to follow the UK/US retail prices i.e. pretty expensive. The one I was interested in – the Hadley Pro – lists on Amazon US already for USD269 and excluding shipping even. Ouch. I learned though after some bargain hunting that the same bags are available in South Korea for much lower prices, with this model selling for a quarter cheaper. After some further checking to ensure that the South Korean sellers were distributing the same real deals, I negotiated and submitted an offer – saving myself nearly a hundred moola compared to if I'd bought it locally – and a week after placing the order, the bag arrived by courier this morning. The model I went with was the Hadley Pro Sage Sage with Tan Leather Trim.
I have to say; the bag really does exude quality and elegance. Most camera bags are quite utilitarian and functional, but this Billingham bag is the kind that I think even women would like.:)