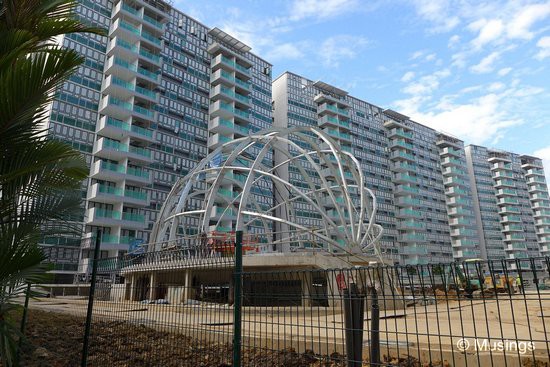 Work-in-Progress – Part 11
Another month, another visit to see the ongoing construction of our new home @ The Minton condo. The site's Facebook page is quite lively with at least a couple other photographers (besides myself) making regular trips to the place to take pictures. I wonder if the residents of the neighboring blocks have gotten use to these weirdo visitors with cameras going up their apartment blocks just to be in vantage positions photographing a construction site!
There's been visible changes since our last visit 4 weeks ago, though I'm still really doubtful if our new place is going to be ready by June this year – the earlier optimistic estimate of earliest completion. Timing for our moving in and new home renovation against Ling's delivery of our new baby and month-long confinement will be real tricky though. But if the place gets completed in September, that's just as well – because that will be during my semester break and I can take some time off to personally supervise renovation work.
In our previous Minton outings, I'd tried different equipment combinations. Initially it was the D7000 + Sigma 18-250mm, which encompassed the range of focal lengths I needed for both wide and zoomed in pictures. On another occasion, I took the D7000 and the E-M5, but its combined weight, plus the camcorder, was just too much. Then it was just the E-M5, but that meant frequent lens swaps for the long and wide shots. This time round, I smartened up. The LX7 went alongside the E-M5 + Panasonic 55-200mm for the ride this time. All the wide shots were taken with the LX7, and in the bright and sunny Sunday late morning, the pictures from the little compact came out beautifully well. This will be my go-to equipment combination for future visits from now on.:)