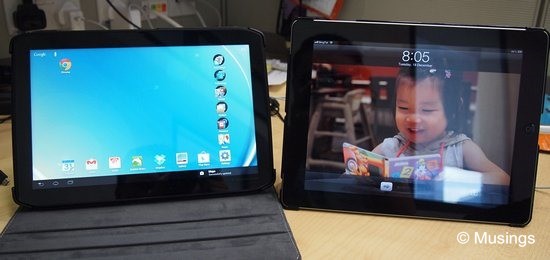 iPad (4) Retina
I had a Windows Live Messenging conversation with the wife yesterday afternoon, and it went like this.
"Dear, I have a confession to make."
"I know. You bought yourself a new toy?"
"!!! Dear, you're so clever.:)"
"When you have a confession, it's usually some purchase involving a certain sum of $$."
I blame this entirely on our Ang mo bud actually. He bought along his iPad Retina when he came to Singapore to visit in June this year and I got tempted LOL. Despite my dislike for the fruit company – the moreso now with its troll patent suits – Apple does continue to produce amazing tablet hardware. I'm less tempted with their phones, but the reality remains that the real Android equivalents of the recent iPad tablets simply aren't available in Singapore for them to be a viable alternative. I've had the Motorola Xoom for several months now, and while it works great as a media playback device (especially videos for Hannah to watch), it's general sluggishness and frequent browser crashes have made the tablet tiresome to use.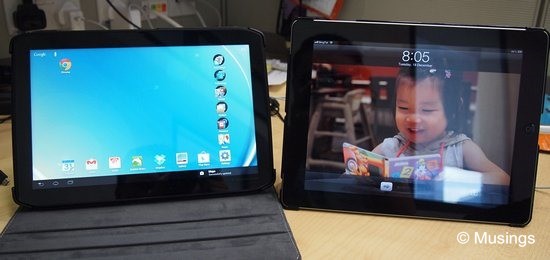 The new tablet is a pretty recent refresh of the earlier iPad Retina released this year, but with bumped up specifications – it's reportedly twice as fast as the earlier one – a slightly longer-lasting battery, and using a different power and data connector. Pundits are calling this the "iPad 4". Hannah's certainly thrilled, because all her favorite games are on the iPad.
As slick and smooth though as iOS6 is, the interface honestly looks real dated compared to the Android equivalent. And why I have to go through iTunes to transfer Hannah's videos onto the tablet is still beyond me. And while iOS maps look nice, I'm not going to trust directions on it, though what little I've seen from the Singapore maps seem about right.
Ling wasn't in the bit surprised of course. She chuckled: "iPad is still better right? Admit it."