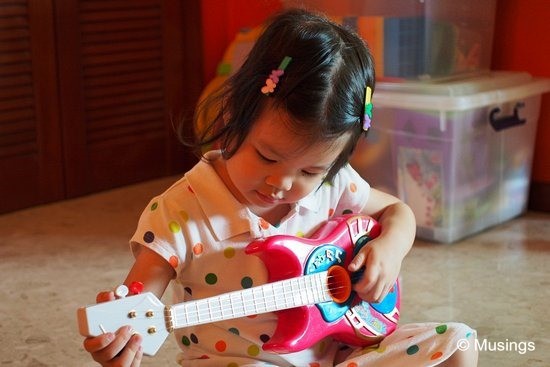 Hannah @ 30mm – Part 4
We celebrated our 6th Wedding Anniversary on Sunday with High Tea at the Carousel @ Royal Plaza on Scotts. Ling has been raving about the place since a visit with colleagues there earlier this year. Prices were about reasonable for the seafood/international/cuisine spread, with Hannah eating for free. That said, apart from the sashimi, boiled prawns and mussels station – which every patron made a beeline for immediately after High Tea started – I didn't think there were standouts in the rest of the fare.
The rest of the weekend went by quietly, home bound for the most of it excepting brunches at Greenwich Village and then with parents on Sunday. Ling is still walking around with a slight daze i.e. nausea and been rather listless. Hannah on the other hand is as chirpy as ever, and still wants to spend as much play time with us. I've noticed that she has a 'priority' list of play activities that she loves to do with us, starting with her favorite at the top of the list:
1. Mickey Mouse Clubhouse games (Disney has a suite of fun and partially educational Flash browser games on their web site).
2. Mickey Mouse Clubhouse episodes
3. Swimming
4. Lego bricks to build her Clubhouse
Yep, she's sold on everything to do with the Clubhouse, though thankfully, as before, she doesn't kick up a fuss when she doesn't get to do those play activities centered on Mickey Mouse and friends. I'm not certain if it's a healthy sign or not though, that she seems to just want to spend time with us doing something and anything and seemingly unable or unwilling, normally, to play on her own.
Oh well. Can't complain too much since we hope that she'll still want to spend time with us parents when she gets a lot older. If we're just so lucky, this might be habit forming for her that carries through to adulthood.:)