September, 2012
now browsing by month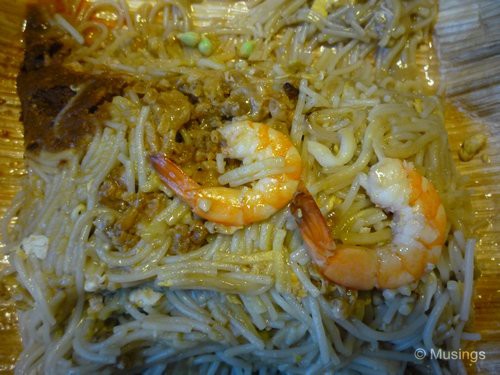 Accidental Discovery: Yummy Fried Hokkien Prawn Mee at a Ulu Coffeeshop
The stall is located at a nobody's coffeeshop tucked underneath a multi-storey HDB car park off one corner of Tampines town. I wonder if the stall even have a name! It is called 'Fried Hokkien Prawn Mee' or 'Wu Ba Ye Fried Hokkien Prawn Mee' if you prefer your prawn noodles to be served on a leaf. 'Wu Ba Ye' is opeh leaf in Chinese. This is a type of leaf sheath used to hold cooked dishes such as fried kway teow and hokkien prawn mee.
Nowadays, almost every food court and coffee shop in Singapore houses a stall that sells fried Hokkien prawn mee. However, most do not impress. Perhaps I'm too particular. Too often I find myself regretting having bought the noodle dish after eating a few mouthfuls and forcing myself to finish the rest in order not the waste food. I used to enjoy Geylang Lor 29 fried Hokkien prawn mee but the last time I was there with our angmo friend Matt, I felt that the yellow noodles had a strange taste.
This 'Wu Ba Ye Fried Hokkien Prawn Mee' stall serves really tasty fried Hokkien prawn mee. The flavours of all ingredients were balanced and well incorporated, noodles were cooked with the right wok temperature and sufficiently moist without being soggy. The prawns were reasonably juicy too. Lard was served with the noodles but I always pick them out, hee hee. Oh ya, the chilli complemented well with the noodles too. We have bought this dish from the stall for a couple of times already and I must say that the quality has been consistently good.
Give this stall a shot if you're around the vicinity k. Let me know what you think :) For more information, the stall is in a coffee shop called Soon Hong Food House located at Tampines St. 72, block 742A (beneath multi-storey car park). They are closed on Mondays. Opening hours are from 11 am – 10 pm.