Argh, sour strawberries. *sian*
Recently, my FIL bought Hannah a large box of humongous strawberries which, he was told, were sweet. Kenna conned! Sigh. So many sour strawberries sitting in the fridge! It would be such a waste to dump them. I recalled seeing Mcdonalds' latest range of fruit smoothies and they have a combination of banana and strawberry smoothie. Yup, I'd make popsicles using banana to impart sweetness to the sour strawberries while the latter could contribute its fragrance. A solution then!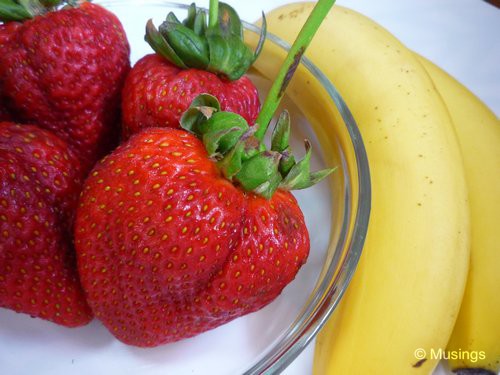 The recipe I came up with is basically for a milkshake. However, I reduced the amount of milk used so that the banana and strawberry taste would not be diluted.
Ingredients
Bananas – 2 medium ripe, peeled
Strawberries – 2 huge or 4 small, stalk and leaves removed
Fresh milk – 40 ml (estimated amount as I didn't measure)
Organic honey – 1 tbsp (omit honey if the strawberries are sweet)
Method
Blend all ingredients until smooth. Do taste check. Pour into popsicle moulds, cover and freeze for at least 8 hours.
To take out the popsicles, dip the moulds into warm water for about 10 seconds. They should come out quite easily when removed.
I had some popsicle mixture leftover and stirred in more cold milk to make it into a banana-strawberry milk for Hannah. It turned out to be a cool, delicious drink on a hot, humid afternoon. She loved it! :D Could have made a milkshake but our girl didn't like foamy drinks.