Commonly known as chin chow here, grass jelly made from the extracts of Mesona chinensis' stalks and leaves makes a great refreshing and cooling drink. June is often the hottest month over here. Besides going for water, there are other cooling beverage options to bring the bodily heat down. One could try barley water, chrysanthemum tea, water chestnut drink, oldenlandia water, cooling herbal teas and grass jelly drink of course.
I love grass jelly. I like to chew on the jelly knowing that it contains the essence of a beneficial Chinese herb. It is slightly bitter on its own but the addition of a sweetener elevates it to the dessert status. One easy recipe for grass jelly is to simply drizzle honey on it. I prefer drinking the jelly instead. The common recipe for grass jelly drink uses white sugar as sweetener but I prefer brown sugar for better flavour. Below is my version.
Ingredients
ready-made unsweetened chin chow – 1 pack (500 g)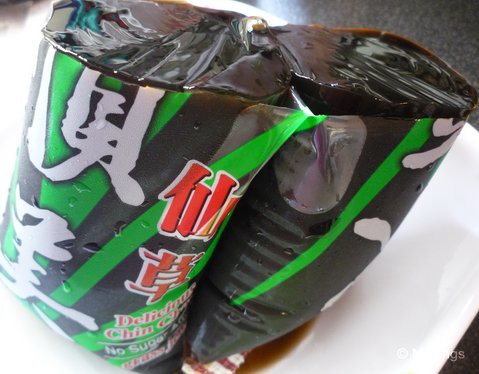 brown sugar – 6 tbsp
pandan leaves – 4 leaves, washed and knotted
water – 1 litre
Method
1) Bring water, pandan leaves and brown sugar to boil, stirring occasionally to help dissolve sugar. Let it boil for 1-2 minutes.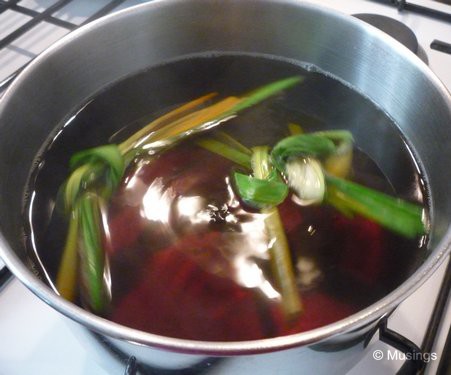 2) Turn off the heat. Discard the pandan leaves. Set aside to cool to room temperature.
3) In the meantime, shred the grass jelly into strips and set aside in the fridge to chill.
4) When the sugar solution has cooled, drain off excess grass jelly liquid using a fine sieve and add the grass jelly to the sugar solution.
5) Stir briefly and cover with cling wrap. Chill the drink in the fridge for at least 2 hours before serving.
Verdict from toddler: Hannah approves :)
Stay cool, folks! :D