June, 2012
now browsing by month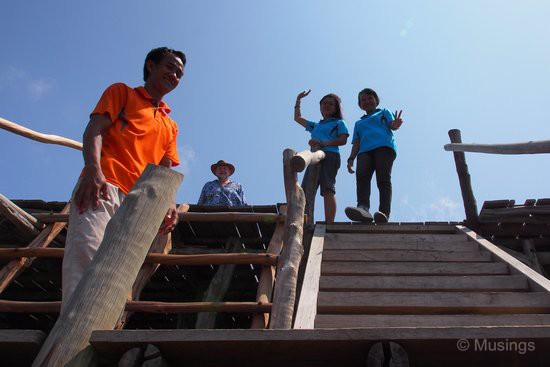 Telunas Beach Resort – Part 9: Overall Perspectives
Part 9 of our series of ten posts on our stay at Telunas Beach Resort. For the other posts, do check this link.
When it comes to our writing an overall impression of a property we've stayed for vacation, the one question we'll ask ourselves is always this: will we be coming back? From our six day stay at Telunas Beach Resort, it's a qualified 'yes'. And like our other stays, Ling and I are pretty much in consensus about our impressions of the Resort, its activities and hospitality.
Starting off with its strong points: the Hospitality and general feeling of 'home' and coziness the attending staff will pass onto you. The local hosting staff spoke very good English, and the other workers understood enough rudimentary English to answer simple questions too. The hosts – especially our assigned staff Hanna – were friendly and engaged us in friendly banter, making sure that our needs were taken care of and always making adjustments to customize our stay or make things easier for us, especially for Hannah.
Accommodation. The Chalet room was large enough for the three of us – it can readily house a family of four – and bathroom facilities were excellent for a resort of this type, and definitely superior to what I recall at Rawa. At SGD205 per night for the chalet with three meals included, the Resort's price point was also a big advantage for us too.
Apparently for two days during our stay too, the big boss and one of three owners himself was also staying in the Resort. The staff were candid enough to share some cute observations (nothing awkward rest assure to any Telunas staff members who stumble upon our blog) about their working relationships between their bosses and themselves!
Also, there were only two families staying during our last two days; ours/Matt, and a trio of middle-aged Australian visitors who were also in for a six-day stay. There was a true sense of seclusion and idyllic peaceful living that was exactly what I was looking forward to (more on that later under 'Problems').
Dining was fairly good to excellent. Visitors first need to get past the fact that the Resort's canteen is the only dining place on the island, and not to expect the usual international buffet spread comprising of at least a dozen items. Ling, Matt and Hannah for certain enjoyed everything that came out of the kitchen, me somewhat less so because of my lack of affinity for specific food types i.e. apple pies and banana crepes. Food was always plentiful, and with three meals a day, there is really no need for you to bring additional snacks for your stay. And if you really want your can of Coke or packet of Pringles, the canteen sells them at reasonable prices. Definitely unlike the super marked-up prices you come to expect from most other properties. Given the general humidity and warm ambient temperatures in June though, I would have preferred the drinking water to be kept at lower temperatures to combat the scorching heats we experienced, but that's a minor thing.
Activities wise was a mixed bag but mostly still good. My strongest impression was the Jungle Waterfall Hike for both the beautiful waterfall and cool freshwater pond there, and also its painful hike carrying Hannah! Matt's biggest impression in contrast was the Malay Village Lunch, and I suspect on account that he's done a lot more hiking and waterfall visits than I have. The Waterfall Hike is well worth the time spent, and the walk will be easier in dry weather compared to the mud we traversed over. The Malay Village Lunch was a little pricey but it would be a real eye-opener if you haven't experienced dining with locals in this fashion before. The Candlelight Dinner was alright too, though depending again on when the sun is setting during your visit, you might want to get started on it a little earlier or dine in near total darkness! As for general fishing, we caught nothing – but Matt fished plenty of crabs around the jetty.=)
And the swimming! The three of us didn't eventually swim, given the fact that waters were really murky, and Ling has some serious questions about whether the waste generated by guests was going directly back into the sea. Matt had no such reservations however, and many other guests took real advantage of the two leaping platforms – like the 6m one below – at the jetty.
The one activity disappointment for us was Shrimping, the more so after hearing all the hype about it. Whether you get to see/catch anything is a seasonal thing, and we did go ahead with it after hearing the Resort's frank advice on the probability of catching anything. Ironically, Ling had far better luck just wading out in low tide to where rocks were, and in broad daylight armed only with a flimsy paper cup. She returned in 5 minutes with 8 shrimps!
Transportation. We concur with other Tripadvisor reviewers that the private boat option from Sekupang to Telunas is the way to get to/from, even considering the cost of SGD270+ each way. You get to decide when you want the boat, and the Telunas staff will accommodate. If you want to save cash, Telunas can advise you on other visitors' movements the same day and you'll save some money by sharing the private boat rides.
As for the problems. Tripadvisor rates this place as one of the world's best all-inclusive family resort. I'm not quite so sure if it's of that sterling rank, and Ling is even less accommodating; she felt that the Resort is somewhat over-rated. The Resort saw a very large group (~50) of young adults from an institution in Singapore during Day 2 to 5 of our stay. Apparently, this particular institution makes annual Community/Teambonding stays to Telunas. While you can expect a certain level of profanity and rowdiness coming from young adults, the group was still on the overall well-behaved. However, their presence also meant that during the four days they were there, the place felt real crowded. There was competition for lazing-around facilities – e.g. the sitting areas in the canteen, dining space, beach chairs etc.
To be fair, in my reservation inquiries with the Resort, they did make aware that there would be a group of students during our period of stay, and they tried their best wherever possible to separate that group via students' itinerary from the rest of the guests. Matt also chuckled to say that American high-school kids are far worse, because there would be nothing left standing by the time they're through! But if you're coming to Telunas intending to get away from crowds and you care only for family/couples guests, you'll want to be inquire whether there are similar such groups during your period of stay and decide accordingly.
The more serious challenge though was whether the Resort is really optimized for large group stays, or family stays. I think it's the former, because some of the most fun things – e.g. the Jungle Waterfall Hike, beach pizzas, low-rope – seems to be geared towards large groups. I certainly think there could be more Resort-organized activities for small families, outside which you really then need to make up your own itinerary. The staff love young people and had fun activities planned out for the student group. But there seemed to be less confidence in the air concerning what the other family guests like us could do. We were contend to just laze around when we had nothing planned for the day.  Thanks to Ling, we spent half of our stay exploring the beaches! But unless you're trained like her to spot bubbler crabs, hermit crabs, tube worms, kingfishers, toucans, shrimps and whatever else lives on these beaches, it's hard to experience the natural biodiversity of these beaches, or to just enjoy walking on the beaches as we did.
I've also written that our period of stay in June wasn't ideal. The weather was scorching, and our room was relatively less breezy than Matt's, necessitating the use of an additional standing-fan (the Resort immediately obliged to the request). The beach wasn't in a clean state and had more debris than what you'd spot in the kilometers of East Coast beach back in Singapore, let alone the more pristine beaches in Rawa or Redang. The best time to visit is apparently in December to April where the water is clearer and of pleasant blue hues than the murky green we observed.
The last challenge is a minor one. Sunrise and  sunset is partially blocked by low hills and vegetation. Quite unlike Rawa, where we easily climbed a gentle hill to see the morning sun rising, with a similarly uninterrupted view of the sun setting from the jetty there. Travelers thinking of amazing photographic moments will need to be temper their expectations or work a little harder to get the shots they want.
In sum, I think we might return back here for a second visit, if nothing else because during the December school holidays, the beach resorts off the Mersing coast will be experiencing monsoon. Telunas waters should be clear, though we'll want to check with the Resort first then! Hannah for sure enjoyed the six day stay, though not to the point where she was reluctant to leave. She said "I miss my big dog-dog, my big sheep-sheep, my small sheep-sheep…" etc. etc.=)
That wraps up our review of Telunas Beach Resort. The tenth and last post will comprise some of Matt's pictures and his commentary.=)