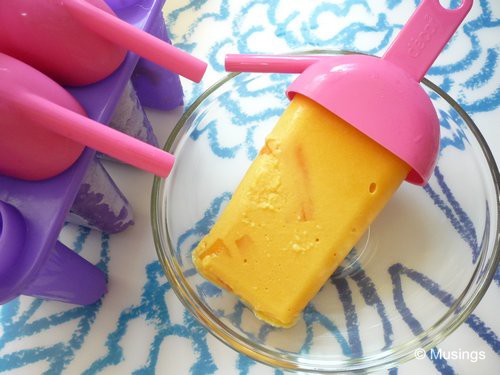 Another quick fix for a tropical delight – yum yum. :D Below is my 'on the go' concoction:
Ingredients (to make 4 popsicles)
Jackfruit flesh – 250 g (for puree)
Jackfruit flesh from 3 seeds – cut into short strips
Coconut milk – 50 ml
Organic honey – 1 to 2 tbsp
Evaporated milk – for thinning the puree if necessary
Method
1) Blend the 250 g jackfruit flesh, coconut milk and 1 tbsp of honey together until smooth.
2) Do a taste test to check for sweetness. Add more honey if desired. (Generally, if the sweetness is just nice, do make it sweeter as it won't taste as sweet when frozen.)
3) If the puree cannot pour easily, just add some evaporated milk to thin the mixture.
4) Divide the jackfruit strips equally into popsicle moulds and pour the jackfruit puree into them. Use a chopstick to stir the mixture to remove air bubbles and distribute the jackfruit strips evenly.
5) Place popsicle sticks into the moulds and freeze for at least 8 hours before serving. Enjoy :D
Verdict: Jackfruit and honey go well together. The taste is yummingly rich. Hee hee :P