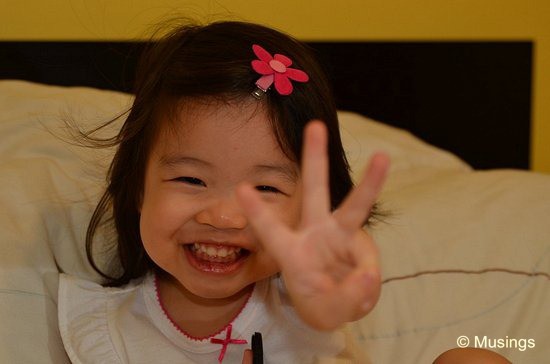 Hannah @ 24-60mm f2.8
The Sigma 24-60mm f2.8 saw a lot of use when Hannah was a year old, but hasn't been anymore of late since I picked up the 35mm and did micro-AF tuning of the 50mm. I picked up the full-frame lens for a terrific bargain at SGD385 in 2008, and that price only because it was getting replaced by a newer and much more expensive model. The lens initially had some back-focus issues with the old D300, but after calibration at the Sigma Service Center, it has become the sharpest all-rounded lens I've got, alongside the 35mm.
Here's a bunch of pictures taken casually this evening just before Hannah went to bed. I was fooling around with the flash unit's wireless mode, basically haphazardly tossing it onto our dressing table – and not noticing that the table's half-height mirror was right beside it, sending light all over the room and casting nasty shadows about.
Lesson learnt of course. Hannah's poses were, as always, priceless though.=)