April, 2012
now browsing by month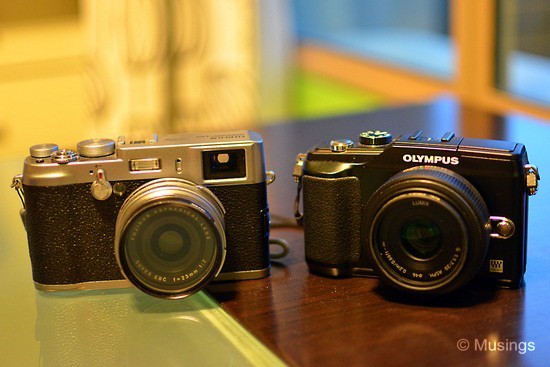 Fujifilm X100 – Revisited
I've been reading up a lot on the Fujifilm X100, X-Pro 1 and Sony Nex 7, but nothing beats taking the cameras out for the weekend and putting it through the places. Not that I had kakis (that means 'buddies' for our ang mo friend) who own Nex 7s and X-Pro1s, but I did have a student who had the X100, which I borrowed for an evening in February this year. So, I loaned it again for this weekend.
At the end of three days with it and taking predominantly indoor pictures of Hannah, my feelings of the X100 are still decidedly mixed. The autofocus speed seems to have improved since the latest version 1.21 firmware update. ISO1600 pictures are easily usable, center sharpness is amazing even when wide-open, and this particular unit had no start-up time issues with its class 4 SD card (some users report very slow start-ups). The built-in flash always delivers exactly the right amount of light.
The many niggling difficulties I had in February are still there though. For some reason, a very large number of my pictures still come out unfocused even when the camera registers a focus lock. And the exposures – oh my –  can go all over the place when I do a Program-Shift. Even when the camera reports that the picture will be correctly exposed when I dial in f2.8 in Aperture-Priority, it's not – which necessitates exposure compensation using its dial (the dial's also pretty loose and a couple of shots had compensations accidentally nocked in without my noticing). And it's very easy to insert the battery the wrong way.
I'm pretty sure I still don't know the camera well-enough to be able to easily work with its quirks. From all counts from many others who own the X100, there's a learning curve for this camera, and once you've mastered it, you're able to produce amazing pictures consistently.
That's the long and short of it for me. I'm just not certain if I want to be spending that kind of time trying to learn how to work with it. Not when cameras like my D7000 and E-PL2 don't challenge me this way, leaving me to concentrate on composition and capturing the right moments, assured that images taken on them will always be properly exposed and focused.
Oh well; who knows – I may just end up going for the X-Pro 1 at some point.=)