…according to mommy and Hannah, of course :P
My recipe for chicken soup has certainly come a long way – erm, since Hannah was born. And I'm sure it would continue to evolve.
If anybody has tried using lentil for soups, then it is no surprise that the chicken soup recipe which I'm going to share here doesn't require additional seasoning. The lentils make it SO good – it is that good.
Okay, here we go.
Ingredients
Skinless chicken thigh – 1 piece, fats trimmed with scissors
Fresh corn on cob – 1/2 cob, chop into 2 chunks
Carrot – 1 small stick, peeled, chop 1/2 of the stick into big chunks and the other 1/2 slice thinly (~2 mm)
Celery – 1 stick, chop 2/3 of the stick into big chunks and the other 1/3 slice thinly (~2 mm)
Ginger – 1 slice (~ 3 mm thick), peeled
Organic red lentils – 1 tbsp
Water – 250 ml
Method
1) Place all the ingredients into a small pot and bring to boil.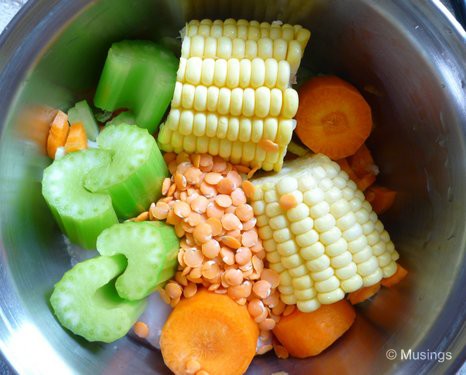 2) Cover the pot and lower the heat to simmer the soup for 45 mins – 1 hour.
3) Discard the ginger, big carrot and celery chunks.
4) Remove the chicken thigh and shred the meat with a fork. Remove the corn and slice off the kernels. Place the shredded chicken and corn kernels in a serving bowl and set aside.
Suggestion to make this chicken soup into a one-dish meal: Soba Noodles in Chicken Soup
5) Add dry soba noodles, sliced fresh shiitake mushrooms and green leafy vegetables (e.g. xiao bai cai, cai xin) into the chicken soup and bring it to boil. Lower the heat a little and let it boil gently for 5 minutes.
6) Empty all the contents of the pot into the serving bowl containing the shredded chicken and corn kernels. Use a pair of clean scissors to cut the noodles into short strands for easy consumption with a spoon.
Yup, absolutely no salt required. This soup is very flavourful on its own. Below is a video clip of Hannah enjoying the dish :)