All I want for Christmas!
While Hannah has been with us for 2 Years 6 Months now, we've only really celebrated our first family-Christmas this year, with trees, home decorations, stocking, and presents and the like. Hannah (of course) received the most presents, followed closely by Ling, and me – far behind. Oh well. I'll leave Ling to blog – maybe – about Hannah's reactions to the presents she got and supplement it with my usual pictures and videos.
For this entry, it's about one of the two presents I got Ling, and it was this: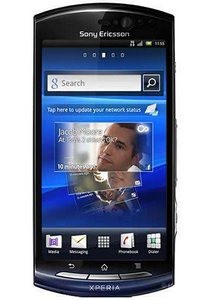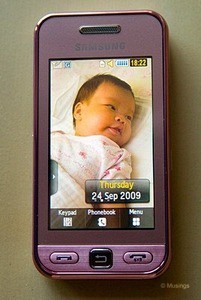 It's the Sony Ericsson Xperia Neo V, and Android equipped smartphone. Ling's Samsung phone was more than two years old now. It's still an amazingly beautiful non-smartphone. Reliable, crazily long battery life, and alluringly and eye-catchingly pink in color (right).  Unfortunately, Ling has mused, or maybe she was just dropping outright big hints in my direction, that she's been feeling a little out of the loop when our small group, Salmon Run, goes all loco on Whatsapp messages.
I wasn't going to get her an iPhone 4S – that much was certain. So I looked around for a bunch of Android smartphones that met my criteria: a) midpriced; b) small; c) with Android 2.3.4, or the most stable and recent Android build short of the upcoming Ice-Cream Sandwich OS that's only starting to be available. I did my usual comparison spreadsheet, and concluded that…
LG Optimus Black: Slim, attractive design, mid-priced, pretty good display, but pretty big;
HTC Wildfire S: Great build quality, suitable size, mid-priced, but slow processor and relatively low-resolution display with a small screen.
Samsung Galaxy Ace: Suitable size, mid-priced, but what I felt to be pretty plasticky build and relatively low-resolution display with a small screen.
I was pretty settled on the LG Optimus Black until I found that Sony Ericsson had an Android model that had an equally contrasty-display with higher resolution to boot even, and all for an even more affordably price-point at the shop I was going to pick it up from. Checking it out at the Sony Style shop at Tampines One proved a relief; the phone was light and the 3.7 inch screen made the display resolution of 480×854 look even sharper. The build itself is mostly plastic and the back case will attract fingerprints easily, but the device felt solidly made nonetheless.
So, I picked it up on Christmas Eve and installed (in secret) all the social networking software that Ling has been pining for before surprising her on Christmas Day with it. Surprisingly, while the Xperia Neo V is a single-core processor smartphone compared to my Atrix's dual-core, the Xperia feels a lot more fluid and responsive, even when I've got live wallpaper loaded onto it. Weird. Maybe it's how Sony has optimized its own UI overlay on-top of Gingerbread.
Oh well; Ling was thrilled with it, and she said she suddenly feels very 'liberated'. Wait till she starts getting all the Whatsapp spam.=)
And oh yeah – the other present she got from me was a pencil case stuffed with nearly a dozen red, blue, green and black pens – for her return to full-time teaching starting next MON.=)